GP, Banglalink lose in MNP battle
7 lakh users switched operators since its launch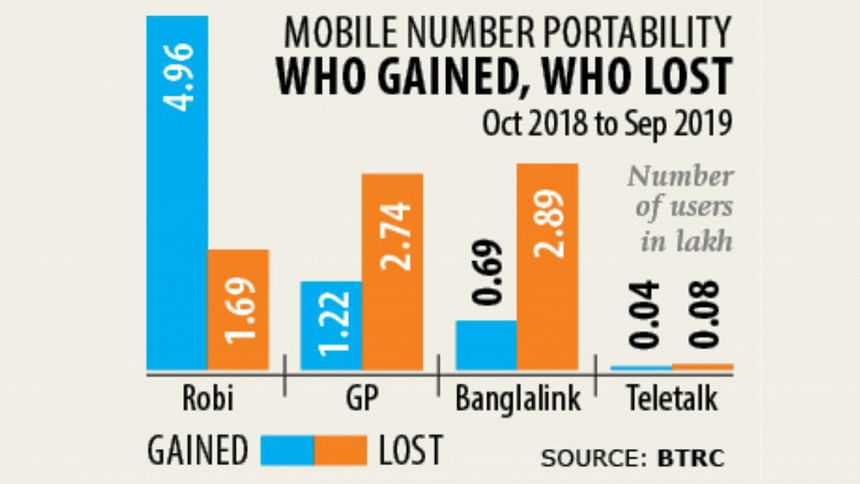 Banglalink has lost the highest number of subscribers to other operators in the last one year as the users changed the carrier using the mobile number portability service.
The MNP service, which was rolled out in October last year, allows users to retain their original mobile phone number while opting out of an operator in order to join a new network.
Banglalink, the third-largest operator, lost 2.89 lakh subscribers and gained 68,528 users from its three contenders, according to a report of Bangladesh Telecommunication Regulatory Commission published yesterday. 
Grameenphone, the market leader, lost 2.74 lakh customers and pulled 1.22 lakh users.
The report said 6.91 lakh mobile phone users have successfully used the service, while another 2.57 lakh users had tried to switch operators but were unsuccessful.
Robi gained about two-thirds of the customers who switched. It drew 4.96 lakh users from other operators, while 1.69 lakh customers left the network of the second-largest operator.
"It shows that Robi has emerged as the most-preferred digital brand of the country," said Shahed Alam, chief corporate and regulatory officer at Robi. 
Md Hasan, a deputy general manager of Grameenphone, said, "We respect our customers' freedom of choice. At the same time, we are happy to welcome new customers into our strong network."
Ankit Sureka, senior manager for corporate communications at Banglalink, said, "We welcomed the MNP as it gave customers the freedom to choose any operator keeping their mobile numbers unchanged." 
"However, we are mostly focused on our overall business growth. We have turned around significantly registering impressive overall results this year and are trying to improve our performance further."
State-owned Teletalk gained 4,427 customers and lost 8,101.
The telecom regulator introduced the service to establish competition in the market and push the operators to improve service quality.
The goal has remained largely unattained as the service quality did not improve, said a top executive of the BTRC.
Alam of Robi said more than 50 percent of the subscribers who had wanted to avail the MNP service could not do so owing to various technical problems.
"Certain corporate customers are facing problems that can only be termed as utter harassment. We believe the MNP service would be successful only when everyone who wishes to avail it can do so without any hindrance of any shape or form."
He urged the regulator as well as Infozillion Teletech BD, the lone MNP service provider, to look into it urgently to make the process of switching a network operator a seamless exercise.
Mohammad Zulfikar, chief executive officer of Infozillion, said they had expected more users to switch operators but were not dissatisfied.
"Maybe the SIM replacement tax is an issue," he said.
The National Board of Revenue withdrew the SIM replacement tax of Tk 115 for switching operators when the service took off. But the tax was reintroduced in the current budget, resulting in a decline in the switching of operators.
Currently, users pay Tk 57 as charge for the service and Tk 200 in SIM replacement tax.
As per guideline, customers can leave their existing mobile network and choose another every 90 days.