Tk 8.5 crore Indian onions came through Hili in 2 days
59 trucks brought in around 1,800 tonnes of the bulb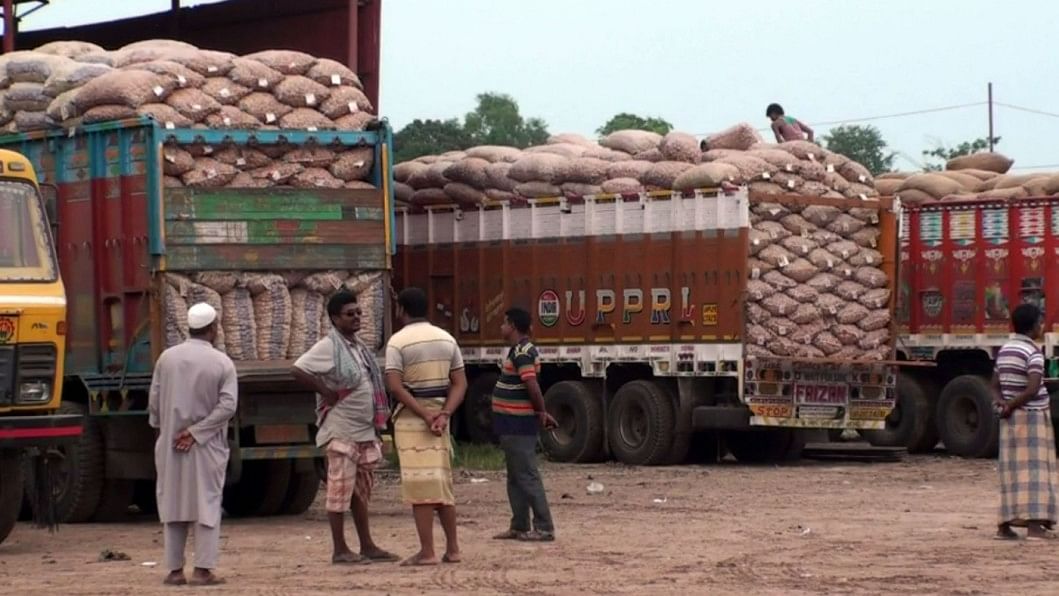 Around 1,800 tonnes of Indian onions worth over Tk 8.5 crore came to Bangladesh in the last two days through Hili land port in Dinajpur.
This is the first import of Indian onion through the channel after the imposition of 40 percent export duty by the Modi administration on August 19.
Some 59 Indian trucks brought in the onions at the rate of around Tk 48,000 a tonne on August 21 and 22, Md Sohrab Hossain, public relations officer of the Panama Hili Port Link Limited, the operator of Hili land port, told The Daily Star.
More are in line to come to Bangladesh, he said.
The port authorities are now processing the documents to ensure faster release of the imported onions to make them available in the local markets, he said.
This correspondent found the prices of the bulb to increase in the local markets by Tk 15-20 a kilogramme (kg) after India imposed the export duty.
Abu Taher, a retail onion trader of the Hili bazar, said he sold each kg of onion at Tk 40 to 45 just a day before the Indian export duty come into effect whereas its now sold at around Tk 55 to Tk 60 a kg, he said.
Local onion prices also spiked as those are now sold at Tk 100 a kg, up from Tk 80 couple of days ago, said Ruhul Amin, an onion trader of Rail Bazarhat in Dinajpur town.
The importers are now paying additional Tk 7-8 for every kg of onion after the duty hike, said Harun Ur Rashid, president of the Importers and Exporters Group of Hili Land Port.
He believes Indian onion prices would come down to Tk 50-55 a kg when the imported ones would be made available in the local markets.