Onion prices spike, so do vegetables'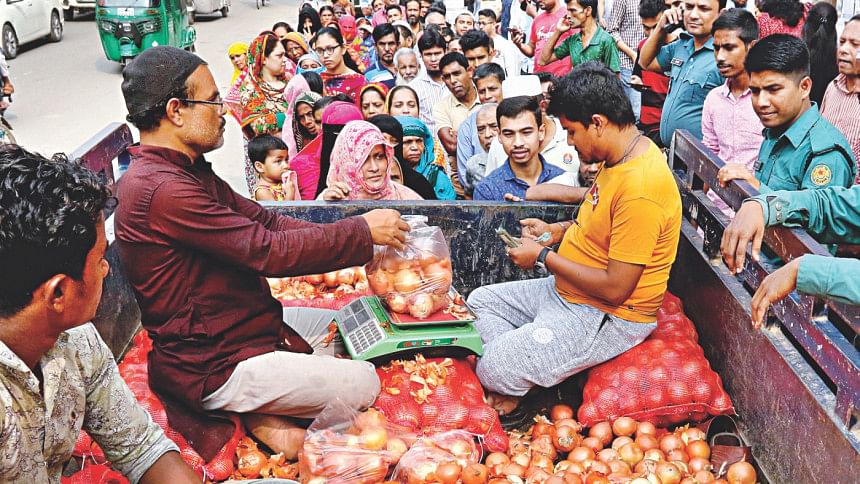 With onion prices remaining high and unstable, consumers are bearing the brunt of high prices of essential foods, including vegetables, according to shoppers and market data.
Onion prices, which began falling after hitting a historic high of around Tk 250 per kilogram, increased again since the beginning of this week amid supply shortage due to low import and a declining stock of locally grown bulbs.
Yesterday, prices of the essential spice, used mainly for cooking, rose both at wholesale and retail levels and the bulb was found being sold up to Tk 240 per kg, said retailers in several markets of the city.
"Prices usually fall when there is ample supply. But supply of domestically grown and imported onions has been below the required amount," said Mohammad Shahidul Islam Mia, owner of Matribhandar, an onion wholesaler at Shyambazar -- the biggest wholesale market in Dhaka.
He said prices of locally grown onion rose yesterday for the lack of availability at bazars of onion-producing region Pabna.
It appears that stock of onions at the farmers' ends is almost exhausted, Palash Biswas, of Shapla Banijjalaya at Shyambazar.
Even though winter vegetables started arriving in the markets, prices were too high to enable people in low and fixed incomes to buy a desired amount.
Except for old potato and papaya, no vegetable was found below Tk 40 either in weight or in piece, according to shoppers in markets such as Karwan Bazar, Mohammadpur Town Hall market, Kazipara and Korail Slum in Dhaka.
"How will we be able to buy the necessary foods with our fixed income if prices of essentials like rice and onions spike and vegetables remain overpriced," said Shabana Begum, a mother of four living in a shanty at Korail slum.
Her spouse is a private car driver, who earns Tk 13,000 a month and she works irregularly as house help.
She said she had to cut onion consumption and ration vegetable
purchases to prepare meals for her six-member family.
Prices of edible oil, flour, garlic and lentil have also soared over the last two weeks, according to market prices data by Trading Corporation of Bangladesh (TCB) and Department of Agricultural Marketing (DAM).
Furthermore, prices of newly arrived vegetables, for instance cauliflowers, were between Tk 40-Tk 50 per piece. Prices of aubergines, cabbages, bottle gourds and bitter gourds, also increased in the last one week, according to DAM data.
"We are trying to manage even by purchasing low quality items. We used to see prices of vegetables fall during winter. This year, it is the opposite," said Babul Mia, a fourth-grade government worker, who came to buy groceries at the city's Karwan Bazar yesterday.
Abdul Quader, a banana retailer, said he didn't purchase onions after the retailer demanded Tk 200 for one kg.
"Prices are too high [for us] to bear. I will buy onions after the price falls," he said.
Traders said prices of some vegetables increased in the last seven to 10 days, as the supply was not meeting the demand.
"Supplies are going to increase within a week," said Rashidul Islam, a wholesaler at Bogura's Mahastan Bazar, one of the main wholesale markets for vegetables in the north.
He said vegetable cultivation had suffered due to rainfall in October and the effect of Cyclone Bulbul earlier this month.