Bangladesh to import onion from 9 more countries
The countries are: China, Egypt, Pakistan, Qatar, Turkey, Myanmar, Thailand, the Netherlands and the UAE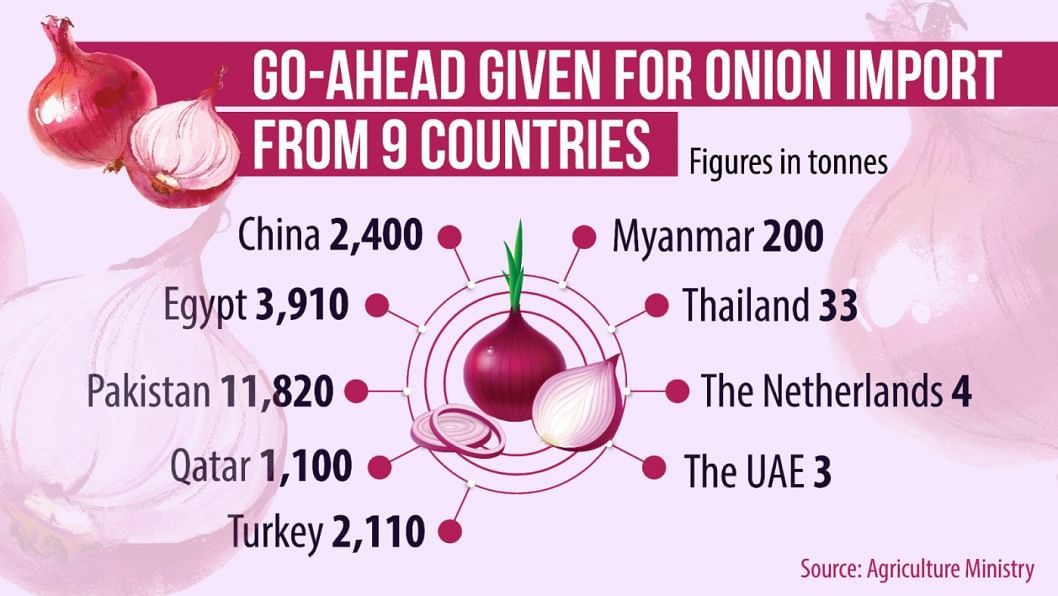 The agriculture ministry today gave go-ahead to onion import from nine countries apart from India.
The approval has been given for bringing in 21,580 tonnes of the bulb from China, Egypt, Pakistan, Qatar, Turkey, Myanmar, Thailand, the Netherlands and the UAE.
The highest amount of the vegetable will be imported from Pakistan, the ministry said in a statement.
The move comes couple of days after onion prices soared in the domestic market after India imposed 40 percent export tax on the shipment of the popular bulb to tame price spiral in its local market.
Today, retail prices of imported onions hovered between Tk 70 to Tk 75 a kilogramme, up from Tk 55-60 a week ago, according to the market prices data of the Trading Corporation of Bangladesh.
Locally grown onion also became dearer.
Today, retail prices of the locally produced variety were Tk 80-Tk 85 a kg from Tk 65-Tk 80 a week ago.
The agriculture ministry started giving permission for onion import from the first week of June this year to cool off the increase in its prices amid a fall in supply of the vegetable grown locally.
Until today, it okayed bids to import 13.7 lakh tonnes of onions, of which businesses so far brought in 3.79 lakh tonnes.