Tk 16.2 crore incentive for summer onion growers
The move comes when India imposes 40% export duty on onion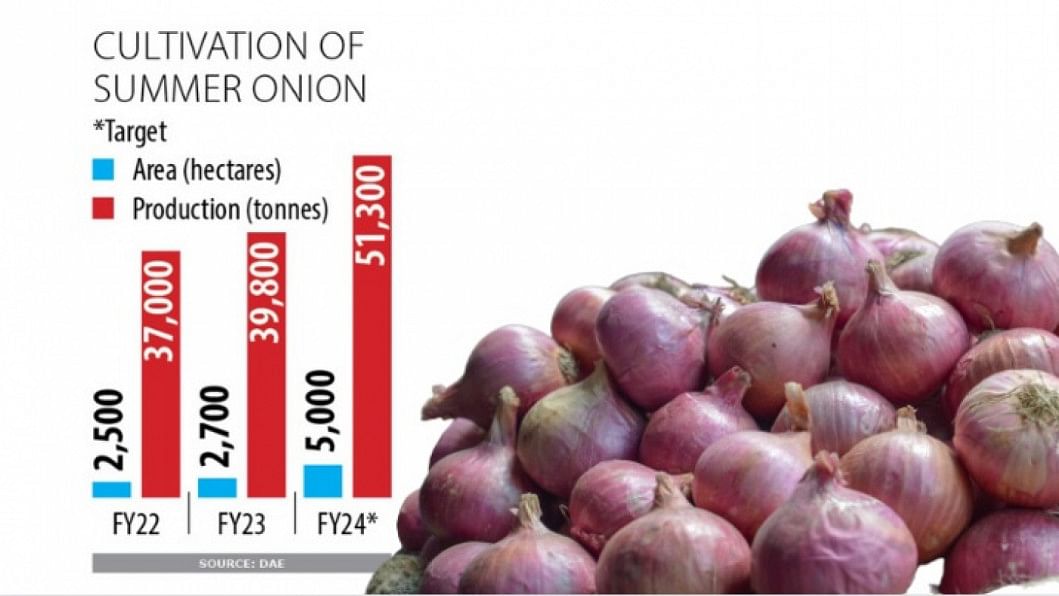 The government will provide an additional Tk 16.2 crore as incentives to farmers to encourage them to cultivate the summer varieties of onions in its efforts to reduce import dependence and become self-reliant.
Some 18,000 small and marginal farmers will get incentive in the form of seed, non-urea fertiliser and cash, said the agriculture ministry in a statement today.
The move comes at a time when onion prices have shot up in the wake of a 40 percent export duty imposed by India, a major source of onion for Bangladesh, in the third week of this month to cool down its local market.
Bangladesh can meet up to 75 percent of its requirement through local production.
It has to import the rest, particularly from India, to address its annual demand for the popular vegetable, used as spice here.
Locally grown onion was retailing at a maximum of Tk 90 a kilogramme (kg) in Dhaka today, up from Tk 65 a month ago.
Imported onion was available for Tk 75 per kg, up 66 percent from that a month ago.
The Ministry of Agriculture (MoA) earlier this year provided Tk 16 crore to promote cultivation of summer onions in its efforts to increase supply of domestically produced bulbs during the lean period – from October to November.
The government stepped in to bolster local production of onions in 2020, a year after domestic prices of the bulb soared to a historic high of Tk 250 per kilogramme resulting from a ban on onion shipments by India.
Since fiscal year 2021-22, cultivation of onion during the summer season has been growing.
Acreage of the bulb, a popular vegetable mainly used as a spice, grew 8 percent year-on-year to 2,700 hectares in fiscal year 2022-23.
Farmers bagged nearly 40,000 tonnes of onion during the year, as per the Department of Agricultural Extension (DAE).
For the current season, the DAE targets to bring 5,000 hectares of land under the cultivation of summer onion to produce 51,000 tonnes.
The agriculture ministry today said it would provide one kg of onion seed, 20 kg of diammonium phosphate, 20 kg of muriate of potash, and Tk 2,000 for land preparation as well as labour cost to farmers for the cultivation of each bigha of land.
The late varieties of onions can be planted in the November-December period and be harvested in the January-February period, said the ministry.
The MoA said it was providing the stimulus for onion planting from a rehabilitation scheme. The incentive will soon be distributed, it added.