Recruiting agencies face higher AIT: Tax burden may be pushed onto migrant workers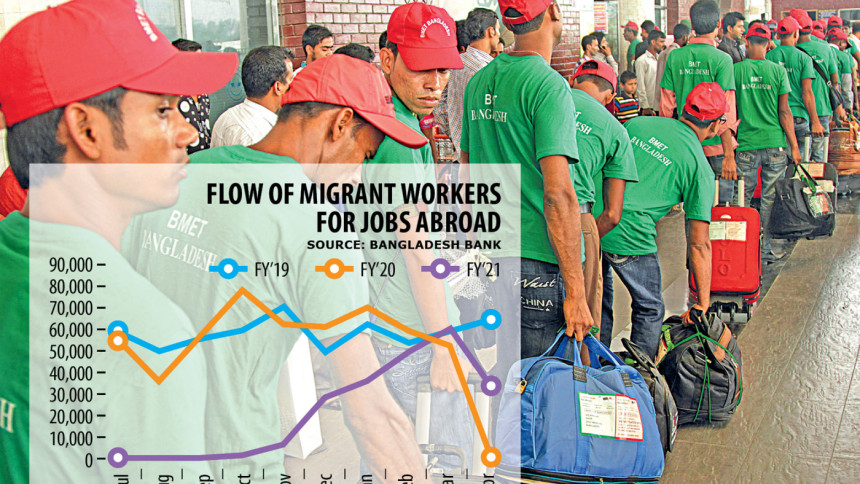 Recruiting agencies will have to pay higher advance income tax (AIT) on service charges or fees they earn from migrant workers going abroad, according to tax measures proposed by the National Board of Revenue (NBR) for the next fiscal year of 2021-22.
Recruiting agencies will be required to pay 10 per cent advance income tax for the next fiscal year of 2021-22 instead of the present 7.5 per cent of the outgoing fiscal year.
They will also have to pay Tk 50,000 when availing or renewing licences from the Ministry of Expatriates' Welfare and Overseas Employment, according to Finance Bill 2021 placed by Finance Minister AHM Mustafa Kamal in parliament on June 3.
The measure, once passed in parliament, will come into effect from next month with recruiting agencies and migration analysts saying that the agencies may pass on the burden of increased AIT to the shoulders of migrant workers going abroad for jobs.
And this will in turn will increase the cost of migration at a time when the outflow of workers for jobs has slumped and migrants are having to count higher costs for airfare and complying with health safety rules to safeguard against infections.
Workers going abroad have to pay anywhere between Tk 3 lakh and Tk 4 lakh for jobs and their combined numbers going abroad dipped 59 per cent year-on-year to 2.17 lakh in the July-April period of fiscal 2020-21, showed data from Bangladesh Bank.
At this point, the increased AIT will put a negative impact on the sector.
"We are just the service providers. If any tax is increased, migrant workers will ultimately suffer as the burden will be passed on to them," said Shameem Ahmed Chowdhury Noman, former secretary general of the Bangladesh Association of International Recruiting Agencies (Baira).
Any tax that affects the sector should not be increased, he said.
A senior official of the NBR said the AIT to be paid by recruiting agencies could be adjusted with their total payable taxes. Hence, the cost to migrants should not go up, he added.
Noman said recruiting agencies were hit hard over the last one and a half years for the coronavirus crisis.
"We have to bear the cost of office rent, pay salaries for staff and bear other expenses regularly. Now I am bearing all the expenses by taking a loan. In this situation, we want cooperation from the government on how we can all keep the sector alive," said Noman, proprietor of Sadia International.
Shariful Hasan​, head of the migration programme at Brac, said recruiting agencies transfer all the costs onto the migrant workers.
"Therefore the increased tax burden is likely to hit the pockets of overseas job seekers," he said.
"Workers have to bear additional cost for Covid-19 and this is a bad time too for recruiting agencies. So this is not a good time for putting additional pressure on taxpayers," he said.
Ahsan H Mansur, executive director of the Policy Research Institute of Bangladesh, however, said the market of recruiting agencies was competitive and any single firm would not be able to shift the additional tax onto jobseekers for risk of losing business to others.