'Cotton GSP scheme' could be win-win'
Economist says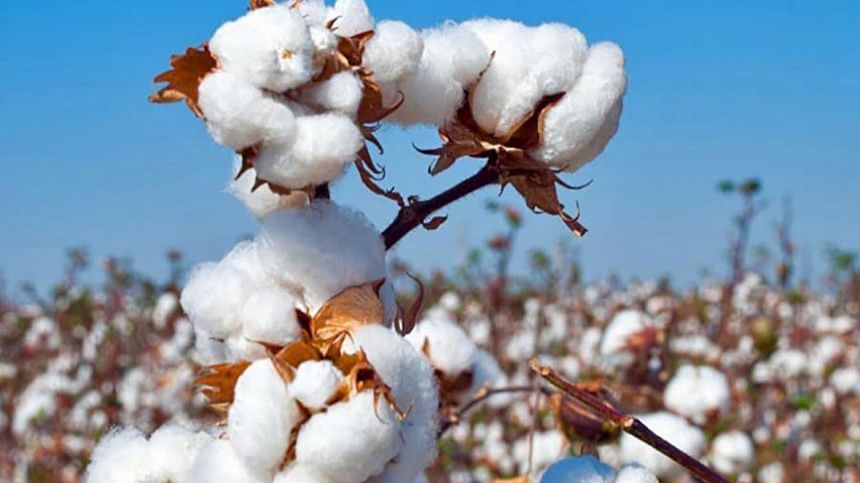 Bangladesh's garment exports to the US can increase annually anywhere from $400 million to $800 million if the American government offers a "cotton GSP scheme", according to a study.
Adopted by the US in 1974, the generalised system of preferences (GSP) programme sought to promote economic development in beneficiary countries eliminating duties on select products of theirs.
Taking cue from this programme, the study proposed that the US waive duty on Bangladeshi apparel made from American cotton under the "cotton GSP scheme".
This will simultaneously enable the US to export cotton worth $3 billion to Bangladesh in the next five to six years, said Mohammad Abdur Razzaque, research director of the Policy Research Institute of Bangladesh, today.
He was presenting this study of his through a keynote paper at a seminar on trade and investment between Bangladesh and the US organised by Economic Reporters' Forum (ERF) on its premises in Dhaka.
The GSP programme expired in December 2020 and the US congress is yet to take up a new scheme.
In recent years, the Bangladesh government and garment manufacturers have been urging the US to provide a 15.62 percent duty waiver on apparel made with American cotton.
The scheme is a "low-hanging fruit", an easy win-win for both countries, said Razzaque, also chairman of the Research and Policy Integration for Development.
Bangladesh also needs to ensure its "fibre security" as it currently produces less than two percent of its requirement for nine million bales of cotton, meaning that almost all of it is imported, he said.
The US is gradually becoming a good source of the fibre, he said.
Only the sky is the limit for attracting investment from the US to different sectors in Bangladesh, but improvements must first be brought about in border and customs clearance, said Masrur Reaz, chairman of the Policy Exchange of Bangladesh.
The US cotton met 11.5 percent of the country's demand, pointed out Faruque Hassan, president of the Bangladesh Garment Manufacturers and Exporters Association.
Bangladesh's garment manufacturers account for 9.7 percent of annual apparel imports by the US, so there is a lot of scope for further market exploration, including in the non-cotton category, he said.
He hoped for the reinstatement of Bangladesh as a GSP beneficiary, reasoning that a prerequisite 16-point Bangladesh Action Plan has been implemented.
Australia and the UK have already confirmed continuation of duty waivers even after Bangladesh makes the United Nations status graduation from a least developed country to a developing one in 2026, he said.
The Biden administration should follow the declaration of the sixth World Trade Organization Ministerial Conference held in Hong Kong in 2005, said Mohammad Ali Khokon, president of Bangladesh Textile Mills Association.
Developed countries had agreed to waive duties on all products but the US is doing so for 97 percent of its imports, that too excluding garments, he said.
Demand for cotton fabric will not fall even though non-cotton fabrics are increasingly being sought after, he said.
There is a scope for a duty reduction on Bangladeshi garments, said John Fay, commercial counsellor at the US embassy in Bangladesh, without elaborating.
There is a big potential for investments from the US in Bangladesh's healthcare, ICT and education sectors, he said.
However, there are some challenges, including over profit repatriation, intellectual property rights, data protection act and logistics services, he said.
He suggested Bangladesh make improvements in labour rights and laws and freedom of association for the GSP reinstatement.
Bangladesh has been suspended from the GSP programme since June 2013 in spite of a lot of reforms brought about for workplace safety, said Fazlee Shamim Ehsan, vice-president of the Bangladesh Knitwear Manufacturers and Exporters Association.
Bangladesh is not been getting much work orders shifting from China, said Shams Mahumd, managing director of Shasha Denims Ltd.
Most of those orders are going to Cambodia, Vietnam and African countries, mainly for the utilisation of zero-duty benefits under an African Growth and Opportunity Act, he said.
The seminar was chaired by ERF President Mohammad Refayet Ullah Mirdha and moderated by ERF General Secretary Abul Kashem.