Computer, IT accessories prices go up 20pc
Will affect online education amid pandemic, say experts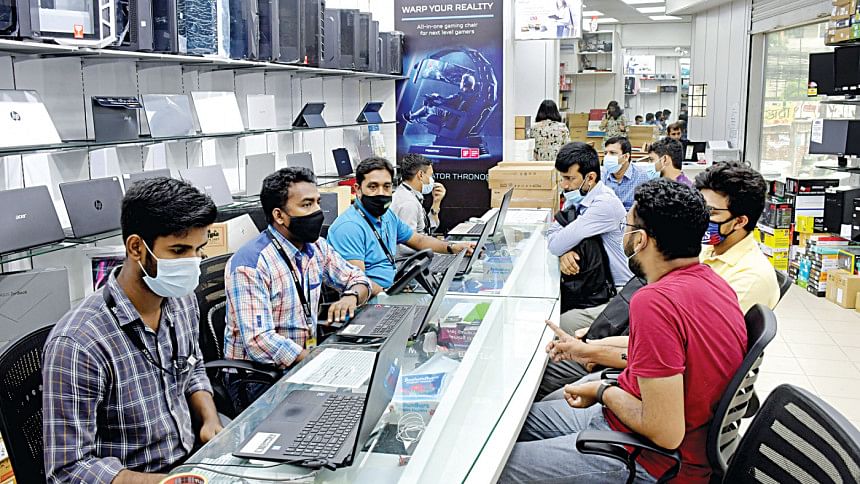 The price of computers and IT accessories has shot up 20 per cent in the last 14 months as pandemic-induced restrictions prompted educational institutions and businesses to heighten focus on home-based schooling and work.
Moreover, the hardware imports have dropped as both small and big overseas manufacturing factories kept shut either partially or completely while freight charges have increased.
Another development has been a widening supply-demand gap involving chips.
Importers and businesspeople said the hike in tech products' prices and the Covid-19 scenario were linked. With the Covid-19 situation prone to linger, chance are prices will not lessen or return to previous rates, they said.
"There is a crisis in the world market for chips," said importer Muzahid Al Beruni Suzon, general manager at Smart Technologies (BD).
"The production has decreased a lot because of it. The quantity of products that are in demand is not available for this," he said.
"I used to sell a Core i3 laptop for Tk 40,000-Tk 42,000. Now it is being sold at Tk 47,000 to Tk 48,000," said Suzon.
"Another reason for the price increase is the increase of freight charge," he also said.
Suzon said the crisis would not end suddenly as different countries were now affected by variants of coronavirus.
"It also happened during the first wave of coronavirus, a part of the quantity of products we ordered for import was also cancelled," he added.
"We sell about 12,000 laptops every month. The price of laptop hard disks, RAM, routers, motherboards, and processors has increased," said Mahfizur Rahman, in-charge of Ryans Computers at Multiplan Center on Elephant Road. 
"I would sell a Core i5 laptop with graphics card for Tk 53,000. But now it has become Tk 64,000," he said.
The current market price of a desktop comprising an AMD Ryzen 3 3200G processor, MSI B450 Max motherboard, Corsair LPX86B ram, MSI RX86B GPU, Western Digital blue 1 TB hard disk and a 22-inch monitor will cost Tk 65,840.
Apart from monitors and televisions, video walls have gained popularity for business and other purposes in recent years.
During the lockdown, routers became more popular in households. 
Laptop producers usually buy components from different factories, which had either remained shut or been operational with half their workforce, resulting in prices to go high.
The rise of bitcoin in the international market also contributed to a price rise of graphics cards.
The embargo on Huawei by the US came as a big blow in the production of chipsets.
Global Brand Bangladesh, one of the country's largest distributors, imports computer products of renowned companies like Asus, Lenovo, Dell, LG and Brother.
Its managing director, Rafiqul Anowar, said the increase of freight charge was one reason for the hike in computer product prices.
"The freight charge used to be $1,550 per container for importing computer products from China and Taiwan. Now it has shot up to $3,500 due to a crisis in the availability of containers," he said, adding that many importers opted for costly air shipments.
Bangladesh Computer Samity (BCS) President Shahid-ul-Munir told The Daily Star that the use of computers, laptops, web cams, smartphones and other technological products has increased manifold.
"Prices have gone up in the world market due to non-production of products as per the demand. This has affected Bangladesh as well," he said.
"Many people can't buy technological products despite the need in different parts of the country, due to the increase in prices," he said.
"Technological products are not as common as the other products. On the other hand, domestic companies are not yet self-sufficient in the production of technology products," said Munir.
"If the government imposes taxes on computer imports through the upcoming budget, it will turn into an obstacle to building a Digital Bangladesh," he said.
If the prices continues to rise, there will be a negative effect on the market, said the BCS president.
Sumon Ahmed Sabir, an IT expert, echoed the sentiment.
"Demand for desktops, laptops and various technological products has grown exponentially during this time of pandemic," he said.
"In the past, families used to have only one desktop and one laptop, now there are three to four devices in some families. From that point of view, the price should be reduced now," he said.
"But if prices continue to rise, it will create a new pressure on the people of the country," said Sabir.
"If the government really wanted to develop the local industry, it could have given various incentives to manufacturing companies. If that happened, then our local companies would be able to meet the demand for our products," Sabir added.
The Bangladesh Association of Software and Information Services (BASIS) President Syed Almas Kabir said digital devices were a must as they were dreaming to build a Digital Bangladesh. P
"We cannot use those services without looking at them. Desktops, laptops and tabs are all subject to various tax duties. These products are being made in Bangladesh. So there is a debate about raising taxes," he said.
"We heard through various sources that the tax on IT accessories may be increased in the coming national budget," he said.
"But in the current context, the tax should not be increased for the next two to three years. It should be reduced," he added.