Be proud of yourself and your achievements
Mubina Asaf, head of legal and external affairs at BAT Bangladesh, says during an interview with The Daily Star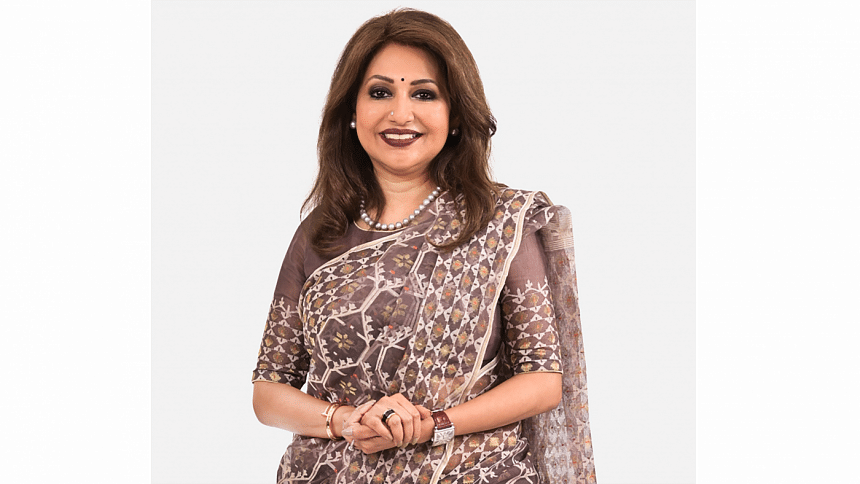 The Daily Star (TDS): Talking about women empowerment, which has been the buzzword in recent times, how would you define it? What does it mean to you, and how has the role of women in Bangladesh evolved over the years? 
Mubina Asaf (MA): Women empowerment, to me, means to be able to recognise your own power and capabilities regardless of the barriers that come your way. The empowerment should be attained from self-confidence and resilience and the mindset that failure is instrumental part of success.
The year 2021 is the clear definition of women empowerment to me. It gives me immense pride and happiness to see our very own Bangladeshi women thriving in all sectors and also exploring unknown territories and making a mark there as well. Kishwar Chowdhury, Azmeri Haque Badhon, Rabab Fatima are only to name a few who are achieving international success due to their own merit and hard work. This is how women are breaking barriers.
Even a little over 50 years back, the idea of women having careers was a topic of discussion. Our mothers and grandmothers did not have many options to choose from.  The liberation war was a turning point for us. The efforts of our women freedom fighters such as Bir Protik Taramon Bibi, Dr. Captain (Retd.) Sitara Begum and Hena Das who had such heroic contributions during our liberation war did not go in vain. They showed us the path and now I take pride to say our girls are outshining in every sector be it Army, Science, Education. As we venture further into the 21st century, we find ourselves living in a world with more opportunities than ever before.
Our political empowerment is on the rise. The current parliament of Bangladesh contains 350 seats out of which 277 are male and 73 are female which is almost 21%. On top of that 50 seats are exclusively reserved for women. We are ahead of our neighboring countries such as India and Pakistan in countries ranked by the percentage of elected women representatives in their national parliaments.
I think as a society we have come a long way; our acceptance has come a long way too. Nowadays we see more women in leading roles than ever before. We need to strive for the highest stature and never give up. We should always remember that hard work takes you places and if you are passionate about your craft then just go for it and grab the opportunity that comes your way.
TDS: Let's talk about your early career days which were about 30 years ago. You entered a very male-dominated professional world. How did you navigate through the situation?
MA: Historically, the legal profession is an extremely male-dominated one and truth be told, it has not been easy. Over the years, as more and more female lawyers entered the circuit, we have been breaking gender stereotypes and norms. 
If I look back at my early days. I am a product of University of Dhaka. I completed both my Bachelor of Laws (LLB) and Master of Laws (LLM) from the University of Dhaka.  
I began my career as an Associate at "Rokanuddin Mahmud and Associates". Afterwards, I worked in the Attorney General's Office of the Government of Bangladesh, first as an Assistant Attorney General and then as Deputy Attorney General. I also enrolled as an Advocate of the Dhaka District Court, High Court Division and Appellate Division of the Supreme Court of Bangladesh.
Every profession has its own challenges, but we must overcome those and not give up. To have a successful career, hard work and resilience is must. There are also various infrastructural barriers- such as female washrooms etc. in workplace. There is room for improvement. We should all work together to mitigate those.  
We must create an environment of inclusivity and mutual respect. We must treat talent equally and not enforce gender disparity, when it comes to the workplace women and men should be empowered and given equal opportunities to grow. 
TDS: You started your career as a legal practitioner and then moved to the corporate world. In our country's context, "shifting careers" is regarded as a bold move. What was the defining moment that pushed you to take up the challenge?  
MA: I was passionate about being a lawyer and I worked hard to be a successful one. However, I was at a crossroad when I took the decision to shift my career. As a lawyer, I could wait for the opportunity to become a High Court judge, that could take years too and was an uncertain road. However, when I got this opportunity, to be the Head of Legal of BAT Bangladesh and be a part of the corporate sector, I instantly took up the opportunity because I had complete faith on my craft. I knew I would excel in legal matters, because I am what my experience is- a lawyer!  But I would have to learn a new skillset in the corporate world as well. So, I took a leap of faith and took up the challenge. 
As the first woman to lead this function in a multinational corporation, it was certainly a great opportunity. However, shifting from an established career to a different field can be quite intimidating. Although it was a new territory for me, the fact that I took up a stretched role set the bar quite high for me. It already set the tone that I had earned a seat at the table, and I gradually overcame my challenges one after the other using my leadership skills and by enriching my knowledge about the business. In my early days, I understood that knowledge is power, nothing can stop you if you have clear understanding of the business. 
I brought in new values, diversity, and new thinking. I gave my team the comfort that I could manage risks. The worst thing that could have happened was that I could have failed, but I knew I could go back to practicing law if I did fail. But instead, I chose to work on my weaknesses, took my learnings and marched forward. After 8 years in the business, I am proud to say it was one the best decisions that I took. 
TDS: Bangladesh has been a role model of women's empowerment in South Asia in the last 50 years. What's your view? What are the changes you would like to see in the country that would enable greater empowerment of women?
MA: According to the Global Gender Gap report, Bangladesh has been the best performing country in South Asia for 7 times in a row. Bangladesh is the only country where women have held the head-of-state position (27 years) longer than men in the past 50 years. The political empowerment is on the rise and the Government policies and laws are the testament for that.
The Ministry of Women and Children Affairs has been implementing different programs to alleviate the poverty of women, stop the abuse of women, and stop the trafficking of women. 
There are many laws, but however, what I feel is missing is the enforcement and awareness. It is necessary that women are made aware of these policies and the rights that they have, otherwise these laws are redundant. Honourable High Court has given directives in 2011 regarding harassment at workplace which needs awareness. We still witness patriarchal norms in rural areas. Our honourable Prime Minister recently spoke of the misuse of religion by men to inherit greater shares of wealth, disinheriting their sisters, nieces, and other women within the family. Hence, reinforceable changes must be brought about to inheritance laws like they have been brought to the divorce laws. 
Another very important aspect is security of women. It is necessary to ensure safety in all areas including the workplace. 94% women according to a BRAC survey, face street harassment. We must ensure bus service for working women and exemplary punishments and convictions in the rape cases.
We must also fight against discrimination, domestic abuse, sexual violence, early marriage, and patriarchy.
I believe empowerment starts from home.  Being the eldest amongst the siblings I was always empowered to take responsibility from a very young age. My parents never discriminated amongst the brothers and sisters.  We were always enrolled to play same sport be it boxing or football. If we would like to participate or not was up to us, but the girls and boys were always given the same options. The mindset must be instilled from an early childhood and a girl will always take it forward in the next phase of her life. It was my father's thinking that has made me the person who I am today - an independent and empowered woman and I will forever be grateful to him for giving me these values.
TDS: What role can the corporate/private sector play in driving such change? 
MA: Our government has laid out a foundation. Now, it is essential that we build on it and ensure implementation of the policies. Corporations can come up with activities and initiatives that reach out to women in rural areas to further educate them on their rights and provide resources. 
Here at BAT Bangladesh, we provide six months of paid maternity leave and we also provide paternity leave. We provide childcare facilities here so that working mothers and fathers can bring their children to the office. We also have multiple initiatives in correlation with our Environmental, Social and Governance (ESG) frameworks to empower women across different functions.
These are examples we need to set to drive change. If we work hand in hand with the Government and make a collective effort, then we will become much stronger as a nation. Change will not happen overnight but the conversation needs to be triggered from now on so we can set the standard.  
As responsible individuals we need to ask ourselves what kind of world we want to create for our future generations.
Women are the backbone of a family and a society and their presence needs to be recognized more so that we can create an inclusive and sustainable future for the next generation leaders.
TDS: Who has been the key inspiration in your life and what will be your one key advice to young women in the professional world?
MA: My greatest inspiration are those women who have faced unprecedented struggles in their lives but still have the zest to live life to the fullest. 
On Begum Rokeya Dibosh I would like to remember one of her quotes: "I dream of a society where women would be magistrates, judges and barristers "— Begum Rokeya.
We are currently living Begum Rokeya's dream. On this special day I would like to pay tribute to all those women who are fighting the silent battle, who are being suppressed and deprived- My message to all the young women is to never give up. You should believe in the power you have and be self-confident. Be proud of yourself and your achievements and most importantly earn your financial independence and freedom because it is your birth right to live freely. Do not let anyone make you think otherwise.