Jute millers fearful of plastic packaging of rice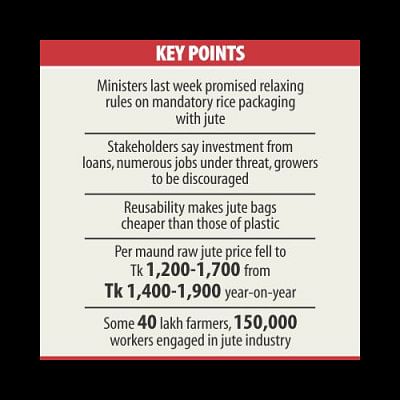 Jute millers and traders are apprehensive that permitting use of plastic instead of the natural fibre in rice packaging would hurt farmers and affect the jute sector's revival.
The worries surfaced after the agriculture, commerce and food ministers at a meeting last week promised rice millers that the government would relax the provision of mandatory packaging of rice with pricey jute bags to curb the price spiral of the staple food.
"This is a step aimed at destroying the jute industry," said Abdul Quayyum, secretary of Bangladesh Jute Association (BJA).
On Saturday, Bangladesh Jute Mills Association (BJMA) echoed BJA.
BJMA said people have started using jute bags complying with a packaging law framed in 2010.
The use of jute bags has increased with many handlooms and power looms in jute mills having started making bags to cater to rice millers.
Many entrepreneurs have installed modern machines with loans from banks after the enactment of the law and employed many people, said BJMA.
The jute sector has been on a turnaround thanks to the use of jute sacks in rice packaging, said BJMA Chairman Muhammad Shams-uz-Zoha.
"So, if people revert to plastic bags, the jute sector will seriously be affected," he said, warning that many people would lose jobs.
Shams-uz-Zoha said farmers may even feel discouraged to grow the natural fibre if they do not get fair prices.
The government is yet to issue any notification on relaxation of the use of jute bags for rice packaging for the time being. 
"We are yet to receive any instruction to this effect," said a senior official of the textiles and jute ministry yesterday.  
Operators said jute bags for rice packaging are available. Besides, the cost of jute bags will be less than that of plastic bags as a jute sack can be used several times, said BJMA.
"Farmers will be able to survive if the use of jute bags continues," said Quayyum.
Prices of raw jute fell to Tk 1,200-1,700 a maund this year from Tk 1,400-1,900 the previous year, according to Quayyum. 
The suspension of the mandatory use of jute bags will affect prices of the natural fibre under these circumstances, he said.
Quayyum said the use of jute in mills increased to 45-60 lakh bales from 40 lakh bales earlier owing to the implementation of the mandatory packaging law.
The jute industry involves about 40 lakh farmers and 150,000 workers.