Tax collection rebounds in May
But NBR still likely to miss target, experts say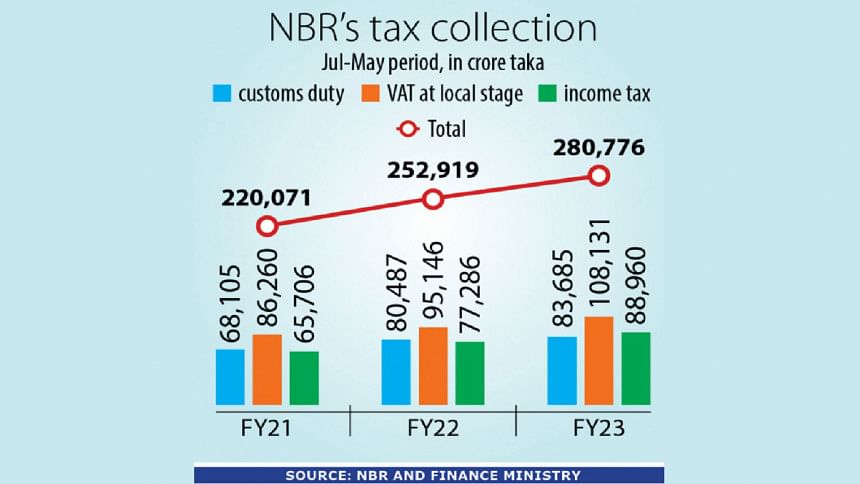 Tax collection by the National Board of Revenue (NBR) shot up in May, powered by buoyancy in value added tax (VAT) collection from domestic economic activities and increased income tax receipts, according to a provisional estimate. 
Taxmen collected Tk 30,481 crore in May, which drove the overall growth of revenue collection up by 11 per cent year-on-year in the July-May period of the current fiscal.
With the recovery in collection last month after a fall in April, overall revenue receipts stood at Tk 280,776 crore, which shows that the NBR will have to collect Tk 89,224 crore to meet its revenue goal of Tk 370,000 crore during this financial year.
"That means there will a big shortfall from the target," said Mohammad A Razzaque, director of the PRI Study Centre on Domestic Resource Mobilisation (CDRM).
The tax administration will be able to collect a maximum of Tk 320,000 crore this fiscal year. As a result, the revenue collection target of Tk 430,000 crore for next fiscal year will be very high, he added.
If so, this would be the 11th consecutive year the NBR would miss the tax collection targets set by the government, data from the finance ministry showed.
The NBR's preliminary data showed that taxmen collected 15 per cent higher taxes year-on-year to Tk 88,960 crore during the current fiscal.
An official of the NBR said collection of tax deducted at source as well as arrears increased last month, buoying the growth of income tax receipts.
Receipts from VAT, the biggest source of revenue collection, grew 13.65 per cent year-on-year to Tk 108,131 crore in the last 11 months of the outgoing fiscal year.
A section of businesses also imported an increased amount of goods ahead of June in anticipation that customs duty may rise in the next fiscal year.
"Subsequently, we saw a pickup in tariff collection from exports and imports," the NBR official added.
Collection of customs tariffs rose by nearly 4 per cent to Tk 83,685 crore during the same period of this financial year from Tk 80,487 a year ago, showed data from the NBR.
CDRM Director Razzaque said it has become vital for revenue collection to increase to bear the government's expenses along with subsidies.
"The subsidies requirement will increase if taka depreciates further," he said, citing how the government will need to arrange an additional Tk 476 crore as subsidies for the power sector if it takes just Tk 1 more to purchase each US dollar.
"This requirement cannot be met with the current pace of revenue collection. There is a possibility of further depreciation of taka after the market-based exchange rate takes effect. So, the need for subsidies to be paid by local currencies is likely to go up," Razzaque added.
Still, the prospect of a surge in revenue collection is not that bright.
"Imports have already declined because of economic crisis. So, there will be lack of dynamism in the economy in the next fiscal year. Revenue collection will be extremely difficult in the coming days," said Razzaque.
Towfiqul Islam Khan, senior research fellow at the Centre for Policy Dialogue (CPD), said the NBR's revenue mobilisation is bound to face a huge shortfall in FY2023-24.
"It was surprising to find that the revised budget did not recognise this obvious fact. It has also made the target for FY2023-24 overambitious," he added.
Khan then said institutional efforts towards curbing tax evasion have not been seen while slow implementation of reforms and digitalisation have shackled the NBR's efforts to this end.
Citing the conditionalities of the International Monetary Fund regarding increasing revenue collection by 0.5 percentage points every year, he said the NBR is desperate to collect taxes from easy sources.
This is clearly reflected in the fiscal measures proposed in the budget for FY2023-24.
"In this way, it may improve their performance for a year or two, but they cannot make any sustainable advancement. Curbing tax evasion and illicit financial outflow should be a priority of the NBR's agenda," Khan added.