Taka hits 86 against dollar for first time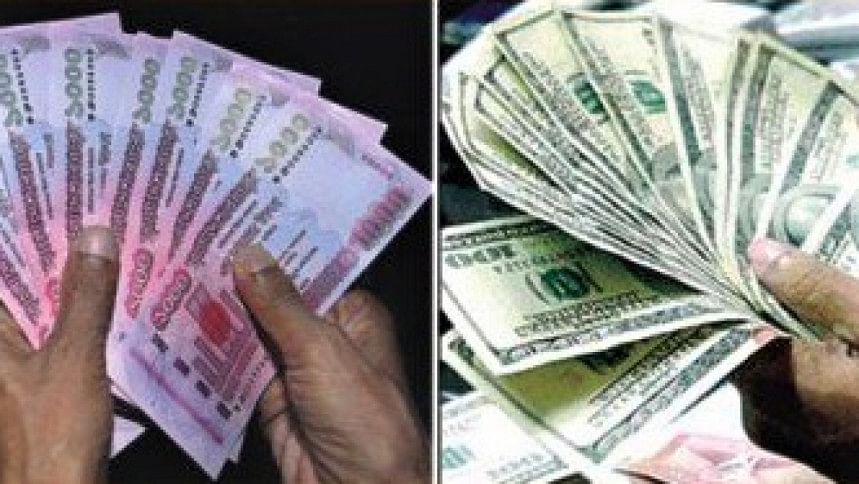 Bangladesh Bank yesterday devalued the taka against the US dollar to a large extent in order to tackle pressure stemming from an increase in import payments and give encouragement to remitters.
The interbank exchange rate hit Tk 86 per dollar yesterday for the first time, up from $85.80 on Thursday, showed data from the central bank.
This has been a major depreciation of the local currency in recent years, said a Bangladesh Bank official.
The central bank usually depreciates the local currency between Tk 0.05 and Tk 0.10 per dollar for a particular working day.
The inter-bank exchange rate stood at Tk 84.80 on January 10 last year.
The local currency is trading at more than Tk 90 per USD in the kerb market.
Ahsan H Mansur, executive director of the Policy Research Institute of Bangladesh, said that this was the right decision towards adjusting the imbalance faced by the foreign exchange market.
He went on to urge the central bank to depreciate the local currency to at least Tk 88 per dollar.
"I hope this is the first step in the BB's efforts to depreciate the local currency, and the central bank will do it step by step to keep the market stable."
A central bank official said the exchange rate was supposed to be determined by the market. But the BB intervenes in the foreign exchange market from time to time in the interest of the economy.
The local currency has been facing pressure in recent months in the wake of escalating imports and falling remittance inflow.
Against the backdrop, the central bank injected dollars into the market on a regular basis in order to contain the depreciation of the taka.
For instance, banks have so far purchased around $2.50 billion from the central bank this fiscal year to settle their import bills. As a result, foreign exchange reserves are declining.
Import payments stood at $31.16 billion between July and November, up 54 per cent year-on-year.
Remittances narrowed 21 per cent year-on-year to $10.23 billion in the first six months of the fiscal year.
The BB official said the depreciation of the local currency would discourage businesses from importing luxurious items while encouraging expatriate Bangladeshis to send their hard-earned money through the formal sector.
In addition, this will also give a boost to exporters, he said.
The foreign exchange reserves stood at $44.36 billion on January 6 in contrast to $46.4 billion on June 30 last year. It hit a record $48 billion in August.