State-run oil companies see higher profits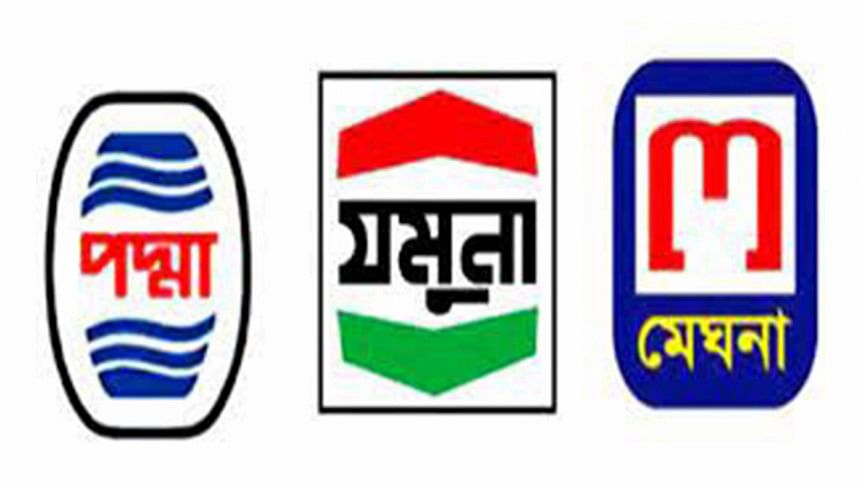 While most listed companies struggled to raise profits in the first half of 2022-23 owing to higher petroleum prices, listed state-run oil companies in Bangladesh saw a staggering double-digit growth in earnings.
The higher profits came mainly from higher interest income from bank deposits and higher sales revenue as demand for fuel rose amidst power outages.
Jamuna Oil Company's profit grew by 81 per cent compared to the same period of the previous year while profits of Meghna Petroleum and Padma Oil Company rose 33.7 per cent and 38 per cent, respectively.
"The profits rose mainly due to higher sales and higher interest income," said Md Masudul Islam, company secretary of Jamuna Oil Company.
Jamuna Oil Company's profits surged to Tk 168 crore, according to the financial report of the company.
About the reasons behind the increase in sales, Islam said power cuts were acute between July and December, which raised the consumption of fuel.
"Thus, profits increased."
Jamuna Oil Company's fuel sales rose 20 per cent to Tk 71 crore.
Responding to a question on the impact of the recent fuel price hike, Islam said fuel price fluctuations had little impact on the company's earnings, which were fixed on the rate of sales.
The prices of diesel and kerosene were raised by 42.5 per cent in August. The price of petrol saw a 51.16 per cent jump and octane became dearer by 51.68 per cent.
Interest income rose in July-December as banks were offering a higher deposit rate. "It helped us log higher profits," Islam added.
The state-run company's interest income increased 72 per cent to Tk 210 crore. Its bank deposit amounted to Tk 1,392 crore as of December 31.
Reza Md Riazuddin, company secretary of Meghna Petroleum, echoed the sentiment, saying the main reason for the higher profits was a larger non-profit income and most of that came as interest income from bank deposits.
Profits of Meghna Petroleum rose 33.7 per cent to Tk 184 crore in the first half of the financial year. Non-operating income rose 40 per cent to Tk 180 crore. Fixed deposit of Meghna Petroleum stood at Tk 1,283 crore as of December 31, 2022.
As banks were more flexible in offering a higher interest against deposits, with the ceiling set at 6 per cent on April 1 of 2020, the interest income rose in the period, Riazuddin said.
In August 2022, the Bangladesh Bank asked banks not to set interest rates on fixed term deposits below the inflation rate as it yields negative returns for savers.
The weighted average interest rate on deposits stood at 3.97 per cent in June while the average inflation rate was 5.56 per cent, showed data from Bangladesh Bank and the Bangladesh Bureau of Statistics (BBS).
After the central bank's instruction, banks started to offer higher interest rate on deposits. At the end of December, the weighted average interest rate on deposit rose to 4.23 per cent, BB data showed.
Sales of Meghna Petroleum were higher as the economy was recovering from the pandemic-induced slowdown, Riazuddin added.
Sales of the petroleum products of Meghna Petroleum rose 8.4 per cent to Tk 116 crore between July and December.
Sales of Padma Oil were also 14 per cent higher at Tk 139 crore in the six-month period. It was Tk 122 crore in the same period of the previous year.
It logged a 38 per cent year-on-year higher profit of Tk 158 crore in the July to December period. The non-operating income, which refers to the interest income on bank deposits, rose 28 per cent year-on-year to Tk 168 crore.
The company's profits rose due to the higher sales and increase in non-operating income, said Padma Oil in its financial report.