Fuel price hike could have been avoided: Wahiduddin Mahmud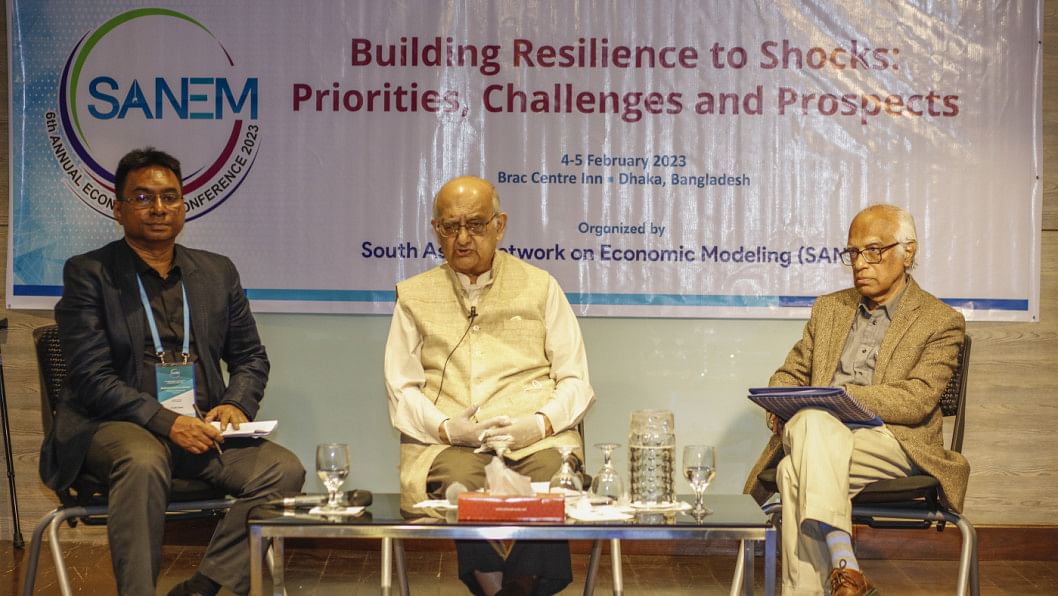 Bangladesh would hardly have needed to go for a sudden hike in fuel prices last year had the government waived value added tax (VAT) on petroleum, eminent economist Wahiduddin Mahmud said today.
"VAT is in principle a tax on consumption and is imposed on intermediate goods only as matter of expediency. But a universal intermediate input like fuel should not be a major source of VAT revenue collection."
He was speaking at the sixth Sanem Annual Economists' Conference (SAEC) 2023 at Brac Centre Inn in Dhaka.
The South Asian Network on Economic Modeling (Sanem) organised the two-day event, which began this morning.
Wahiduddin, who was speaking in a session on 'Rowing against the tide,' said the sudden hikes in international high fuel prices have been the trigger for the current global economic crisis.
He, citing the International Monetary Fund (IMF), said the usual IMF prescription of aligning domestic prices to global prices is generally a good idea and can be justified only if targeted to very specific groups or for specific purposes, such as fuel needs for irrigation by poor farmers.
"But very sharp and sudden hikes in domestic fuel prices lead to price increase across the board at a time when there is already inflationary pressure in the country," he said.
"The problem is exacerbated if the government has to rely heavily on fuel taxes for revenue purposes, as is the case in Bangladesh, where VAT on fuel is an important source of revenue."
The economist, mentioning global food prices, said the present crisis has been a reminder that there should be renewed emphasis to food security in terms of investments in agricultural research and extension, food storage and public food distribution programmes, he said at the event.
Sanem Executive Director Prof Selim Raihan moderated the session where Centre for Policy Dialogue Chairman Rehman Sobhan also spoke.