Remittance outflow crosses $100m -- thru legal channel
World Bank data shows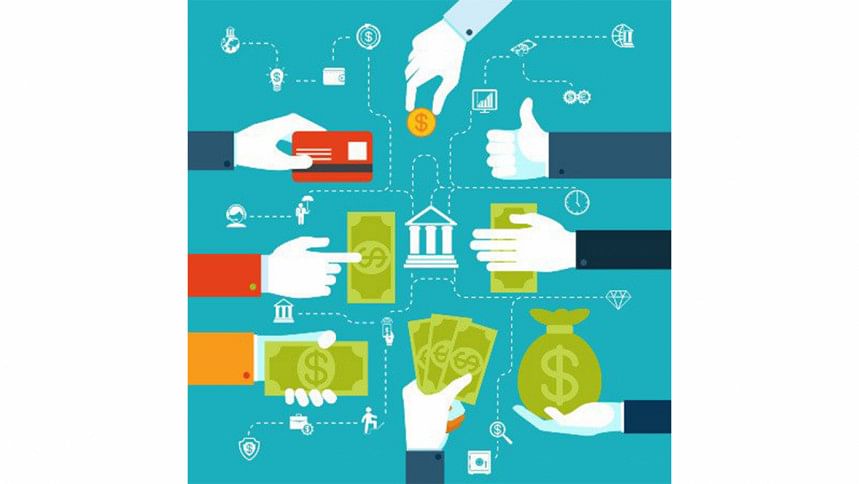 Outward remittances from Bangladesh through legal channels crossed the $100-million mark for the first time in 2021 as more foreigners are working in the fast-growing economy, data from a global organisation showed.
Foreigners remitted $101 million last year, up 6.3 per cent from $95 million in 2020, according to the new estimates of the World Bank's Global Knowledge Partnership on Migration and Development (KNOMAD).
It was $32 million in 2015, $41 million in 2016, $47 million in 2017, $57 million in 2018, and $83 million in 2019.
Outgoing remittances accounted for 0.02 per cent of Bangladesh's gross domestic product (GDP) in 2021.
However, the data does not capture the real scenario of remittance going out of Bangladesh since many foreigners work here illegally.
Some 90,000 foreigners are employed in Bangladesh following due procedures, according to a study report of the Transparency International Bangladesh (TIB) in 2020.
Foreigners remitted $101 million last year, up 6.3 per cent from $95 million in 2020, according to new estimates of the World Bank's Global Knowledge Partnership on Migration and Development
The anti-graft organisation said an estimated $3.1 billion was siphoned away every year by foreign nationals employed in the country. About 1.6 lakh foreign nationals became gainfully employed in Bangladesh after entering the country on a tourist visa.
Typically, foreigners enter Bangladesh on a three-month tourist visa and manage jobs soon afterwards given the shortage of people with strong communication and management skills.
When their visa is nearing expiration, they go back to their home country and return with a fresh three-month tourist visa and continue with their jobs in Bangladesh.
Their salaries are paid fully in cash or to bank accounts abroad, depriving the government of tax too, said the TIB.
The estimates made by the KNOMAD demand close scrutiny to fully comprehend policy implications and priorities, said Iftekharuzzaman, executive director of the TIB, yesterday.
He said at least $3.1 billion were illicitly transferred out of Bangladesh annually by expatriate workers. In addition, the estimated amount of related annual tax evasion was at least $1.3 billion.
"This has been going on over the years due to policy gaps as well as lack of proper oversight and compliance of whatever regulatory provisions and mechanisms exist."
Particularly worrying, Iftekharuzzaman said, is the almost absence of accountability for non-compliance that involves collusion of employers and employees as well as lack of capacity and connivance of a section of relevant officials.
"There is no strategically designed business model and policy framework for the sector, no specific oversight authority, nor the necessary level of coordination among various relevant organisations."
Last year, Bangladesh received $22.20 billion in remittances but it might fall to $21 billion this year, the World Bank estimated.
Remittance sent home by more than 1.2 crore Bangladeshis living abroad represents 4.6 per cent of the GDP and thus is an important pillar of the economy.
High-income countries were the main source of remittances globally, according to the KNOMAD report.
The United States is by far the largest, with an estimated $200 billion in outward flows in 2021. Saudi Arabia ranks as the second largest, followed by the United Arab Emirates, Germany, the United Kingdom, Russia, Canada, France, Spain, and Australia.
The six Gulf Cooperation Council countries accounted for about $134 billion in outward remittance flows in 2021, and indeed, as a share of GDP or on a per capita basis, the GCC region is by far the top source region for outward remittances worldwide.
Low- and middle-income countries (LMICs) receive about 56 per cent of their remittances from high-income Organisation for Economic Co-operation and Development (OECD), 27 per cent from the GCC and other high-income countries (outside the OECD), and about 17 per cent from the other LMICs.