How industries are coping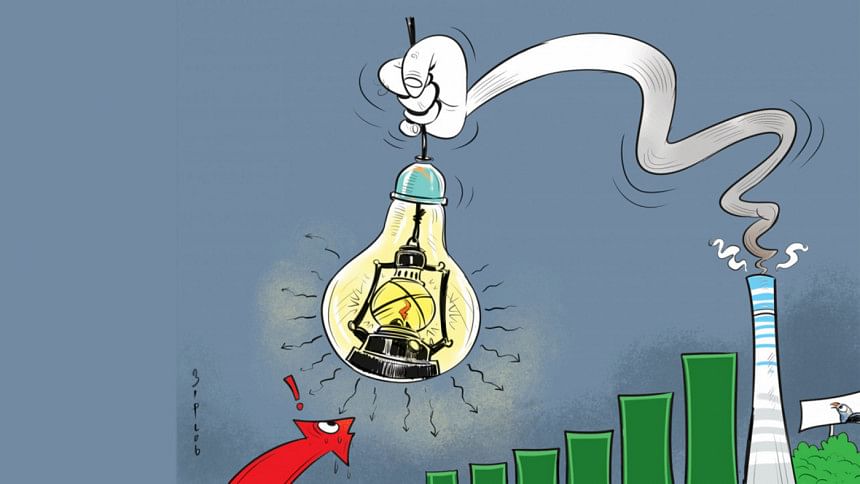 Over the last couple of weeks, power cuts have become a pretty regular event.
And as the scenario has deteriorated, some factory owners and millers either stopped production or introduced new duty rosters for workers in tune with the availability of power and adequate pressure of gas in supply lines.
There are even some who are running the units using expensive diesel just to keep their commitment to buyers on supplying goods on time.
This is how many are managing their days amidst deepening power and energy shortages, with production falling by as much as 50 per cent, according to several businesses.
All in all, the factory owners and millers are not focusing on profits.
"Some millers shut operations for a few days because of the low pressure of gas in supply lines and power cuts," said Mohammad Ali Khokon, president of the Bangladesh Textile Mills Association (BTMA).
Running spinning mills, weaving mills and dyeing units needs a lot of gas pressure and electricity, he explained.
"It has been many months that textile millers are running their units at 50 per cent capacity because of the low gas pressure."
But the severity of the crisis intensified recently with the frequent power cuts.
"It is not possible to operate factories with diesel-run generations for eight hours a day because generators also malfunction when they run for extended periods."
Meanwhile, the price of gas almost doubled last year, for which the cost of doing business has increased a lot, he said.
Small and medium enterprises, particularly those using power looms in districts such as Sirajganj, Narsingdi, Narayanganj, and Pabna, suffered the most.
"Unfortunately, when there is a power cut, workers of small factories go home instead of waiting for the electricity to come back," said Khorshed Alam, chairman of Little Group, which supplies yarn to the domestic market.
Small and medium enterprises have been facing an acute gas and power crisis since May 2.
Since the production in the factories and mills fell sharply, unsold yarn is piling up, Alam said, adding that in some cases, small factories are running at 30 per cent capacity because of the power cuts.
Noman Group, a garment exporter, has minimised costs and profits as the company is committed to its buyers, said its chief executive officer Shahidullah Chowdhury.
"A new duty roster for workers has been introduced for the continuation of production."
For instance, when the gas pressure improves, the company's Tongi and Rajendrapur units work on spinning and dyeing and the rest of the time, they do other work.
The group's gas bills increased to Tk 70 crore per month from Tk 35 crore since February this year although the pressure of gas is still low, said Chowdhury. The company can run at 50 per cent capacity now.
"If the situation does not improve soon, local factories will face problems in making exports and paying workers," said Mohammad Hatem, executive president of the Bangladesh Knitwear Manufacturers and Exporters Association.
In the end, factory owners will fail to repay loans as they will not be able to make a profit, he said.
"The situation is very bad. A dearth of energy is a big concern now," said Md Jashim Uddin, president of the Federation of Bangladesh Chambers of Commerce and Industry.
"Running a business with diesel-run generations is very expensive. So, output has fallen and the cost of production has increased."
Also, a demand of businesses for lowering the duty on the import of solar panels has not been met in the proposed budget, he said.
Sameer Sattar, president of the Dhaka Chamber of Commerce and Industry, echoed Jashim.
He suggested entrepreneurs use energy-efficient equipment to run factories.