Hazaribagh leather cluster logs Tk 60cr trade annually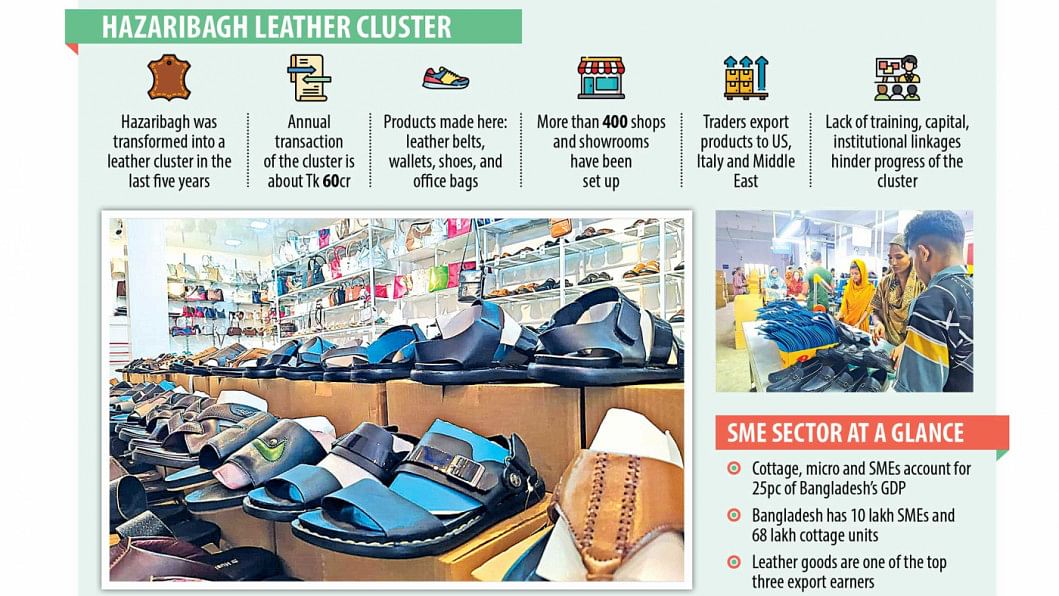 Hazaribagh has transformed itself into a leather products manufacturing hub from a tannery zone in a span of five years since rawhides processors were shifted to Savar, logging an annual trade of Tk 60 crore. 
More than 400 shops and showrooms have been set up in different places in the area, including around the Institute of Leather Engineering & Technology, Hazaribagh Bazar and Dhanmondi 15. They produce products such as leather belts, wallets, shoes, parts and official bags for both local and export markets.
According to business people, after the tanneries were shifted, the economy there had come to a standstill for some time. However, Hazaribagh is making a comeback in a new form.
Tania Wahab, president of the Leathercraft Association, a platform of leather goods makers, says the environment has gotten rid of pollution after tanneries were relocated.
However, the export of the products made in the factories in the area is still being hampered as Hazaribagh is considered as a red zone by the environment department.
"Because of the red zone classification, we face troubles in securing bank loans and running businesses. We have to work to solve the problem. Otherwise, entrepreneurs in the cluster will not be able to go very far," said Tania, managing partner of Karigar.
The company supplies leather products to a number of local and multinational companies and exports on its own.  
The number of factories, big and small, in Hazaribagh would be about 1,200, employing 55,000 to 60,000 people, according to Tasnim Alam, managing director of 3 Tech, a leather goods manufacturer and supplier to local and multinational companies.
He says entrepreneurs based in Hazaribagh are doing good business.  
Alam's company has an annual turnover of Tk 2 crore and exports products to the countries such as Switzerland, Japan, the UK, and Italy. It employs 23 workers.
Tannery owners have also focused on setting up leather goods factories in their factory space.
Speaking to The Daily Star yesterday, Mafizur Rahman, managing director of the SME Foundation, says there is a huge possibility of generating jobs in the cluster and earning foreign currencies.
Entrepreneurs in the cluster are exporting products to some Middle Eastern countries, the United States, and Italy, he said.
A lack of technical training, capital, institutional and market linkages, and networking is hindering the progress of the cluster. "As a result, it is not being able to develop fully," Rahman said.
In February, officials of the SME Foundation prepared a report on the cluster.
According to the report, the cluster's weaknesses include a lack of quality raw materials, modern production facilities, diversified product designs, adequate capital, and the use of ICT in the business.
The absence of ideas about modern machinery, proper marketing and packaging, and the export market is also among the shortcomings.
Entrepreneurs in the clusters called for processing the raw materials of leather products in an environment-friendly manner at the Leather Research Institute and providing training to them on the use of modern machinery so they can manufacture diversified products.
The size of the local leather goods and footwear market in Bangladesh is Tk 12,000 crore, according to industry people.  
Leather and leather goods are the second largest export earning sector in Bangladesh after garments.
Leather, leather goods and footwear shipment surged to a 10-year-high of $1.25 billion in the last fiscal year thanks to the arrival of orders that shifted away from competitors, data from the Export Promotion of Bureau showed.