Owners seek more time to relocate tannery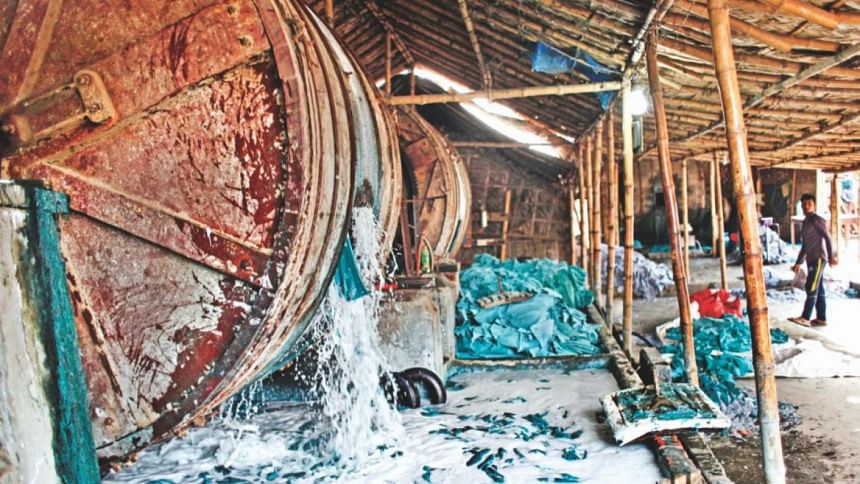 The tannery owners today sought permission from the High Court to operate their industries at Hazaribagh in Dhaka till Eid-ul Azha this year, saying that project of Tannery Industrial Estate including the central effluent plant (CETP) at Savar is not fully ready now for their relocation.
Tannery Owners Association and Bangladesh Finished Leather, Leather Goods and Footwear Exporters Association have jointly filed a petition with the HC on March 23 seeking its permission.
Citing from the petition, Barrister Mehedi Hasan Chowdhury, a lawyer for the tannery owners, told The Daily Star that gas connection was not fully ready for the tannery industries at Savar.
The rate of environment pollution has reduced at Hazaribagh area, as rawhide is not allowed to enter there, he said, adding that most of the factories were not complete and construction work of factories was slow at the estate in Savar.
The HC bench of Justice Syed Refaat Ahmed and Justice Md Salim today started hearing on the petition.
After concluding the proceedings of today, the bench fixed tomorrow for resuming the hearing on the petition.
Following another petition filed by Bangladesh Environmental Lawyers Association's (Bela), the same HC bench on March 6 directed the director general (DG) of the Department of Environment to immediately close the tanneries running in Hazaribagh.
The HC court also ordered the DG to disconnect the utility services, including gas, power and water, to the tanneries as they were damaging the environment violating the court's earlier directives.
Ministries of home, environment, industries, inspector general of police (IGP) and the commissioner of Dhaka Metropolitan Police have been asked to assist the DG in complying with the order.
The HC asked the DG to submit a report after complying with its directives by April 6 and fixed April 10 for further hearing on the issue.
On March 12, the Appellate Division of the Supreme Court upheld the HC directive with dismissing a petition filed by the chairman of BFLLGFEA seeking a stay on the HC order until June.
Barrister Sheikh Fazle Noor Taposh argued for tannery owners, while Barrister Fida M Kamal and Advocate Syeda Rizwana Hasan were present for Bela.