Relocation from Hazaribagh
Tanners to seek more time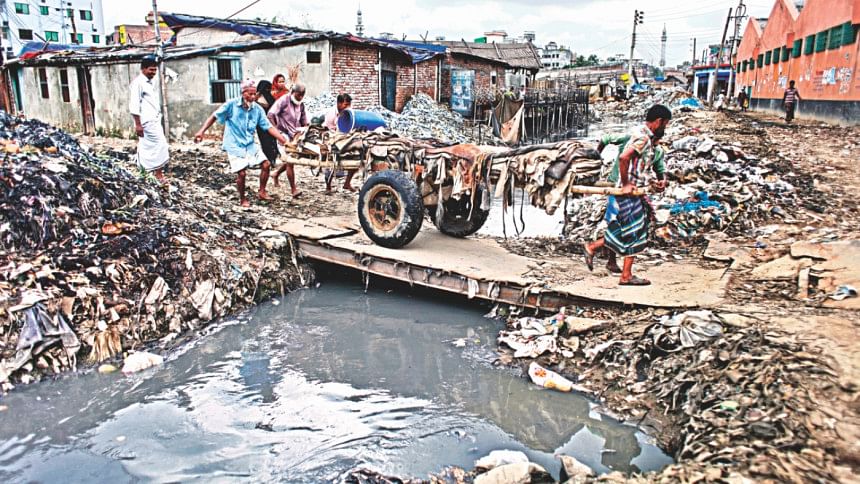 Tanners are likely to ask the government to give them six to eight more months to relocate their factories from the capital's Hazaribagh area to Savar Tannery Industrial Estate.
They will also file an appeal with the Supreme Court against the High Court verdict that ordered the owners of 154 tanneries in Hazaribagh to pay Tk 50,000 each a day in compensation for damaging the environment in the area.
"We will sit on Saturday [today] to discuss the issue. We are making preparations to appeal against the High Court order. We will also urge the government to give us six to eight more months," said Tipu Sultan, former chairman of Bangladesh Finished Leather, Leather Goods and Footwear Exporters' Association.
Of the 154, around 60 are big and medium factories and the rest are small ones, Sultan said, adding that the small factories would be affected badly and may even face closure if they have to pay the fine of Tk 50,000 each every day.
According to the court order, the owners will have to deposit the money with the state exchequer from the date of receiving copies of the HC order until relocation of their factories to Savar.
The HC directives came on Thursday following a petition by Human Rights and Peace for Bangladesh.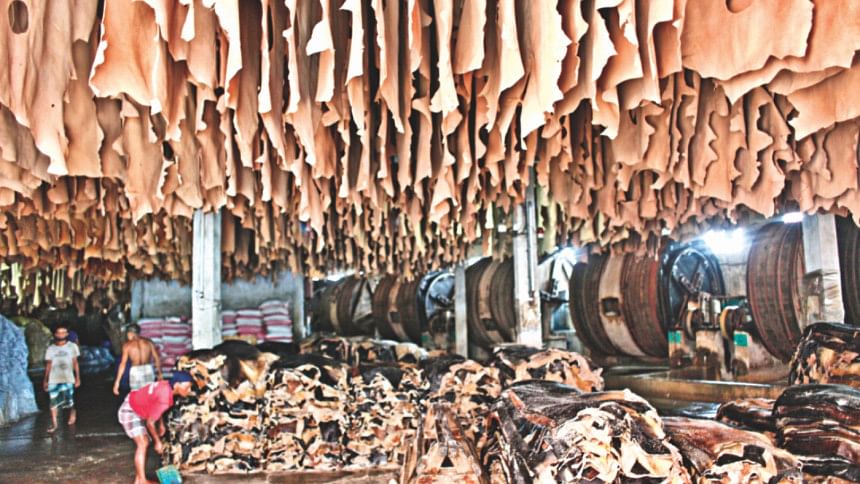 Talking to The Daily Star yesterday, Sultan said the tanners would need around Tk 4,500 crore to build the structures in Savar whereas they would get around Tk 100 crore from the government.
"Forty to 50 factories are in the process of shifting to Savar and would be able to move there before the Eid-ul-Azha. But I doubt whether they would get the facilities of a Central Effluent Treatment Plant, a dumping yard and a Central Chrome Recovery Plant," he added.
Over the last one decade, the tanners had missed more than a dozen deadlines for shifting their factories to Savar. They are yet to complete construction of factory buildings there though the last deadline set by the government for relocation expired on March 31 this year.
Bangladesh Small and Cottage Industries Corporation (BSCIC) approved the lay-out plan of 152 industrial units in Savar. Of those, 148 units are under construction, according to officials of the BSCIC, the government agency responsible for implementing the project.
On Thursday, President of Bangladesh Tanners Association Shaheen Ahmed told the BBC Bangla Service that they would need time till December this year to shift all the tanneries to Savar.
The tanneries in Hazaribagh area release thousands of litres of untreated and toxic waste to the Buriganga River every day.
Taking into account the health and environmental hazards caused by the tanneries, the government in 2003 took up a project to relocate those to Savar.
The project was first scheduled to be completed by December 2005. But the deadline was extended more than a dozen times at the request of the tanners.