Grading restaurants based on standards see little progress in 3 years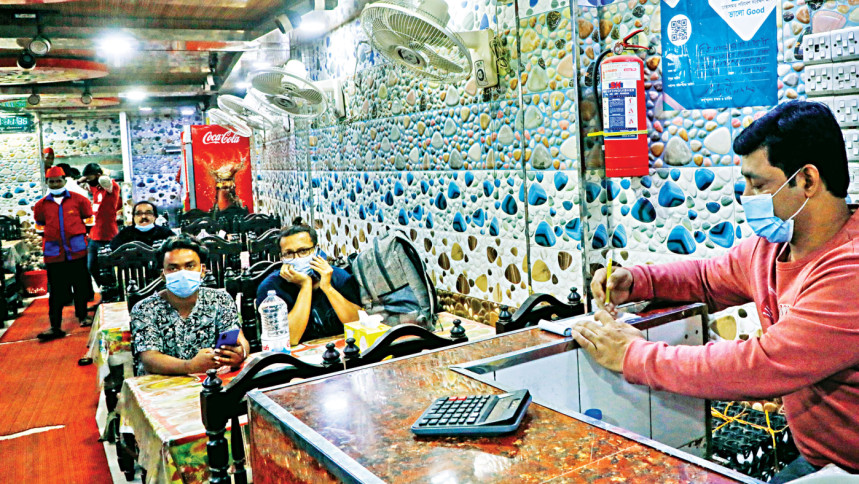 Plans  to bring the country's restaurants and bakeries under a grading system  according to their standards have seen little progress in three years.
In  early 2019, Bangladesh Food Safety Authority (BFSA) initiated the move  by displaying stickers of the standards initially at 56 establishments  in Dhaka as a review for customers to make informed purchases.
Till date, only 150 restaurants and bakeries have been brought under the system.
Regular monitoring of food quality and hygiene is also in a limbo.
The BFSA said the grading system was new for businesspeople, so most did not show interest in joining the initiative.
Most have no capacity to maintain standards, which is another reason behind the slow progress, it said.
According  to the BFSA officials, the establishments were graded in four  categories -- the best getting A+, the "good" A, the "average" B and the  "very poor" C alongside a one-month's notice for improvements.
The  150 establishments were all in and around Dhaka and the BFSA has set a  target to bring 10,000 in 64 districts under monitoring this year, said  Imran Hossain Molla, a BFSA monitoring officer.
Similar ratings exist in London, said journalist Mostafa Yousuf recalling a visit in 2019.
"I  saw roadside shops selling fast food, all having a three-star hygiene  rating out of five. This grading system helps customers get an idea  about the shop and the food they sell," he said.
The BFSA was established in February 2015 under the Food Safety Act 2013 to prevent food adulteration and ensure food quality.
The  agency has the jurisdiction to conduct mobile courts and punish those  violating the rules pertaining to the production and sale of food.
According  to the BFSA data, 1,530 mobile courts were run in fiscal year 2020-21  by the authority's own executive magistrate alongside district  magistrates.
During this time, 2,870 cases were registered, Tk 5.10 crore in fines imposed, 2,199 rule violators penalised and 131 jailed.
According  to Bangladesh Restaurant Owners Association, there are about 60,000  restaurants in the country, including around 10,000 in Dhaka.
GROUND REALITY
Cafe Baisakhi Restaurant, located opposite National Press Club in the capital, has been graded A by the BFSA.  During  a visit on the evening of January 15, food was found kept in dishes in  the kitchen without any lid, with flies buzzing over two of them.
The  kitchen itself was damp while the floors dirty.
Wearing  clean clothing had gone out the window for kitchen staff. Though the two  persons serving food were wearing distinguishable clothing, none had  face masks on.
"We want to run the restaurant according to  the rules. But we cannot always follow the rules. Moreover, the number  of customers has come down after the metro rail project started," said  Manager Tanvir Ahmed.
"When grading activities were  initially undertaken, there was a lot of monitoring. But I can't recall  when was the last time any official came to monitor our restaurant," he  ‍said.
According to the BFSA, in the last three years, a  number of restaurants received C grade. One of those is Vikrampur  Mistanno Bhandar located in Kalabagan.
When this correspondent visited the shop on January 15, staff said they had now been upgraded to A.
Here  too were two persons serving sweetmeat but without face masks on. Eight  customers inside were standing in close proximity, apparently oblivious  to social distancing protocols.
One staff said the BFSA had imposed several conditions for better grades.
"If  we follow them, we will get A+ grade. We're trying to follow them. Now  we are A grade. Hopefully we'll get A+ as well," he said.
"Our  restaurant is currently undergoing renovations. Due to this, some parts  are cluttered. I hope I will be able to sort everything out in two or  three days," he said.
Contacted, BFSA Chairman Abdul Kayowm  Sarker said there were countries with independent audit agencies  providing credible monitoring of entire processes from farm to plate.
"But we don't have such a team. We have a monitoring team which regularly sees to it that the grading is correct," he said.
He  said any grade change hinges on the monitoring report. The number of  monitoring team members is limited, so there is no scope to offer  grading on a massive scale, he added.
BFSA ACCEPTS COMPLAINTS VIA FACEBOOK
There is an option for consumers to file complaints on the BFSA's Facebook page (https://www.facebook.com/bfsa.gov.bd).
"We  get few written complaints. Most complaints are placed on our Facebook  page. The process of making a written complaint takes much time," said  one BFSA official.
Meanwhile, the BFSA is still piloting a Nazar app, launched in 2019, for monitoring eateries in 64 districts.