Floods ruin paddy yield prospects in Chalan Beel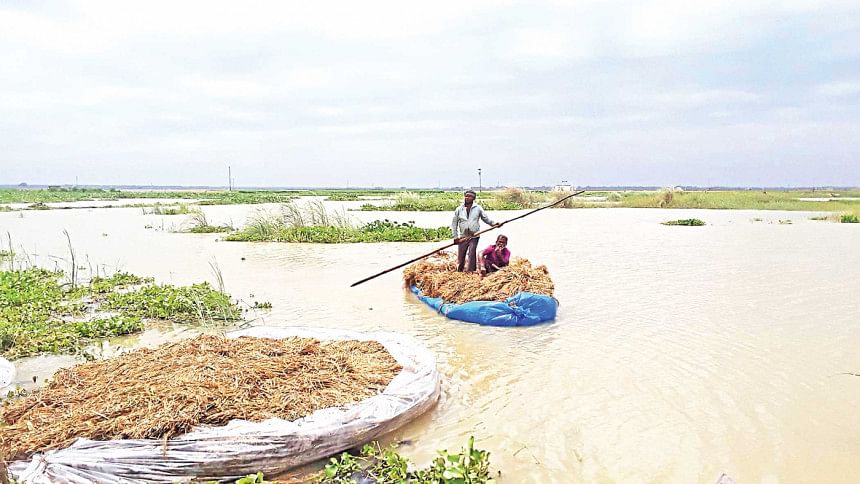 Paddy farmers in the Chalan Beel region of Rajshahi, Pabna, Sirajganj and Natore are concerned about whether they can achieve their expected yields this year as early floods have badly damaged their crops in the vast wetland.
"I cultivated five bighas of paddy at a cost of Tk 62,000 to get about 110-120 maunds of paddy worth around Tk 85,000 but my dreams have gone belly up as the entire field is submerged," said Md Aiyub Ali, a farmer of Chatmohar upazila in Pabna.
"In order to salvage what I can, I need to engage double the number of workers for harvesting," he added.
Making matters worse, labour costs have risen to about Tk 850 per worker while it was Tk 650 to Tk 700 last year.
Ali has spent about Tk 12,000 on labour costs to harvest just 30 maunds of paddy from two bighas of land so far, putting him at a loss of between Tk 4,000 and Tk 5,000 per bigha considering a selling price of Tk 750 per maund (40 kilogrammes).
"I cannot even get a good price for what is harvested as the crop is damaged," he said.
Like him, most farmers in the country's northern region are fearing poor production this year due to the untimely rains that have damaged crops while also creating additional harvesting costs.
Similarly, officials the Department of Agricultural Extension (DAE) in Pabna, Natore and Sirajganj expect yields to fall short of their estimated targets.
"Last year, we cultivated Boro paddy on 55,221 hectares of land across nine upazilas in Pabna to get 2.52 tonnes of rice with an output of about 4.57 tonnes per hectare," said Md Saiful Islam, deputy director of the Pabna DAE.
"This year, we cultivated 55,388 hectares and expected to get 4.59 tonnes of rice but after harvesting about 80 per cent of the crop, we got only 4.1 to 4.12 tonnes of rice," he added.
During a visit to various villages in the Chhaikhola and Beel Cholon unions in Chatmohar upazila, this correspondent found that most farmers were struggling to save what they could from submerged croplands.
"After harvesting the paddy, we take them back home in a boat made of polyethene bags as nothing is available in such a sudden disaster," said Arman Hossain, a farmer of Afradah Beel in Chalan Beel.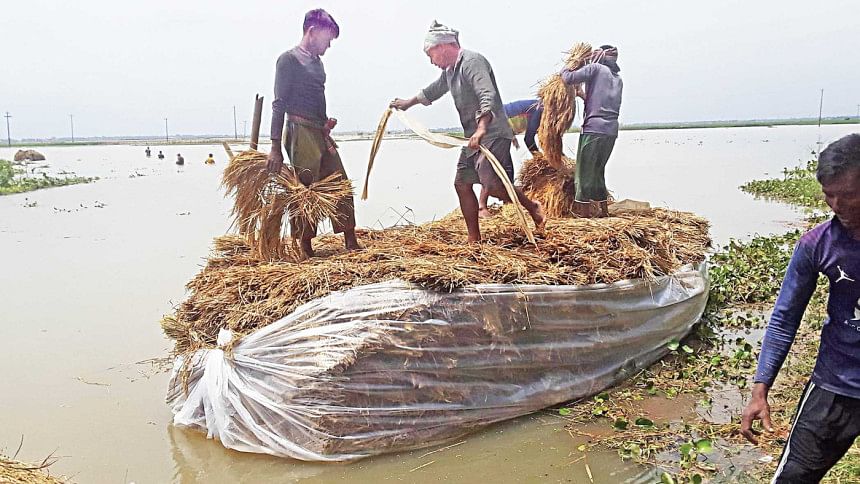 Even after harvesting the paddy though, farmers need to employ workers to assist in drying the crop, he added.
Md Ahsan Shahid Sarkar, additional deputy director of the Sirajganj DAE, told The Daily Star that Boro paddy had been cultivated on a total of 141,050 hectares of land this season to get 5.98 lakh tonnes of rice.
"We have already harvested 85 per cent of the paddy to get a production of 4.01 tonnes per hectare this year while it was 4.23 tonnes per hectare last year," he said.
Production has fallen as early flood water due to incessant rain has broken the banks of rivers in the wetland, Shahid added.
Lutfunnahar Luna, agriculture officer of Tarash upazila in Sirajganj, said farmers in her region cultivated paddy on 22,360 hectares of land but production has been less than adequate.
"We are only getting 3.09 tonnes of rice per hectare, which is much too poor considering the inputs," Luna added.
Md Easin Ali, deputy director of the Natore DAE, said the highest yield of paddy comes from Chalan Beel's Natore region every year but this year, production is falling short due to water invading the wetland.
"Last year, we got 4.72 tonnes of rice from each hectare but now we are getting a maximum of 4.66 tonnes of rice from the same amount of land," Easin added.
Floods usually hit Chalanbeel in June, when most of the paddy crops are already harvested but heavy rains came just when harvesting began in mid-May this year, raising threats of a potential production shortfall that has already started pushing up prices in local markets.