Cultivating paddy alongside sugarcane? Agri engineers come up with new method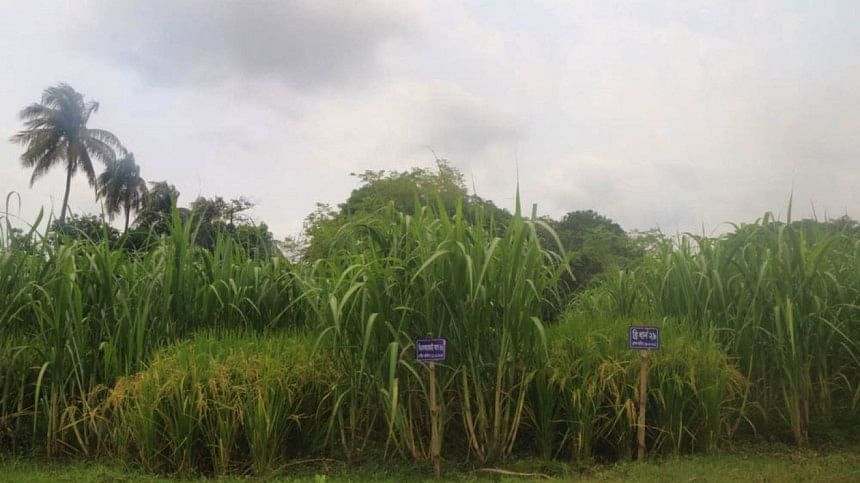 Agriculture engineers of Bangladesh Sugarcrop Research Institute (BSRI) have come up with a new technology of cultivating paddy as co-crop with sugarcane.
This is the first time in Bangladesh that the agricultural engineers have become successful in the two-crop cultivation in the same field.
The research has been conducted at the BSRI testing field in Pabna's Ishwardi upazila this year, expecting bumper yield of both crops.
"Earlier, scientists were successful in vegetable and lentil production, as co-crop with sugarcane, but never thought about paddy cultivation with sugarcane. Because both are different type of crops," said Dr Md Anisur Rahman, principal scientific officer and an agricultural engineer at BSRI.
"Paddy cultivation needs a lot of water and marshy land but sugarcane cultivation needs less water and dry land, however we have been introducing AWD (alternative wet and dried) method for using water to get successful production of both crops in same field," he added.
The agricultural engineers started the research a few years ago.
The scientists took one bigha land in BSRI centre and made the sugarcane-cultivation bed in one metre, and next to two metres of paddy-cultivation bed for the research, Dr Anisur, pioneer of the duo crop technology, said.
"We need 1,500 litre water for producing one kilogramme of paddy, so we don't need additional water for sugarcane," he said.
"If we can develop the technology in the farming-level, we can easily produce additional 2.6 lakh metric tonnes of rice without changing sugarcane production in the 15 'mill areas' of sugarcane. This production will bring more profit to the farmers," he added.
BSRI Director General (DG) Dr Amzad Hossain said, "We achieved success in the research-level. The high officials of agriculture ministry and 15 sugar mills visited the research spot last week."
"We have a plan to introduce the latest technology among the farmers," the BSRI DG said.
"If the new technology develops in the field-level areas, it will bring a huge success to both sugarcane and paddy cultivation," he claimed.