Bamboo craftsmen being battered by higher input costs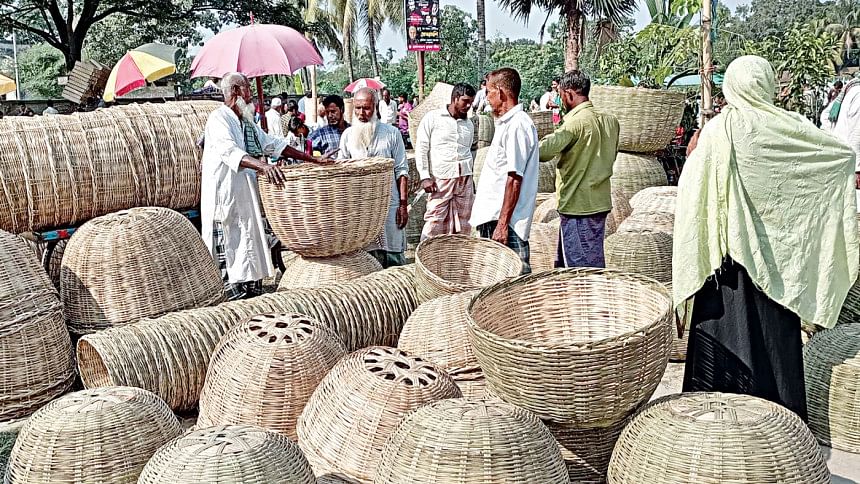 Life has become exceedingly difficult for craftsmen that make different bamboo products used in agriculture and fishing as production costs have soared in recent years.
With the price of finished goods being almost equal to the input cost, many bamboo craftsmen have been forced to leave their ancestral profession in search of a better source of income.
"We are struggling to survive as it is very hard to earn even Tk 100 daily from this profession," said Rafiq Mia, a bamboo craftsman of Kandigaon village in Mymensingh's Muktagacha upazila.
Various bamboo traders and craftsmen in the Muktagacha Natun Bazar area told this correspondent that rising raw material costs are the main concern.
A small to medium size piece of bamboo currently costs up to Tk 100 while the products made from it are priced at Tk 120 to Tk 150, they said.
Sales usually peak during the aman and boro harvesting seasons while demand also spikes during major festivals such as Pahela Baishakh. However, most bamboo craftsmen are unable to go for large-scale production as they lack sufficient funds and workers.
Instead, many of them are deprived of fair prices as middlemen eat up a lion's share of the profit for simply taking the goods to the market, they added.
Babul Mia, a bamboo craftsman of Rouharchar village in the same upazila, said his business now totally depends on housewives who can engage in making bamboo products for hours at home.
"This is because most male workers have already left the profession in search for a better living to support their future generations," he added.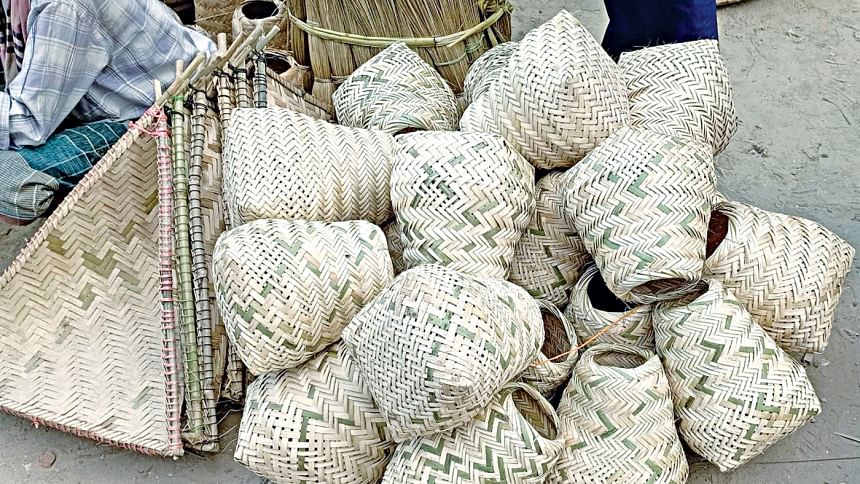 Idris Ali, a bamboo trader of Chogoria Ramnathpur village in Muktagacha upazila, said many craftsmen have either left the locality for work elsewhere while others that are continuing their ancestral profession are living in a "half-fed" condition.
Locals say there are some 500 families engaged in making bamboo products in the district, mainly in the Muktagacha, Phulpur, Tarakanda, Gouripur and sadar upazilas.
The arrival of plastic alternatives was the biggest threat for bamboo products in recent years as they are comparatively cheaper and more available, according to Haradhan Pal, a trader of bamboo products at Shambhuganj Bazar.
A farm labourer can easily earn an average of Tk 400 daily but the same cannot be said for bamboo craftsmen as they get only about half of that amount while having to source raw materials locally, said Abu Hanif, a craftsman of Subornakhila village.
Mononesh Das, a journalist, said bamboo products once had great demand for use in agriculture as well as aquaculture.
But now, most farmers prefer comparatively cheaper plastic sacks and other articles as they are more easily available.
As such, demand has decreased of the years, leaving the craftsmen in a crisis, he added.
Meanwhile, farmers say the price of bamboo products used in agriculture or fishing has increased over the years, leading to the rise of plastic alternatives.
A medium size bamboo basket is now being sold for Tk 100 to Tk 120 while the big ones cost more than Tk 150. Due to price hike of bamboo items, people are using plastic items to optimise costs, they said.