TO BECOME DEVELOPED COUNTRY
Bangladesh must grow 10pc annually for 20 years: ADB chief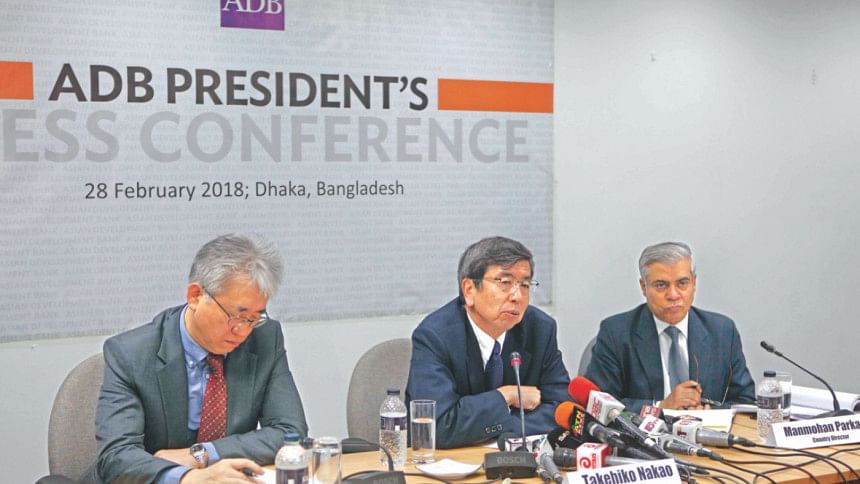 Bangladesh needs to clock in at least 10 percent economic growth for the next two decades if it wants to become a developed country by 2041, said Takehiko Nakao, president of the Asian Development Bank, yesterday.
"It is not impossible, but not so easy also," he said at a media briefing held at the Manila-based multilateral lender's office in Dhaka.
Going by Bangladesh's current GDP growth rate of 7 percent, the per capita income would hit $6,000 after 20 years, which is half the threshold for an advanced economy.
"Unless Bangladesh makes serious efforts like what China did in the 1990s and 2000s and registered 10 percent growth, it cannot be reachable," said Nakao, who is in Dhaka on a three-day visit.
China grew at 10 percent or more for about two decades and its per capita income now stands at $8,000.
The higher economic growth hinges on investment in infrastructure, good investment climate, foreign direct investment, consistent policies of successive governments and the use of geographical advantage surrounding India, China and Southeast Asian nations.
Nakao, who is also Japan's former vice-minister of finance for international affairs, said FDI had played a very important role in China's rapid economic development.
Data shows FDI accounted for 2 to 3 percent of China's GDP for many years.
"But it is only 0.6 percent in Bangladesh," said Nakao, who is leading the ADB for the second term.
The ADB president also touched upon Bangladesh's revenue, which is about 10 percent of GDP.
He said that he is well aware that the implementation of the new VAT law has been delayed twice due to resistance from the business community.
"Revenue is not to make people suffer; it is to support the poor people," he said, adding that he supports the government's move to implement a new value-added tax law to boost revenue earnings.
Although VAT looks like tax on consumption, it is a very broad-based tax.  "I support the government move to raise revenue through VAT," he said.
On the much-talked about Rohingya refugees, he hailed Bangladesh for extending full support to the displaced community.
"The government is so serious about the living standards of those refugees and is trying to settle them in an island. ADB is prepared to support the country if there is any certain request to address this issue."
The ADB is yet to get any concrete proposal from Bangladesh for financing the resettlement of refugees.
Asked if the multilateral lender would provide financing for the second Padma Bridge and other mega projects, he said: "If we get any such request we can consider it." The Manila-based lender has already bumped up its lending to Bangladesh and last year it disbursed $2.1 billion.
"We are ready to increase lending if there is any demand," he said, while citing the recent trebling of the bank's equity to $50 billion as proof of its higher lending capacity.
ADB has set a target to extend $8 billion to Bangladesh in assistance for the 2016-2020 period, up 60 percent from the previous 5 years.
In response to another query on Bangladesh's graduation from the least-developed country bracket and its impact on ADB's lending terms, he said: "Bangladesh is already a lower middle income country but ADB is still providing concessional loans."
On the growing inequality, he said it is an issue for all and respective countries need to pay attention at an early stage before it becomes a big problem. "Equality is the main basis for sustainable growth."
The ADB president stressed on the need for policy consistency as well for sustainable growth.
"I hope this country will continue with stable policies in terms of macro-economy and infrastructure investment regardless of leaders and ruling party of the country."
Nakao, who leaves Dhaka today, met with Prime Minister Sheikh Hasina, Finance Minister AMA Muhith and other senior officials and discussed issues to further strengthen the ADB's 45-year partnership with Bangladesh during the visit.