Boi Mela updates as of Friday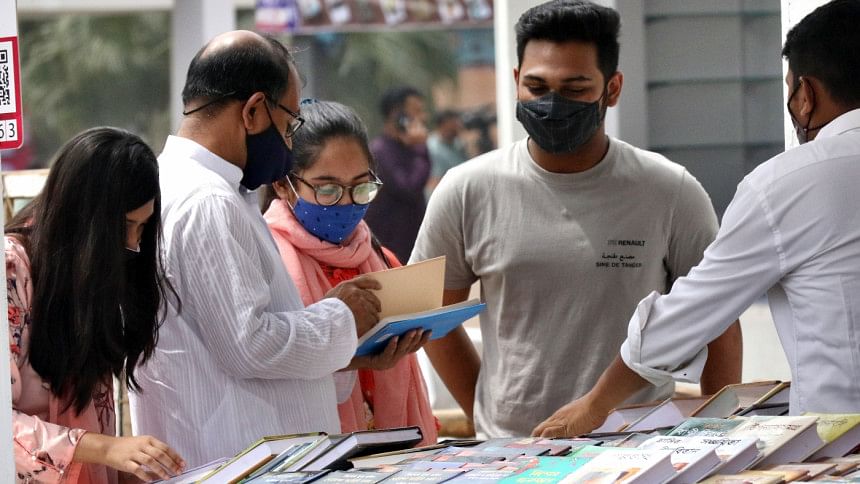 The Ekushey Boi Mela, which was inaugurated on March 18, 2021, is stretching out across an expanded space of 1500,000 sq ft to accommodate the 834 stalls allocated to 540 organisations this year.
The expansion comes with its pros and cons. While it has facilitated social distancing and made the event more organised, visiting each stall has become a tedious task for visitors. Due to the pavilions being situated at one end, the small stalls have been pushed into a corner and the diversity of stalls has reduced. A few stalls and stretches of the pavilion are still being set up as of today.
The most pressing concern has been over the safety of conducting the event during the third wave of the COVID-19 pandemic. "We were asked to not remove our masks at the entry gate, and there were regular microphone announcements urging people to wear their masks at all times", Golam Morshed Shimanto, a visitor, told The Daily Star. Volunteers were seen checking body temperatures at the entry points, and there were several spots where readers could find hand sanitisers.
Although the number of people visiting the fair is lower than in previous years, publishers are optimistic about the coming weeks. "There is limited footfall at the moment and we are promoting the books over virtual media, including social media platforms and groups, in order to attract more readers", shared Shahadat Rumon, coordinator of Pencil Publications. Publishers have also assigned different time slots to each author in order to avoid a large crowd at the stalls.
A discussion programme titled, "Shadhinotar Shubornojayanti: Shadhinotar Ghoshonapatra" (Golden Jubilee of Independence: The Declaration of Independence) was held at the main stage on Friday, March 21. The session included a reading of an essay written by Abdul Momen, performed by Bangla Academy co-director Shahed Montaz, and the participation of Abul Kashem and Fauzul Azim. It was presided over by professor Khurshida Begum.
A total of 104 books, comprising novels, essays, poetry, and short story collections, were submitted at the book fair on Friday.
Meanwhile, publishers of little magazines raised a protest against the space they had been allocated. This year's cramped stalls were open at the back, meaning books could easily go missing amidst the chaos—standing in stark contrast to the traditionally grand setup of the Little Mag Chattar of past years. 
A new spot will be allocated to them after today, Aminur Rahman Sultan, convener of the Little Mag Chattar, confirmed to The Daily Star.
Through it all, the literary atmosphere at the Boi Mela continues to endure according to its many visitors. All that has changed is the experience of wearing face masks. "We are sweaty and short of breath from wearing a mask at all times. The heat is making it worse", said Zaima Hamid Zoa, a student of the University of Dhaka.
The Boi Mela will remain open for visitors from 3 pm to 9 pm on weekdays, and from 8:30 am to 9 pm on weekends, until April at the Bangla Academy premises and Suhrawardy Udyan.
Maisha Islam Monamee is a freelance journalist. Write to her at [email protected].

Emran Mahfuz is a poet, researcher, and coordinator at Daily Star Books.
For more book news, follow us on fb.com/dailystarbooks, @thedailystarbooks on Instagram, @DailyStarBooks on Twitter, and Daily Star Books on LinkedIn.