Boi Mela sees no activity under lockdown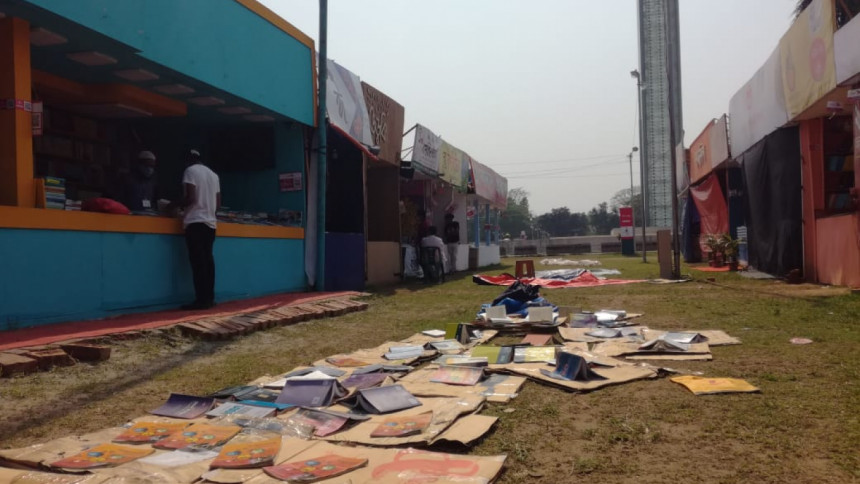 As per government mandated instructions, the Ekushey Boi Mela opened at 12 pm on Monday while the rest of the city observed a lockdown. No visitors were seen at the entrance for the first 45 minutes of opening.
Twenty eight new books were launched at the fair yesterday. Over 20 stalls, however, had not sold a single book until 2.30 pm. Some stalls remained closed until halfway into the day. Others were trying to repair damages dealt to books and stall fixtures by the heavy rainfall on Sunday.
A few visitors began entering after 3 pm. The Little Mag Chattar, which was jammed with crowds on Sunday, stood inactive. Some little magazine stalls did not open yesterday.
Many writers, publishers, and salespeople claimed that it is unreasonable to continue the book fair while public transport is closed during the city-wide lockdown. "We were not consulted about setting the timing for the book fair during lockdown", Mohammad Mizanur Rahman, publisher of Shobha Prakashani and former secretary of the fair committee's creative association, told The Daily Star. "Our decisions as publishers are not taken into account. We couldn't even sell Tk 1,000 until 4 pm. We have close to 50 new books, 10 staff members, and huge costs for the book fair pavilion. I don't know how we will meet these expenses". Several publications have decided to close their stalls because of the lockdown, but the Bangla Academy guards prevented them from moving their books out of the venue until April 14, Dia Prasad, an employee of Barna Prakash, told The Daily Star.
"We had initially decided not to participate in the fair because of all this uncertainty. On top of that, our books have now become damaged", Morshed Alam Hridoy, publisher of Babui Prokashani, said.
Jafirul Islam, a spokesperson of Kotha Prokash, said, "The Boi Mela has turned into a laughing stock this year. There is no point in continuing the event in the absence of readers. I'm not sure if I will come back tomorrow".