Bangladesh tour of India, Only Test
BD 322 for 6 after Day-3, trail Ind by 356 runs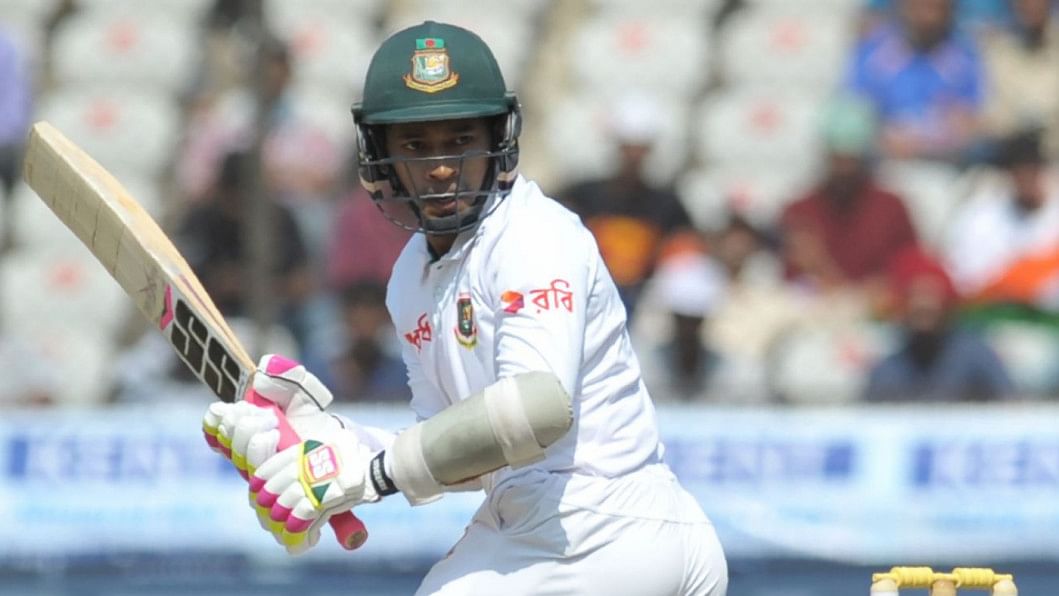 Bangladesh reached 322 for 6 in 104 overs after the third day, and trailed India by 365 runs in their first innings in the Test match at the Rajiv Gandhi International Stadium in Hyderabad today.
The unbroken seventh wicket partnership of 87 runs in 32.5 overs between Mushfiqur Rahim and Mehedi Hasan Miraz kept the Indian bowlers at bay during the last session and enabled Bangladesh to finish the day on a positive note.
Mushfiqur was batting on 81 from 206 and Miraz on 51 from 103 balls when the umpires called off play for the day. Young Miraz reached his maiden fifty and batted quite sensibly with his senior partner at the crease.
For India Umesh Yadav picked up two wickets for 72 runs in 18 overs. Ishant Sharma, Ravichandran Ashwin and Ravindra Jadeja captured a wicket each.
Earlier, Bangladesh reached 246 for 6 in 74 overs at tea on day-3 and trailed India by 441 runs.
Mushfiqur Rahim was batting on 47 from 119 and Mehedi Hasan Miraz on 9 when the players left the field for tea.
Tigers lost their sixth wicket approaching tea on the third day when Sabbir Rahman was sent back for 16 by Ravindra Jadeja to leave the tourists struggling at 235 for 6 in 71.1 overs.
Sabbir chose a full delivery from Jadeja to sweep, and when he missed his shot, the umpire ruled in the bowler's favour.
Sabbir Rahman lbw b Jadeja 16 (35b 2x4 0x6) SR: 45.71
Fall of wicket 235/6 (71.1 ov); Partnership: 19 runs, 9.0 overs, RR: 2.11 (Mushfiqur Rahim 2, Sabbir Rahman 16)
Bangladesh lost the important wicket of Shakib Al Hasan for 82 in the post-lunch session of day-3 after a 107-run partnership for the fifth wicket.
With Mushfiqur Rahim, Shakib stopped the rot after the flurry of wickets in the first session. Having settled down at the crease after the lunch-break, Shakib played a rash shot and had to pay the ultimate price for his recklessness.
Shakib came down the track to R Ashwin, didn't reach the pitch, went with his lofted shot and failed to clear Umesh Yadav at mid-on. Bangladesh allrounder was dismissed almost the same manner he perished during the final day's play at New Zealand...déjà vu?
Shakib Al Hasan c Yadav b Ashwin 82 (103b 14x4 0x6) SR: 79.61
Fall of wicket 216/5 (62.1 ov); Partnership: 107 runs, 27.3 overs, RR: 3.89 (Mushfiqur Rahim 44, Shakib Al Hasan 59)
Shakib Al Hasan and captain Mushfiqur Rahim consolidated the innings with their fifth wicket stand that crossed 50 as Bangladesh reached 160 for 4 in 50 overs during the post-lunch session.
Shakib reached his 21st half-century in Test cricket, and was batting on 52 from 71 balls when Bangladesh were 160 for 4. Mushfiqur was giving him good company but the running between the wickets nearly brought the downfall of the Bangladesh captain in the 50th over. After the decision was referred to the third umpire, Mushfiqur got the benefit of doubt and lived to fight another day.
Bangladesh ended a torrid first session and went for lunch on the third day at 125 for 4 in 43 overs, still trailing India by 562 runs.
The tourists lost three wickets and scored 84 runs in the first session. Shakib Al Hasan was batting on 29 from 55 and Mushfiqur Rahim on 6 from 26 when the players left the field for lunch. Bangladesh batsmen were tested with the old ball, and could have lost more wickets as Indian pacers were bowling with their tails up.
Bangladesh fell deeper into trouble as they lost Mahmudullah Riyad for 28 while wobbling at 109 for 4 in 34.4 overs during the first session of day-3.
With the ball reversing, the extra pace of Indian pacers was making life quite difficult for Bangladesh batters. Ishant Sharma got one to seam in off the pitch and the ball struck Mahmudullah on the top of his back pad.
Mahmudullah was defending down the wrong line and after he was given out lbw by the on-field umpire, he quickly signaled Shakib Al Hasan at the other end that the ball had struck him high and went for the review.
During the review, HawkEye showed the ball was clipping leg stump and the decision from umpire Joel Wilson stood. Mahmudullah need not have taken the review in hindsight because the ball didn't hit him as high as he had indicated to his batting partner.
Mahmudullah lbw b Sharma 28 (57b 4x4 0x6) SR: 49.12
Fall of wicket 109/4 (34.4 ov); Partnership: 45 runs, 10.3 overs, RR: 4.28 (Mahmudullah 17, Shakib Al Hasan 23)
Bangladesh's morning on the third day was getting from bad to worse as they lost Mominul Haque for 12 while struggling at 64 for 3 after 24.1 overs.
Umesh Yadav was bowling sharp and got the ball to swing late when he bowled fuller. He got one to nip back in off the pitch just enough to beat Mominul's bat. The ball was crashing into middle and leg, and the umpire raised his finger to send Mominul back into the dressing room.
Mominul Haque lbw b Yadav 12 (36b 1x4 0x6) SR: 33.33
Fall of wicket 64/3 (24.1 ov); Partnership: 20 runs, 7.3 overs, RR: 2.66 (Mahmudullah 11, Mominul Haque 9)
Bangladesh lost Tamim Iqbal for 25 early on the third day due to a needless run-out.
The tourists were rocked early, and dealt a huge blow in the third over of the morning. Mominul Haque flicked the ball bowled by Bhuvaneshwar Kumar behind square leg. Umesh fielded the ball and realised both the batters took a second run which wasn't there. The throw did its job, and Tamim Iqbal was run out for 25. Horrible start for the Tigers.
Tamim Iqbal run out 25 (53b 3x4 0x6) SR: 47.16
Fall of wicket 44/2 (16.4 ov); Partnership: 6 runs, 5.2 overs, RR: 1.12 (Tamim Iqbal 3, Mominul Haque 3)
After being dominated for two whole days, the ball is finally in Bangladesh's court. They have nine wickets in hand and the pitch still seems really good for batting. But the question remains as to whether the Bangladeshis actually believe that they can post a big enough total that can ensure a draw for them.
Bangladesh reached 41 for 1in 14 overs after India declared their first innings at 687 for 6 on the second day. Tigers' lacklustre presence on the field -- which helped the hosts in their cause immensely seemed alarming. The missed opportunities on day-2 came back to bite the tourists hard, and needless to say, Bangladesh have a mountain to climb on the third day.
Watch the live English stream of the India vs Bangladesh One-off Test from Hyderabad on hotstar.
Bangladesh
Tamim Iqbal, Soumya Sarkar, Mominul Haque, Mahmudullah, Shakib Al Hasan, Mushfiqur Rahim (Captain, Wicketkeeper), Sabbir Rahman, Mehedi Hasan Miraz, Taijul Islam, Taskin Ahmed and Kamrul Islam Rabbi
India
M Vijay, KL Rahul, CA Pujara, V Kohli (Captain), AM Rahane, WP Saha (Wicketkeeper), R Ashwin, RA Jadeja, B Kumar, UT Yadav and I Sharma