The Mushfiqur conundrum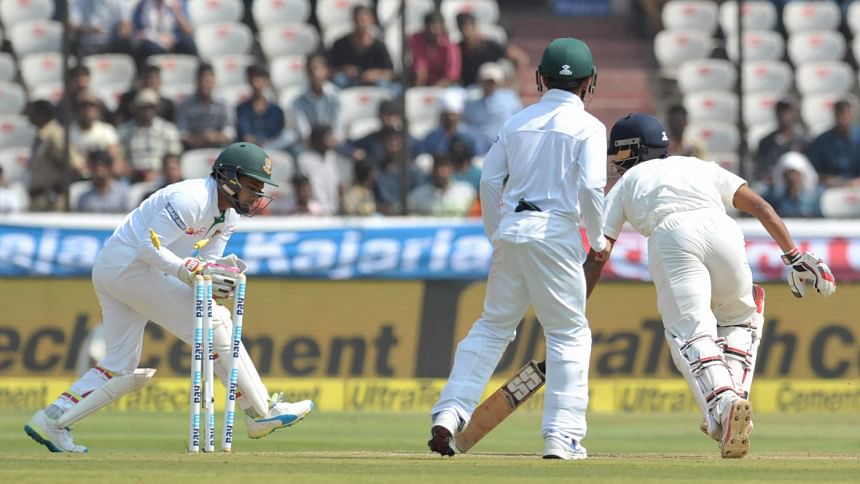 It is a flat wicket and you have been creamed for more than 450 runs in quick time. One of the batsmen you are competing against is considered to be the world's best at the moment. Your bowlers are tired and opportunities are hard to come by.
In these circumstances you expect the fielding side to hold onto any chance that comes their way. In fact, you expect them to convert those half-breaks into wickets as frequently as possible.
As such, Bangladesh skipper Mushfiqur Rahim's missed stumping of Wriddhiman Saha in the 118th over was absolutely unacceptable although it is not as if Mushfiqur is the best wicketkeeper available in Bangladesh.
He has dropped catches in the past and miscalculated stumpings as well, but the opportunity he missed yesterday off Taijul Islam was quite stunning.
Saha went down the track and was a hundred per cent committed and Taijul beat him with a beautifully flighted delivery.
The missed opportunity would have probably been more face-saving had Mushfiqur misjudged the flight or failed to collect the ball altogether. But he in fact collected the ball in his gloves. All he needed to do then was prod a little forward and remove the bails with the slightest movement.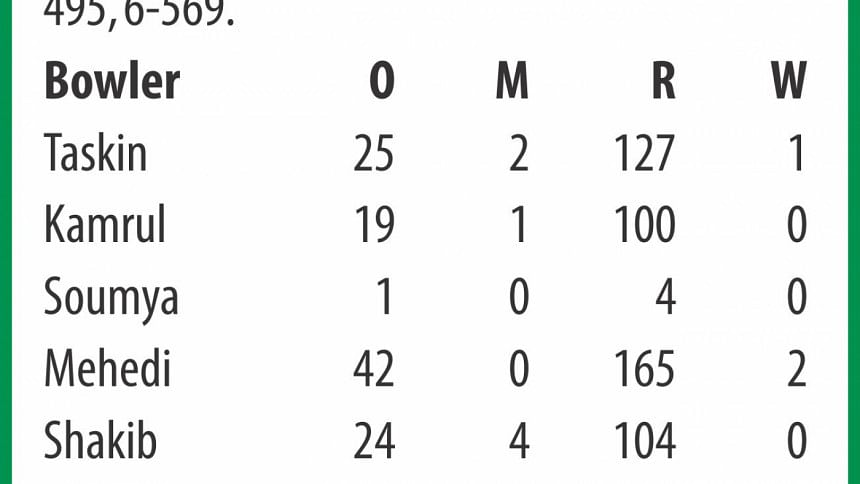 Yet, he failed to do that not once, but twice. One could say that Mushfiqur was standing a bit behind the stumps. But even then he had enough time to just move a bit ahead and bludgeon the stumps.
There could have been two things going on here. For starters, Mushfiqur was probably not in the game mentally. With such a battering, a chance as easy as this is not expected to come by.
The other aspect is that he could have been thinking about is the injury to his thumb. He had hurt his thumb during the New Zealand series and that could have been a factor running through the back of his mind.
Regardless of his thoughts, Bangladesh went on to pay quite heavily for that missed opportunity. Saha was on four at that time and eventually went on to score a quick 106.
The runs on the board do add pressure, but what missed chances like these also do is bog down the team. When you miss an opportunity as easy as that, your bowlers are bound to be discouraged.
The opposite effect also works. Mehedi Hasan Miraz had put in a superman-like dive in the 114th over to dismiss Ajinkya Rahane at short cover. It would not be illogical to say that that wicket pumped the bowlers up, because the period after that saw the Bangladeshi bowlers create the most amount of opportunities in the game.
Mushfiqur's keeping troubles can put Bangladesh in a bit of a pickle as far as their team combination is concerned. They have a number of Tests ahead and picking a specialist keeper would mean that they would have to tinker with their middle order, which has not really seen much of a change recently.
It is a problem which the team management will hope they can address in 2017, a year when Bangladesh is expected to play at least eight more Tests.