Maybe I was destined to score a hundred: Saha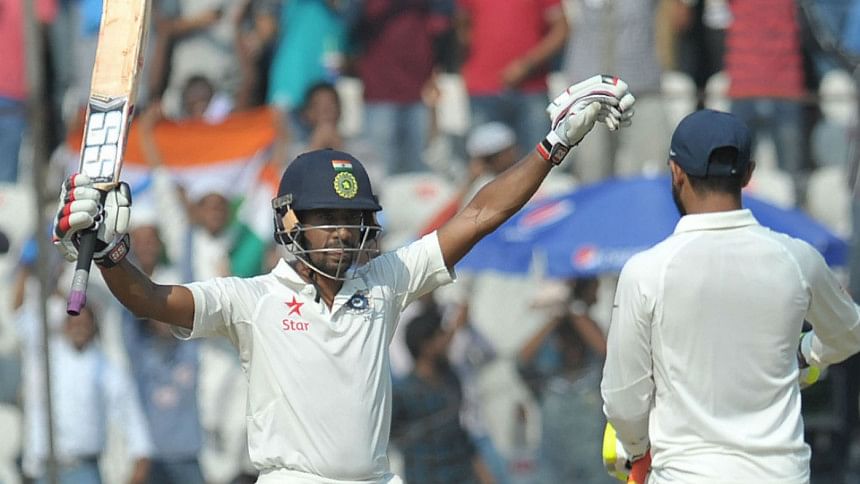 How costly have the missed opportunities been for Bangladesh? Now, numbers don't always give you the exact picture. But if you were to go by the exact number of runs that all the Indian batsmen scored after being gifted opportunities by the Bangladeshi fielders, then that would come up to a mammoth 214.
Murali Vijay was on 35 when Bangladesh failed to run him out and he scored 107. Wriddhiman Saha -- who scored an unbeaten 106 -- was on four, when Mushfiqur Rahim missed an easy stumping. Ajinkya Rahane and Ravindra Jadeja scored 20 more runs each after being dropped in the deep.
Of course, this does not mean that India would have posted a total 215 runs less than their current total, but it does show how costly Bangladesh's fielding lapses turned out to be.
It also shows how desperate the Indian batsmen are to score runs. Almost all the batsmen who were dropped made the Tigers pay. Vijay and Saha scored centuries, while Jadeja raced his way to an unbeaten 60.
When Saha was asked about Mushfiqur's missed stumping he could not stop smiling.
"I would say that I was a bit lucky. He tried but he couldn't hit the stump. By the time he got it right the second time, I was inside the crease. Maybe I was just destined to get a 100 and that's why he couldn't complete the stumping," laughed Saha.
Mushfiqur however congratulated Saha: "I didn't have any word about the stumping with him, but he said, 'well played Saha' after I scored my hundred."
Apart from scoring a century Saha was also partly responsible for Virat Kohli's double hundred.
After Mehedi Hasan Miraz's turner rapped onto Kohli's pad -- when he was on 180 -- the umpire adjudged him out. Saha though advised Kohli to review the decision.
"Virat thought he was out. But I told him that you have probably stretched your front foot more. Hopefully the impact may be outside and the ball had spun sharply, it might be missing the leg stump. So he took a call and was saved," said Saha.
Saha however could not help him on the second occasion, when Kohli eventually walked off after being adjudged leg-before. Replays suggested that Taijul's straighter delivery had hit him outside the off stump.
"He seemed quite sure about that delivery. And you know how the DRS is, even if there is a bit of it on the wicket, the umpire's call would have gone for the bowler. So he saved a review for the team," explained Saha.