Kohli special sparks Sanga flashback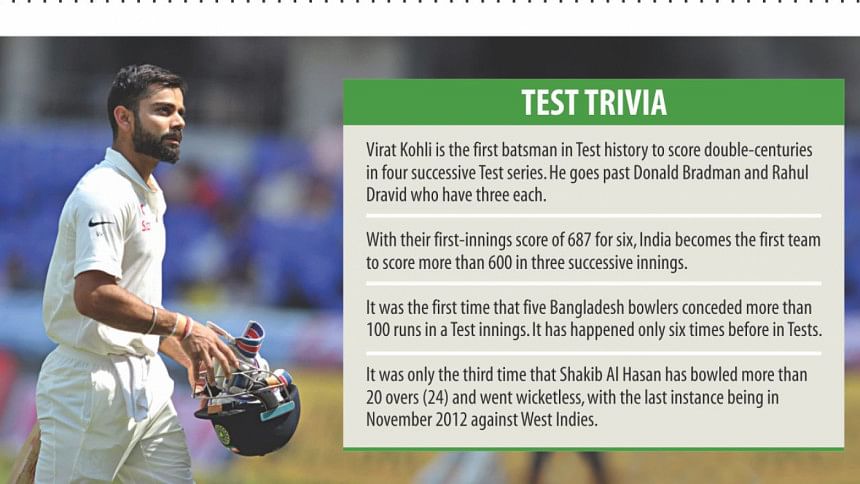 In terms of batting styles, Virat Kohli and Kumar Sangakkara are quite different. For starters, the Sri Lankan is someone who absolutely loved to play exquisite drives through cover whenever possible. Kohli on the other hand, seems like someone who would bring out the on-drives whenever possible.
While Kohli is a lot more aggressive no matter what format he plays in, Sangakkara is more selective and preferred to be a lot more cautious during his playing days.
And yet, these two players share plenty in common as far as their training patterns are concerned.
Back in 2014, Sri Lanka had arrived in Dhaka to play a full series. Watching Sangakkara bat in the nets right before the Tests was an eye-opener. He would spend hours at the Mirpur Indoor Stadium and on the outfield pitches in Chittagong defending the ball. After a certain point, observing him got a little boring. After all, how long can someone enjoy watching a batsman carefully practise his front-foot defence?
The Sri Lankan eventually dominated that series, scoring a triple hundred and absolutely drove the Bangladeshi fielders to distraction.
Kohli's preparation for this series seemed quite similar to that of Sangakkara's. Day after day, he batted for hours at the Rajiv Gandhi International Cricket Stadium's nets and he did not mind playing the same shot again and again.
When Kohli was batting against Bangladesh yesterday, it seemed he was all set to score his first triple hundred. He was just that fluent. He rarely played a false shot, he was hitting and placing the ball as per his will and he was also accelerating at a good pace.
It was only once the ball started turning a bit that he slowed down. He was beaten a couple of times, but Kohli was adamant that he would not change his style of batting. He would continue attacking and that is what eventually led to his downfall as he tried to cut Taijul Islam, but was trapped in front instead.
He may not have scored a triple hundred, but the accolades that he achieved with his double century are phenomenal.
He became the first person ever to score four double hundreds in four consecutive series, surpassing legends like Don Bradman and Rahul Dravid. It does not matter that he did not get 300 because it is quite clear that the Kohli show has just begun.