The ball now in Tigers' court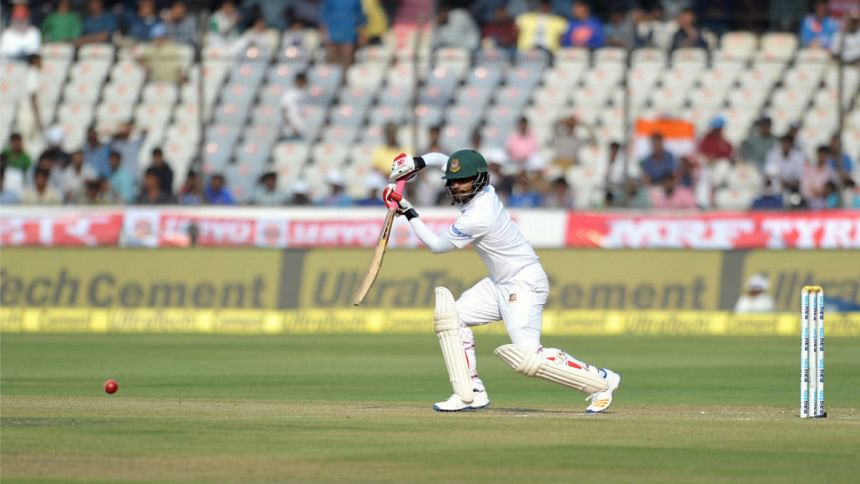 After being dominated for two whole days, the ball is finally in Bangladesh's court. They have nine wickets in hand and the pitch still seems really good for batting. But the question remains as to whether the Bangladeshis actually believe that they can post a big enough total that can ensure a draw for them.
No matter how good the Indian bowlers are, the fact is that the wicket remains flat. The 14 overs that India bowled right before stumps yesterday saw no turn or swing. Yes, a couple of the deliveries stayed low, but that was as bad as it got.
Bangladesh have batted in more trying conditions in the recent past and they have managed to do well. If they want to be encouraged, all they need to do is look at the games against England and New Zealand.
They successfully played on vicious turners against England back home and then managed to score their second-highest total in Test cricket against New Zealand on a wicket that had immense pace and bounce.
The real battle for Bangladesh, as far as Day Three is concerned, is whether they can play to the merit of the ball and not the name of the bowler.
Ravichandran Ashwin and Ravindra Jadeja's names popped up in nearly every press conference leading up to this series. The common question was: "How do you plan to tackle the number one bowler in the world?"
While Ashwin is no doubt a great bowler and Jadeja a fine ally, they will need to work twice as hard to do well on this pitch and this is where Bangladesh's batsmen will need to step up. They need to surpass their mental barriers and play their own game when they take the field today.
The young Mehedi Hasan Miraz, who was sent to the post-day press conference yesterday, said that he believes his batsmen can do a good job.
"In the first Test against New Zealand we scored close to 600 runs. Our batsmen are confident. They had scored well back then. We believe that if we can score well there, we can come back here as well.
"I believe that our senior players, Tamim [Iqbal] bhai, Mushfiqur [Rahim] bhai, and [Mahmudullah] Riyad bhai, can do well. We need two-three players to score big knocks. Only then will it be possible," said Mehedi.
The problem with Mehedi's hope, however, is that the statistics are against him. Bangladesh's highest total against India is 400, a score they posted in 2000 in the first innings of their first ever Test.
In other words, for Bangladesh to stay alive in this game, they will need to break a number of records.
On a personal note, Mehedi -- who took two for 165 in India's first innings -- was content with his performance. He said that the tour has been a great learning experience for him so far.
"I debuted against England on turning tracks and here it is flat. I have realised that there's very little room for error when you play on tracks like these over here," said Mehedi.