Hassan's incontinence hurting Tigers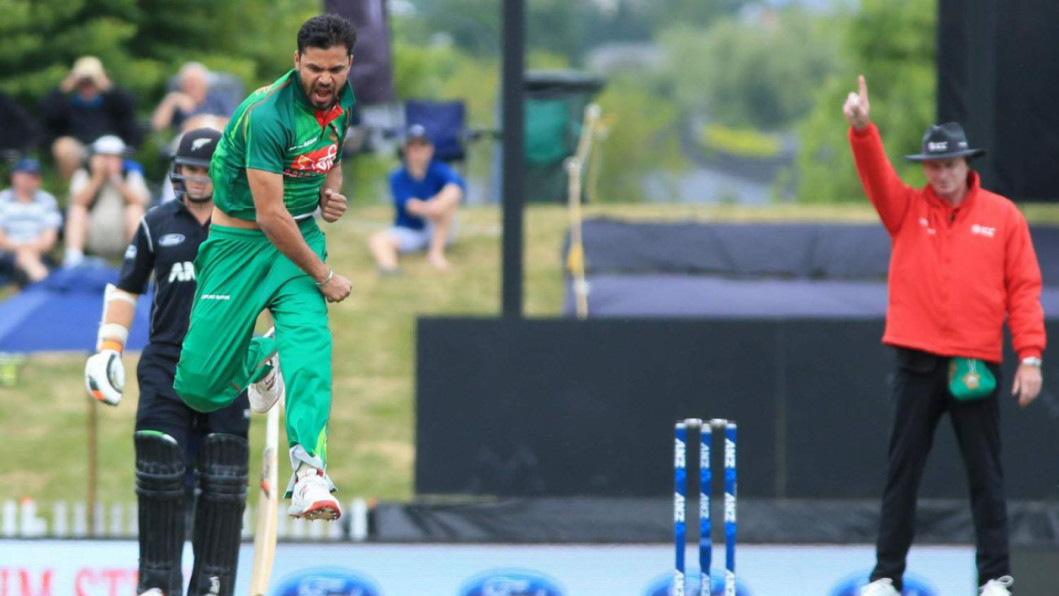 As successful as this tour of Sri Lanka by the Bangladesh cricket team has been, it has also been one marred by off-field controversies and more than a little cloak-and-dagger.
At various stages, manoeuvrings behind the scenes, which have barely ever stayed behind the scenes, have taken a life of its own as it tumbled through the media machine. There has been one constant in all of these off-field distractions -- Bangladesh Cricket Board (BCB) president Nazmul Hassan.  
The latest has been Mashrafe Bin Mortaza's retirement from the T20I format. Hassan yesterday took his well-worn place behind the microphones to address the issue and as usual, assumed a central role. "I had a meeting with Mashrafe, Tamim [Iqbal], Mushfiqur [Rahim] and Shakib [Al Hasan] day before yesterday [Monday night]," Hassan told reporters at the Taj Samudra hotel in Colombo yesterday morning. "I told them that they had such a contribution to the nation's cricket that barring a disciplinary issue, no one, not me, not anyone could drop them. They would have to make their own exit plans."
Despite his proclamations that he only knew that Mashrafe would step down and was unaware of his plan to retire, the mention of 'exit plans' is something that might raise eyebrows. It has been learnt that the meeting mentioned above was not altogether savoury, and to avoid adding to the innuendo let it just be said that the whole matter could have been handled better when it came to dealing with a cricketer of Mashrafe's standing.
One has to wonder if someone like Mashrafe, who has lifted the country's cricket from the depths of despair in 2014, has to endure an unsavoury retirement from a format, what message this sends to even other senior players, not to mention juniors.
"It is more than what he is as a player. I made him captain in 2014, and he did not even play the previous year. I made him captain because there is something extra in him," these words of Hassan may seem like praise for Mashrafe, but as far as pattern of behaviour goes, it also seems like Hassan taking credit for the decision to promote Mashrafe and the successes that it brought. One can imagine that it is not something that a proud player like Mashrafe would be happy to hear. 
Inserting himself into the middle of team dynamics is something that Hassan has been doing for a while, and it has happened a lot during this tour. He did it with Mahmudullah Riyad's exclusion from the team for the second Test, and also with Mehedi Hasan Miraz's eleventh hour inclusion into the ODI squad.
It will be difficult to name another board president in cricket who involves himself to this extent in the running of the team. "I would have gone home today [Wednesday] if we won yesterday, but since we lost I have to stay behind," Hassan said before the press conference started.
He was more than ready to answer the rumour that has been doing the rounds that Shakib Al Hasan was to be captain in the T20Is. He denied that, saying that if Mashrafe had decided to quit before the second T20I, then Shakib as vice-captain would have had to lead by default. He also strongly denied the rumour that there was a plan to jettison seniors like Tamim Iqbal and Mushfiqur Rahim from the format.
Before that, however, he also said that there were plans afoot to keep separate teams with separate captains with four or five specialists in each format, something that he added could not be enforced because there are performers in the team who could not be removed.
Both of those cannot be true; if plans were afoot to have separate teams with separate captains, then Mashrafe could not have been the captain of choice in either ODIs or T20Is. If specialists were the order of the day, then some seniors, not just Mashrafe, would have to fall by the wayside. It is in such contradictions that Hassan has often dealt.
Hassan has overseen the convolution of the selection process to an extent that the captain was excluded from the decision and the team manager made his representative. He then went on to have major public and private say behind each decision. The public part is the problem. If decisions like bringing new players into a format are made, then it should be discussed behind closed doors and the change should follow a process, preferably not one that involves the board president making contradictory statements to the media.
"I told the coach not to disturb the team now, and to make a parallel team of developing players," Hassan squeezed that in to the conversation. It undermines the coach, the captain, the seniors and also the equilibrium of the side. The most unfortunate thing is that it is coming from the highest official in Bangladesh cricket.