ZAKAT CLOTHES
Business size quite big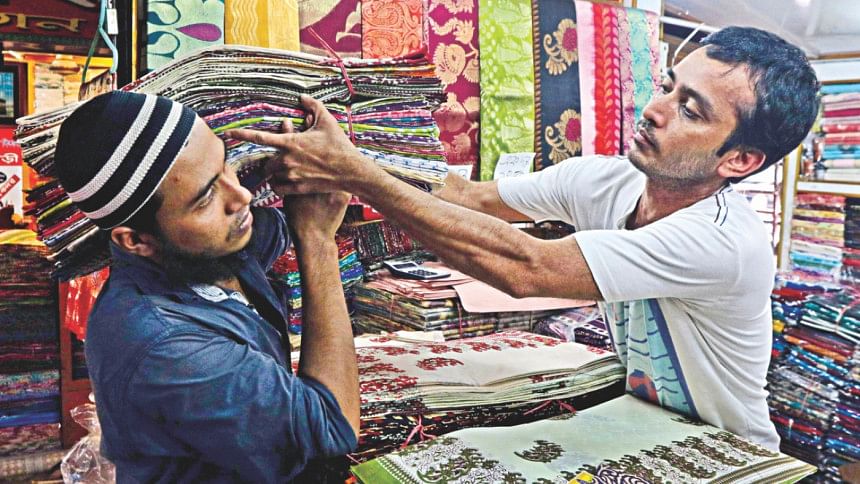 Standing on the bank of the Buriganga in Old Dhaka, Islampur still remains a commercial hub for wholesale trade of fabrics and garments. A shopping destination that has grown since the time of the British colonial rule, it still remains a vital key to the city's commerce and come the holy month of Ramadan, the area becomes vibrant than ever.
Islampur Road, the road proper, in the old part of the capital hosts several markets with shops, large and small, selling a variety of clothes. Many of these currently sport banners are rustling in the wind, declaring "Zakat clothes are available here." Many of them are even just seasonal sellers of such clothes, specifically targeting the pre-eid zakat market.
Ahead of Eid-ul-Fitr, the largest Muslim festival, the scene takes a new life: the narrow alleys buzz with people, many of whom are there for a specific purpose -- buying sarees and lungis for zakat, the obligatory charity and the third pillar of Islam.
People generally choose the month of Ramadan to pay off zakat, perhaps motivated by the additional rewards promised in afterlife for doing so.
Mobarak Hossain, a resident of Gulhsan-1, goes to Islampur every Ramadan to buy sarees and lungis for distribution to the needy as alms. His incentive for going from one end of the city to another is the bargain price that the dealers of Islampur usually offer.
"If the prices are low, I will be able to buy more and consequently more people will be benefitted," he said as he was paying for 400 sarees.
"I bought 380 sarees at Tk 450 each. The other 20 cost Tk 550 each," he said. "The cheaper ones are for the mass; others for my own relatives who are impoverished and are eligible for zakat."
Md Abu Saeed, director of Anushandhan Lungi and Shari, a company that has been in business for 42 years, explained the market dynamics.
"Quality and durability of the fabrics are a must. People are also willing to pay more for zakat clothes for better quality.
"And the market this year seems to be doing well too compared to the last couple of years or so when there was a lot of political turmoil," he added.
Companies like Anushandhan supply sarees and lungis all over Bangladesh. In Dhaka, they act as wholesalers to numerous shops in New Market, Gausia, Hawkers' Market and many others.
Islampur, however, is not the only place in town where a buyer can get good deals for quality products. Another big source of affordable, quality sarees for giving as alms is the Dhaka Hawkers' Market opposite to New Market in Dhaka.
The same place also has shops selling lungis, all competitively priced.
Market, too, features a large number of retail outlets. "Contrary to popular belief, we sell the sarees and lungis that are sold as zakat items all year round," informed a shopkeeper at Gausia.
"They are comfortable and durable, and even excluding the sales coming from zakat customers, we also have regular customers.
The sales go up a lot during Ramadan for zakat," he added.
So how large is the market for zakat sarees? Md Abu Saleh, another small shop owner, sheds some light. "During Ramadan, I sell around 100-150 pieces of sarees and lungis every day; the monthly sale goes up to 8,000 pieces or even more.
"Last year, a customer bought a thousand pieces of sarees and lungis each in a single purchase during Ramadan," he recalled.
For the customers, it may be said that they must make sure the items they choose are of good quality so that the donation they make yields a proper effect on the recipients' circumstances and the Almighty accepts the effort.
Opinions of Islamic scholars differ as to how zakat should be paid.
"A Muslim whose wealth is equivalent to, or more than, the value of 7.5 tolah of gold or 52 tolah of silver -- after meeting household needs throughout the year -- is liable to pay zakat at 2.5 percent [every year]," said Md Shamsuddoha, a scholar and member of the Shariah council of a leading privately-run Islamic bank.
He feels that the central authorities can help ease people's confusion in determining their due zakat by taking some simple steps.
"The Islamic Foundation of Bangladesh could help in this regard by announcing the 'nisab' -- the level of residual wealth that makes zakat a must," Shamsuddoha observed.
This is especially true as not all types of wealth, for example, the house someone lives in, fall under the category of residual wealth.
Such views were reiterated by Md Shafiqur Rahman, a scholar and the imam of Masjid-e-Quba in Mohammadpur. He said, "It would help people a good deal if there was an authoritative decision on the year's nisab.
"Most students at the madrasa I teach at are orphans and have no-one to take care of them. They deserve to receive help, like in the form of zakat, from the more blessed ones in the society," Rahman added.
Many of these institutions have bank accounts and mobile payments can also be made after initial contact, he said.
People can take the responsibility of sponsoring one such child till they reach adulthood or deposit their contributions to the general fund of those institutions used for such children.
Organisations like Jaago Foundation also allow citizens to sponsor a child for as low as Tk 2,000 a month. Some non-governmental organisations (NGOs) like Ahsania Mission and some foundations run by private banks also accept zakat donations.
There are eight categories of people who are eligible to receive zakat, but the basic principle is that they must be from among the society's least privileged and distressed.
Above all is the spirituality and righteousness of the almsgivers.
"It is not necessary that the recipient should know of the gift or donation being part of the givers' zakat obligations. Especially, if zakat items like the popular saree and lungi are given with loud fanfare, it destroys the intent and purpose of the activity," Shamsuddoha noted.