Heritage no hurdle?
Authorities must save Kayettuli Manasa temple from collapse
Are we, as a nation, blind towards the value that our heritage holds? It increasingly seems so, given the apathy of even our authorities towards preserving the thousands of structures around the country which are embedded with decades of culture, traditions, and history. One such structure is the century-old Manasa temple in Old Dhaka's Kayettuli area, which, according to a report by this daily, is on the verge of extinction due to neglect and lack of maintenance by the Dhaka South City Corporation (DSCC) and the archaeology department. T
hough still frequented by hundreds of Hindu devotees and visitors from all around, the temple is quite simply falling apart and has been given only eight months' time by the vice president of the temple committee before it collapses completely. The exterior of the temple, adorned with a rare chinitikri mosaic of imported china clay tiles, is near disintegration while the structure itself is barely noticeable since newer buildings have been built around it – not only too close to the temple boundaries but also towering over it. Why should this be the state of a historically significant religious establishment in the country's capital? 
The aforementioned Manasa temple is merely one of at least 2,200 heritage structures identified by the Urban Study Group (USG) which require protection, and which the High Court, in 2018, had ordered authorities to stop changing, modifying, and demolishing. But the inaction of our authorities when it comes to protecting heritage sites has always been disheartening. And the list of structures which come under threat of decay, demolition, or alteration is ever-increasing.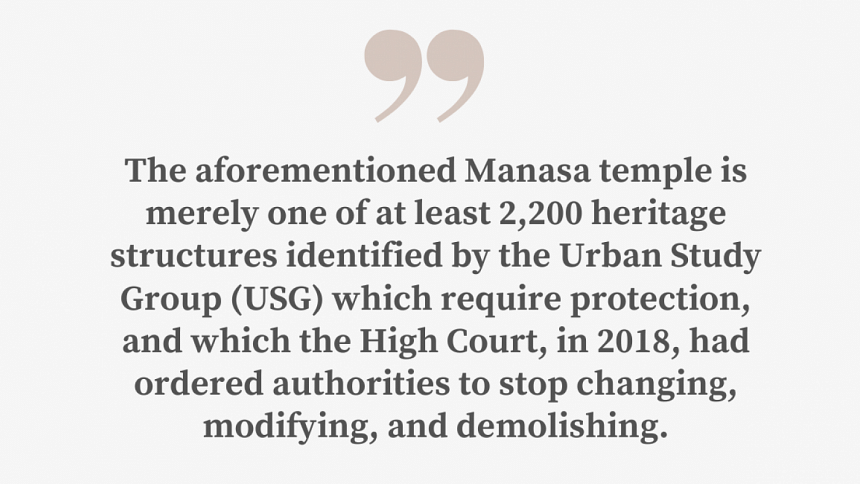 It is no wonder that the Manasa temple is in a crumbling state, given that it has been deprived of necessary repairs for 33 years. While the temple committee tries its best to maintain it, the onus is on city authorities and the archaeology department to restore the heritage structure back to health. We are eager to believe that our authorities do care about the country's heritage, as was demonstrated by the recent retrieval of the Brajo Niketan palace in Nawabganj from the clutches of local influentials. But past records of authorities turning a blind eye to the destruction of heritage – such as the numerous lanes of Old Dhaka being stripped of the oldest of old buildings (without any attempt at proper conservation) – makes us wary. 
If we are failing to care for the culturally and historically significant structures of the country, what guarantee is there that all the developmental infrastructure being built now will sustain the next century, let alone beyond it? 
Regardless, we urge city authorities, the archaeology department, and other relevant quarters to show up for the Kayettuli Manasa temple immediately and assist the temple committee in saving the structure from collapse. It is unacceptable that, besides residential heritage buildings, historically and culturally significant religious establishments, too, should succumb to authorities' apathy.