Nepal Plane Crash: Last three bodies brought to Dhaka
The bodies of the three remaining Bangladeshi victims of the US-Bangla aircraft crash arrived in the city yesterday.
A Biman Bangladesh Airlines flight carrying the bodies touched down at Hazrat Shahjalal International Airport around 4:50pm.
The victims are Nazrul Islam, 62, of Rajshahi, Molla Alifuzzaman, 30, of Khulna and Pias Roy, 23, of Barisal.
According to the victims' family members and relatives, Nazrul was identified from a tag of a tailoring shop, Alifuzzaman from his broken teeth and Pias from his mobile phone.
On March 19, bodies of 23 other Bangladeshi victims were flown home. But the three could not be brought in as their identities were not confirmed.
The March 12 crash of US-Bangla flight BS211 killed 49 people, including 26 Bangladeshis. At least 20 passengers, including 10 Bangladeshis, survived the accident.
Yesterday, victims' family members had been waiting at gate-8 of the airport since noon to receive the bodies.
Pias' father Sukhendu Bikash Roy said, "My son was supposed to start his internship within two months as he completed his MBBS final exams. I had a dream that he would serve the people as a doctor. But the fatal plane crash has shattered my dream. How will I console myself? How will I comfort his mother?"
Pias was a student at Sheikh Sayera Khatun Medical College in Gopalganj.
"He was the apple of our eyes. To support his medical studies, we had to sacrifice a lot. Now I will have to carry his coffin on my shoulder. I don't want such an incident occurs to any other father," he said while trying to hold back tears.
Pias will be cremated in Barisal city.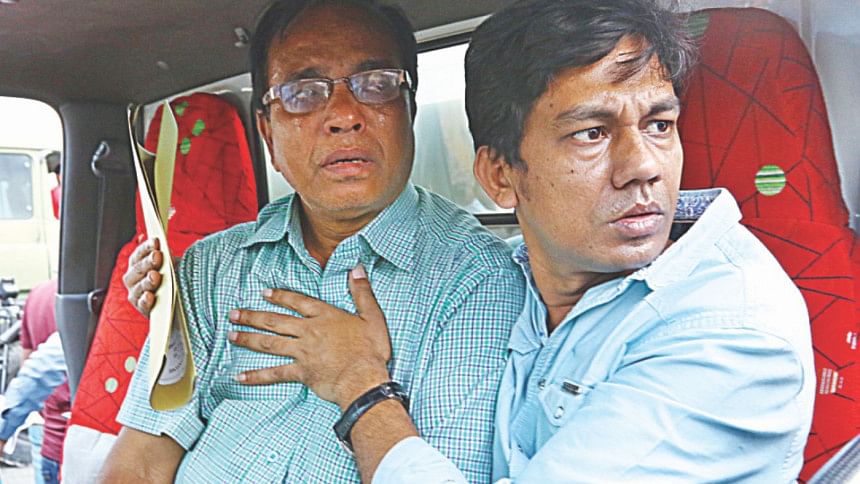 Nargis Akhtar Konok, a final year student at Medical College for Women in the capital's Uttara, has lost both her parents in the tragedy.
She said people visit the airport either to receive or to see off their loved ones. But they were at the airport to receive their father's   body.
"The accident has orphaned us," Nargis told this correspondent, her voice choked with emotion.
Her father Nazrul Islam had planned to get her married after returning home from Nepal.
Nazrul will be laid to rest beside her wife in a Rajshahi graveyard.
Nargis and her only sister Naznin Akhtar Kakon received the body of their mother Akhtara Begum at the Army Stadium on Monday.
Victim Alifuzzaman's parents were too sick to travel to the capital to receive their son's body, said Bina Sultana, aunt of the deceased.
Receiving his body at the airport, his relatives and family members started for Khulna's Rupsha upazila where he will be buried today.
Civil Aviation and Tourism Minister AKM Shahjahan Kamal was present at gate-8 of the airport. He was seen trying to hold back tears as three vehicles carrying the coffins were coming out of the gate.