Sudden water crisis affects parts of Dhaka
Wasa shows multiple reasons including pipeline development work, technical glitch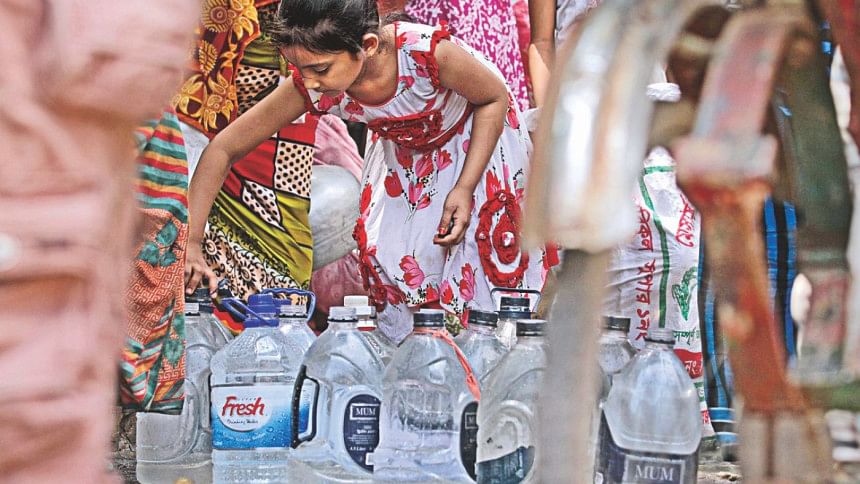 With a heat wave sweeping the country for more than two weeks and almost no rain, sufferings of many city dwellers increased due to an acute crisis of water over the last few weeks.
The crisis is taking a heavy toll on the people already battered by the sweltering heat with the mercury hovering around 37 degree Celsius in Dhaka.
The authorities, however, are putting the blame on the declining level of groundwater and technical issues at some water pumps in the city.
Power cuts and load shedding for the last few days worsened the situation, said an official of Dhaka Water Supply and Sewerage Authority (Wasa).
Despite adequate power generation and supply capacity, the country is facing heavy load shedding for the last couple of days, as most of the fuel oil-based power plants remain shut due to a disruption in fuel supply. The disruption has been caused by the ongoing waterways transport workers' strike, said sources at the Power Development Board.
Wasa officials, however, said there was no major problem in most of the areas and that some "pocket" areas in the city were experiencing the crisis.
Residents of Dhanmondi, Indira Road, Senpara Parbata and in some parts of Old Dhaka have been going through untold sufferings due to the crisis.
Besides, residents of Bashabo, Madartek, Mugda, Tantibazar and West Rajabazar areas are complaining of getting dirty and stinky water.
"You know how difficult it is to live without water. We are not getting water properly for the last two weeks. We just get water once a day and that too for a brief time. It is almost impossible to meet the demand with this meagre supply," said Anowar Haldar, a resident of Senpara Parbata.
"We are buying water jars for our basic needs," he said.
Anowar said the situation in some houses in the area was really bad. Some residents, he said, have no choice but to wait for Wasa water lorries to collect water, and some go to relatives' houses to take showers.
Mohammad Khorshed, a resident of Indira Road, said, "We have been getting water once a day, but the quantity is very poor."
"Our house owner got new Wasa pipeline connection a few months ago and we thought there would be no crisis of water this summer. But we were wrong."
Reaz Ahmed, a resident of Road-7/A of Dhanmondi, said they had been facing water crisis since April 13. "We have been facing problems for the couple of days. Though there was a regular supply for a brief time, we are facing it again," he said.
He contacted Wasa engineer who said the problem occurred due to the ongoing pipe replacement work, which would end soon.
A Wasa official also said water crisis in Dhanmondi, Indira Road and Rayerbazar areas were happening due to the installation of new water pipes there.
On the other hand, technical issues at some water pumps in Mirhazirbagh, Senpara Parbata and Pargendaria were causing water crisis.
Serajuddin, one of the deputy managing directors of Wasa, said due to the current heat wave, people who live towards the end of a water supply pipeline might face some problems. He said they were doing their best to solve the problem.
He said this happened as the groundwater level drops in the dry season.
Each year, the groundwater level in the central area of the capital drops by 1 to 3 metres due to excessive extraction of groundwater, said another official of Wasa.
"As the water level drops during dry season and one or two percent of Wasa's tube-wells require rework. There is a crisis in some pockets of the capital," said Taqsem A Khan, managing director of Wasa.
To solve the problem, it was necessary to go for surface water, and Wasa plans to provide 70 to 75 percent of its supplies from it by 2020, he said.
Currently, Wasa can produce 245 crore litres of water daily, 78 percent of which comes from groundwater through 713 deep tube-wells and 22 percent from surface water through five water treatment plants.
New treatment plants would be set up at Gandhabpur of Rupganj, Jasaldi in Mawa and Sayedabad, he said, adding that those plants would produce 140 crore litres of water daily.
Meanwhile, a mild to moderate heat wave is sweeping over Dhaka, Rajshahi, Rangpur and Khulna regions since April 6 and it may continue for the next few days, according to the Met office.
There is no sign of rain in the regions and it may extend for some more days, said Bazlur Rashid, an official of Dhaka Met Office.
He, however, said there are chances of rain in Chittagong, Sylhet and Barisal divisions.
The highest temperature 40.2 degree Celsius was recorded at Saidpur while it was 40.1 in Dinajpur and 37 degree Celsius in Dhaka.