Water tariff hike once again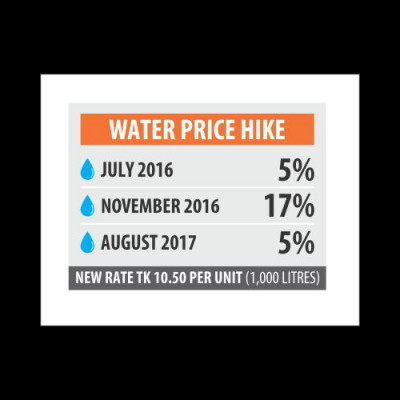 City dwellers will have to pay more for using running water from tomorrow as Dhaka Water Supply and Sewerage Authority (Wasa) has decided to hike the price by 5 percent only eight months after the previous price increase.    
Domestic consumers will pay Tk 10.50 instead of Tk 10 per unit (1,000 litres) of water while the commercial rate will be Tk 33.60 per unit from Tk 32 now.
This is the third-time price hike in the last 13 months.
Until June last year, per unit of water cost city dwellers Tk 7.71. Following a five percent price hike the next month, the cost rose to Tk 8.49. The price was hiked again in just four months by 17 percent to Tk 10.
While consumer right activists questioned such frequent increase in water tariffs, Dhaka Wasa laid out reasons defending its decision.
Consumers Association of Bangladesh (CAB) Chairman Ghulam Rahman termed the price hike arbitrary.
"A utility service provider can't hike price unilaterally. There must be a public hearing before taking decisions on water pricing."
Referring to yesterday's High Court verdict halting second-time gas price hike in a year, Ghulam said there should be a water regulatory commission to stop "arbitrary" hike in water price. 
"There is an energy regulatory commission for holding public hearings for power price adjustments but nothing like this for water." 
Former Anti-Corruption Commission chairman, Ghulam emphasised the need for making Dhaka Wasa more accountable to the people.
Everybody didn't get a pay hike, he said, adding that the most affected would be the poor living in the capital. 
Dhaka Wasa board member AKMA Hamid told The Daily Star that the board had decided to increase the price to cope with the yearly 7 percent inflation. 
Even after this hike, the water price is far below Wasa's cost of production -- Tk 16-17 per unit, said Dhaka Wasa Managing Director Taqsem A Khan.
Dhaka Wasa's water production cost is one of the lowest in the world. Yet, the government has to provide subsidy as "we're selling water at a much lower rate than the production cost," Taqsem said.
The price of supplied water in Colombo is Tk 12 per unit while it ranges between Tk 14 and Tk 18 per unit in big cities across India.
The Wasa MD, however, welcomed the suggestion that a water regulatory commission should be formed and public hearings be held on water pricing.
"Law doesn't allow us [Wasa] to go for a price hike of more than 5 percent at once. So, we've to depend on the government to decide if further hike is needed."
Last November, the government responded to a long-pending plea by the Wasa for a significant rise in the water prices and so the prices went up by 17 and 13 percent in one go for domestic and commercial supplies.
The price hike this time comes at a time when many users living in different city neighborhoods complain of poor quality of piped water.  
Residents said that at times they got stinky water due to faulty supply lines.
A city resident said the quality of supply water sometimes fell so much that it prompted his family to boil water before pouring it into water purifier to get drinking water.
Though the "system loss" in Wasa's water supply has dropped in recent years, 20 percent water is still being wasted. It was as high as 36 percent a decade ago.
Wasa officials said they were setting up new pipelines replacing old ones. The system loss will come down to seven or eight percent soon.
Its MD Taqsem said the authority had a plan to use surface water more than groundwater.
Established in 1963 as an independent organisation with a mandate to ensure water supply and sewage disposal in Dhaka, Wasa brought the water supply service of Narayanganj under its purview in 1990.