Trekking 12kms a day for water
Hill people in Kawkhali suffer as streams dry up for landslide, stone extraction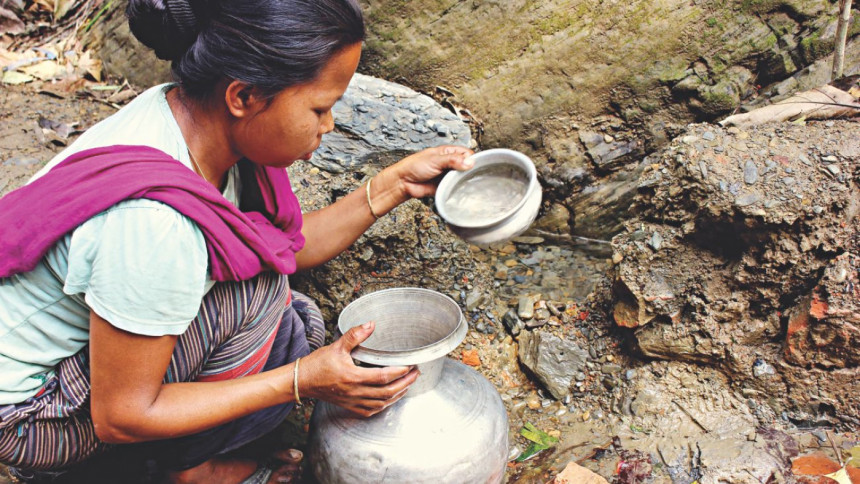 Purna Mala Tanchangya straps a basket on her back and carries as many pots and pans as possible to go and collect water at least twice a day from a well that is about two to three kilometres away.
With no source of water near her home at Debatachhari village of Ghagra union in Kawkhali upazila, the 32-year-old has to make this 12-km trek through hilly terrains under the scorching sun every day.
Members of the local indigenous community are suffering this way every day. 
They used to depend on natural sources of water like springs and streams for drinking water and their daily activities, including washing and bathing, but many of these have dried up in the last 3-5 years.
Previously, there were at least five springs flowing near their homes, villagers told The Daily Star recently.
Now, jeeps, auto-rickshaws and motorbikes ply these dried up streams, they added.
Several springs across the district, including in areas like Debaotachari, Champa Tuli, Morong Chari, Boro Pagli, Choto Pagli, Naraichari, Sakra Chhari and Junu Maa Chara, have all dried up.
The water flow in many streams was disrupted and stones dislodged after a massive landslide occurred in Rangamati on 13 June, 2017.
Besides, Muhammad Ali, executive director at Shining Hill, an environment-based local organisation, said many trees have been felled while stones were extracted from the streams. So, the streams have dried up, he added.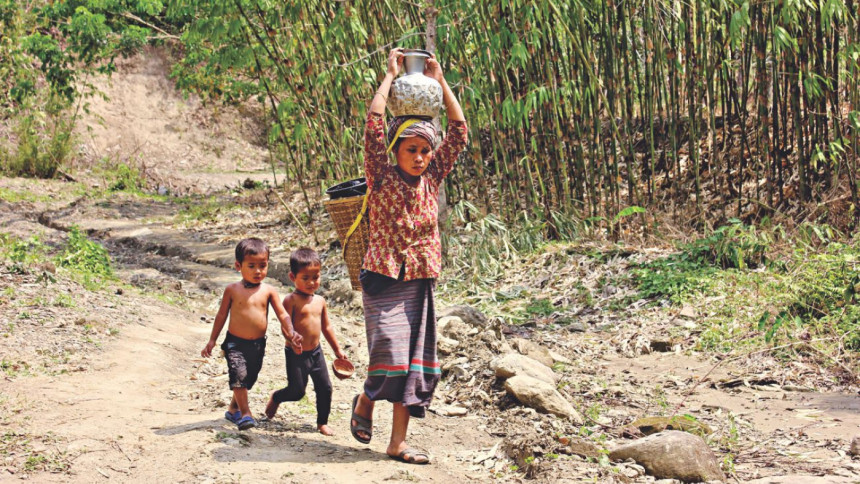 Experts say the streams in the hills are drying up due to stone extraction as the tributaries are unable to hold the water without stone beddings.
"The local administration should take steps against those involved in such acts."
Fulo Mala Tanchangya, a housewife at Debotachari village of Kawkhali upazila, said she now brings water from a faraway well, but it will dry up soon as the dry season began.
Porimal Tanchangya, a villager of Choto Pagli under Ghagra union, tried several times to set up a tube well near his home. But he did not get water, even after digging 100-150 feet down.
Priyo Lal Chakma, karbari (village head) of Badol Chhrai area, said as the forests are shrinking, their water sources are depleting.
Jogodish Chakma, chairman of Ghagra Union Parishad, said the situation is the same in his area as well. There is an acute shortage of water and the tube wells are unable to draw water up, he added.
Anupam Dey, executive engineer of Public Health Department in Rangamati, said the water levels were going down as the temperatures are shooting up. "Moisture in the soil is decreasing as commercial farming is rising."
"We are trying to run a project on water for people in the hills soon," he added. The project is in its initial stages.