Paturia-Daulatdia Ferry services
Strong current in Padma hampering terminal repair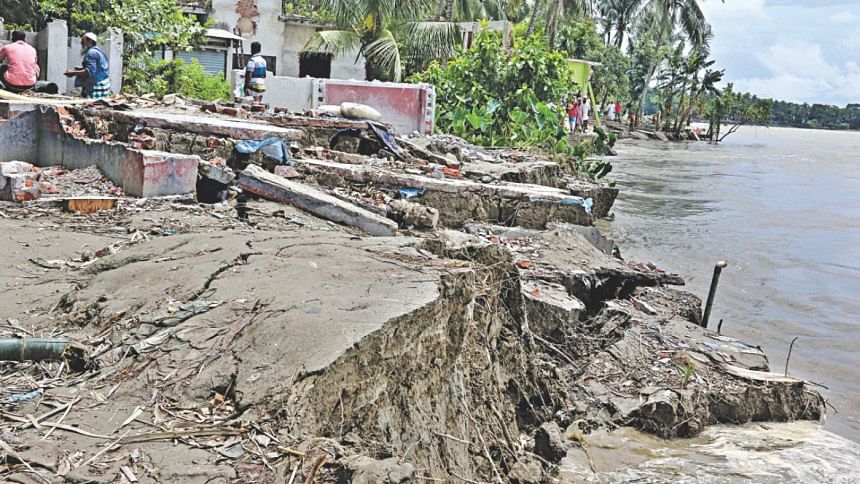 Ferry services on the Paturia-Daulatdia route have become uncertain as the damaged landing stations of Daulatdia ferry terminal in Rajbari cannot be repaired properly due to strong current in the Padma river.
The Bangladesh Inland Water Transport Authority (BIWTA) and the Roads and Highways Department (RHD) on Monday jointly started repairing the landing stations 2 and 4. After daylong efforts, the BIWTA completed the ramp-basement work, but the river eroded 40 feet of the approach road of the landing station2 and affected its ramp-basement again yesterday.
Nizam Uddin Pathan, executive engineer of BIWTA, said they completed the ram-basement work of the damaged landing station 4. It is ready for use but its approach road is not ready, he added.
Golam Mostafa, executive engineer of RHD at Rajbari, said they might not be able to complete repairing the damaged approach roads before Thursday. He also admitted that his department is struggling to repair the approach road of the landing station 4.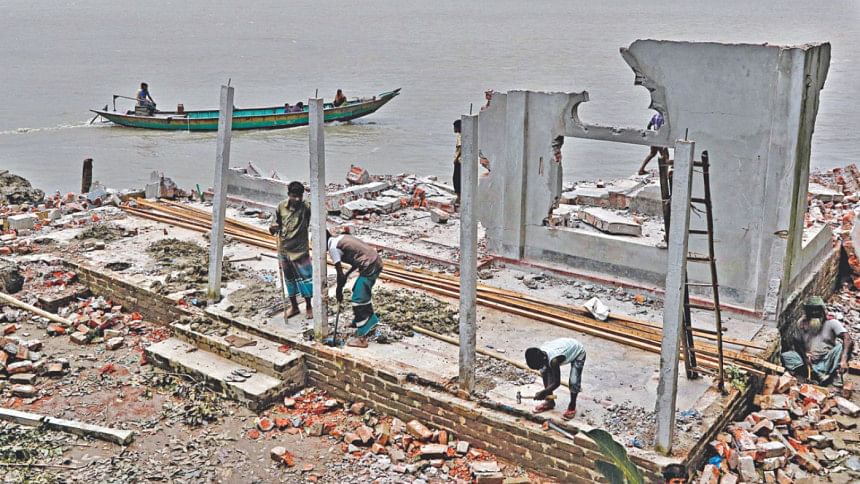 About 40 percent work of its 150-foot-long approach road is complete, he added.
The ferry service on this route has been suspended since Sunday as three out of the four landing stations at Daulatdia terminal remained out of service.
The BIWTA expects to resume the full ferry service at the terminal by Thursday after repairing the landing stations by Wednesday.
In the meantime, the terminal authorities have been directing incoming vehicles to take a detour through either the Bangabandhu Bridge or Mawa ferry terminal.
During a visit to the Daulatdia ferry terminal yesterday, it was found around 40-foot-long approach road of the landing station 2 was damaged by strong current. A part of the abandoned landing station1 was also washed away in the river.
Around 450 trucks were waiting at the Daulatdia ferry terminal for the ferry services to resume.
Workers of Rajbari RHD were seen dumping sand bags and piling bamboo posts at the landing station 4.
However, locals term the repair waste of public funds and eyewash as they think the temporary work will not withstand the immense force of the strong current.
Sheikh Mohammad Nasim, deputy general manager of BIWTC, said three small ferries have started to operate with passengers and private cars around 1:30pm, using landing station 3, which is also partially damaged.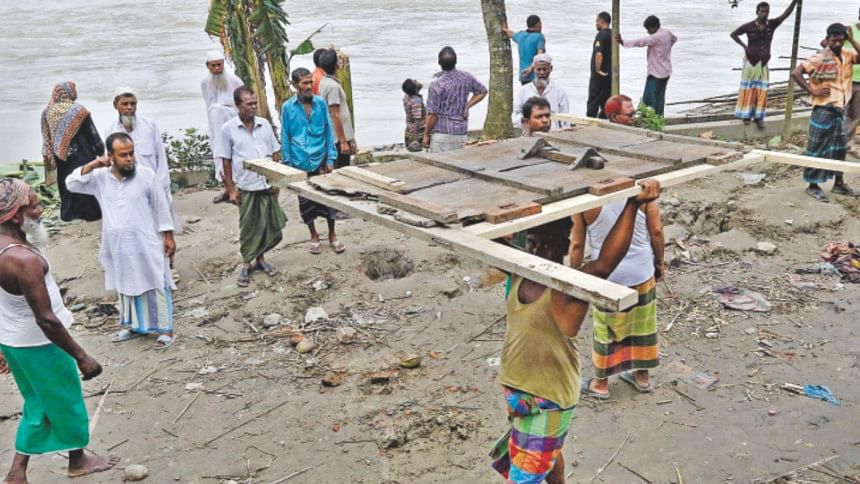 According to BIWTC officials, strong current of the Jamuna caused damage to landing station 4 on July 27 and landing stations 1 and 2 on August 6. Approach roads to the landing stations 2 and 4 have also been damaged.
The fleet of Paturia-Daulatdia ferry service consist of 18 ferries, but the service has gone unstable since July 20 due to shortage of ferry and strong current in the river.