Star wins 2 golds at South Asian Digital Media Awards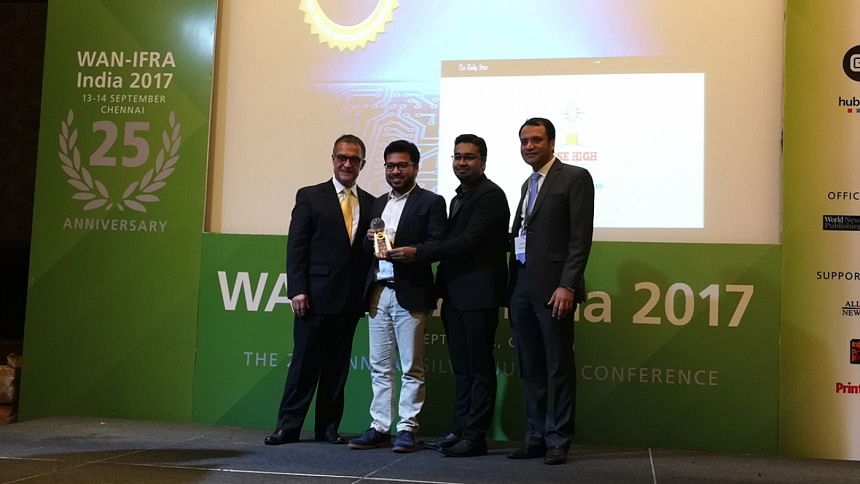 The Daily Star has won big at the prestigious South Asian Digital Media Awards 2017 jointly presented by WAN-IFRA, the World Association of Newspapers and News Publishers, and Google.
Star has won gold in both "best digital advertising campaign" and "best in social media engagement" categories. There were three awards -- bronze, silver and gold -- in each category.
For winning Gold in the categories, the newspaper is now eligible for the World Digital Media Awards.
This is the most prestigious recognition for publishers for their outstanding works in digital media. The awards are presented in every region -- South Asia, Asia, Middle East, Africa, Europe and Latin America.
This year, the winners of South Asian Digital Media Awards were chosen from ten categories -- Best News Website, Best in Lifestyle, Sports or Entertainment Website, Best Digital Advertising Campaign, Best Use of Online Video, Best Data Visualisation, Best News Mobile Service, Best Lifestyle, Sports or Entertainment Mobile Services, Best Innovation New Product, Best in Social Media Engagement and Best Innovation to Engage Youth Audiences.
The award giving ceremony was held yesterday at ICT Grand Chola in Chennai, India. Md Tajdin Hassan, head of marketing, and Shuvashish Roy, digital marketing manager of The Daily Star, received the awards.
The Daily Star received 'best in social media engagement' for "Mayer DakaNaam", a social media campaign launched to celebrate Mother's Day, a joint initiative with CBL Munchee. It received 'best in digital advertising campaign' for Rise High Bangladesh, a university based export idea contest that highlights local products of Bangladesh to a global arena. Crown Cement is the partner of the project and season 2 of the project is currently underway. WebAble Digital was also a digital partner of the Rise High Bangladesh project.
The winning campaign "Mayer DakaNaam" in best in social media engagement was initiated to celebrate motherhood marking Mothers Day. Almost all of our mothers used to call us using a special name. This name was our special tag given by our mothers, sometimes expressing our nature or even our interest. Readers were communicated to celebrate the day by sharing the special names along with a precious moment picture. Over 3,000 people submitted the pictures along with the special names and 10 were awarded based on the social media voting. A total number of 290,000 votes were cast on the micro site of the campaign. The campaign had a reach of 2.1 million in social media out of which 71.4 percent was organic.
 The other winning campaign was "Rise High Bangladesh". To uplift the exporting scenario in the country, a series of initiatives were launched last year jointly with Crown Cement. The primary objective of that initiative was to extract export ideas from current university students and the secondary was to award a few of the people who have contributed effectively in the international arena and improved the country's image.
 The whole campaign was designed in three phases -- University campus activation, making a shortlist of 10 best ideas by an expert jury panel, social media voting to get the top 3 teams and selecting the champion through a gala event.
Marketing activation took place in 15 universities and more 100 ideas were submitted from different universities. The campaign generated additional 15,000 visitors and 480,000 votes were cast in social media. The winning team was IBA, University of Dhaka.
WAN-IFRA, which organises the award ceremony jointly with Google, is the global organisation of the world's press which derives its authority from its global network of 3,000 news publishing companies and technology entrepreneurs, and its legitimacy from its 80 member publisher associations representing 18,000 publications in 120 countries.
Star is thankful to its readers and partners for their continuous support and pledge to deliver more in the coming days to meet the needs of news and information consumers in a fast-changing digital world.