Ramadan items dearer
Prices of chickpea, sugar, onion, pulses up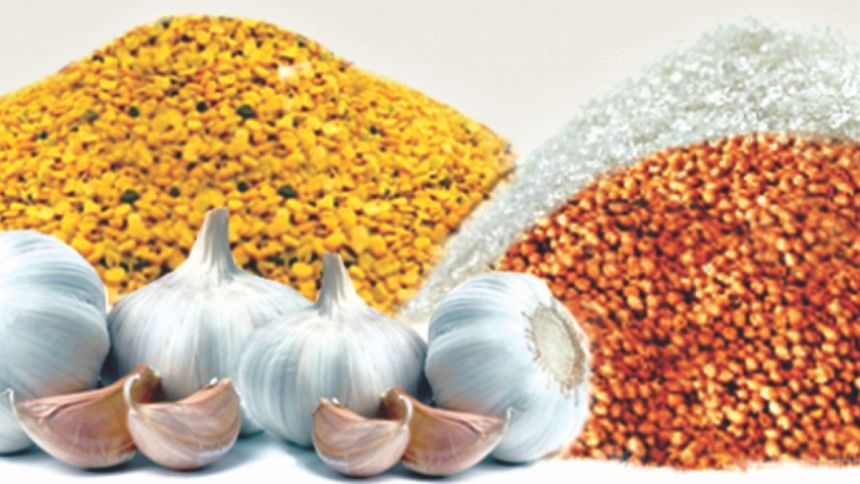 Consumers are paying more for some essentials such as chickpea, sugar, garlic and khesari pulse as their prices have gone up on the eve of Ramadan, which starts today.
Sugar was sold at Tk 60-65 a kg at city markets yesterday, about 20.19 percent up from a month ago, according to data from the state-run Trading Corporation of Bangladesh (TCB).
Prices of chickpea rose by 14.20 percent to Tk 85-100 a kg. Khesari pulse was selling at Tk 74-80 a kg -- a price that a retailer in Mirpur's Kazipara said was very high.
The price of good quality garlic has remained stable for a month, at Tk 200-220 a kg, but it rose 121 percent in the last one year.
The price of other varieties of the spice went up 3.23 percent to Tk 100-220 a kg from that of a month ago.
The retailer who didn't want to be named said prices of chickpea, sugar and garlic went up significantly in recent weeks.
He said he bought chickpea from wholesalers in Kochukhet market in the city at Tk 87 a kg which, he said, was Tk 60-65 during Ramadan last year.
Khesari pulse cost him Tk 74 a kg and the retail price is Tk 78-80. The shop owner, who has been selling groceries for two decades, sold sugar at Tk 38-40 a kg last Ramadan.
The TCB data, a compilation of information from 17 kitchen markets in the capital, showed the price of brand soybean oil has not increased in the last one month.
But the trader was selling a 5-litre bottle of soybean oil at Tk 460 whereas the TCB data shows it is Tk 430-455.
Date is being sold between Tk 80 and Tk 250 at a fruit shop in Kazipara, depending on varieties. Ramadan accounts for 85 percent of the annual consumption of the dried sweet fruit.
Onion prices rose by 7.69 percent to Tk 25-45 a kg. Prices of potatoes, palm oil, eggs, beef and broiler chicken also went up.
Demand for chickpea, sugar, dates and khesari pulse normally goes up during Ramadan, as most devotees break their fast with these items.
The price hike is in contrast with the government's claim about the supply situation.
A market analysis by the commerce ministry in the middle of May found that the supply is good enough to meet the expected demand during Ramadan.
Market analysts say it has become a tradition that prices of almost all grocery items would skyrocket before and during the fasting month.
Price hike is one of the major concerns in Bangladesh especially ahead and during Ramadan.
Prices of essential commodities such as rice, wheat, pulses, sugar, edible oil, ginger, garlic, onion and potato account for more than one-third of the annual household expenditure of the bottom 20 percent of the population, according to the 2005 Household And Income Expenditure data.
Researchers blame inflation, price hike in international market and business syndication for the price spiral.
However, inflation has decelerated in recent years. According to the Bangladesh Bureau of Statistics, the annualised average inflation in the outgoing fiscal year is 6 percent, based on the data available up to April.
Finance Minister AMA Muhith had set the inflation target at 5.8 percent for the upcoming fiscal year against the backdrop of a stable local market resulting from a drop in international commodity prices.
Last month, Commerce Minister Tofail Ahmed urged the Federation of Bangladesh Chambers of Commerce and Industry, wholesalers and retailers to keep the market stable.
He had said supply of all items, including rice, sugar, edible oil, lentils, onion, garlic, ginger, and dates, was higher than the demand.
"So there is no reason for their price hike on the occasion of Ramadan," he added.
Last month, Ghulam Rahman, president of the Consumers Association of Bangladesh, said dishonest businesses increased prices of commodities and services ahead and during Ramadan.
"But we are apprehending an exception this year," said Ghulam, also former chairman of the Anti-Corruption Commission.
He said due to efficient management and strict monitoring, prices remained tolerable during Ramadan in the last few years, except for a few items.
Humayun Kabir, a banker, said prices of some essential commodities had risen much before Ramadan.
"We are already paying more prices for a number of items," said the lone breadwinner of a four-member family. He called on the government to be more sincere in keeping the prices of essentials stable.