Sugar prices edge up in wholesale market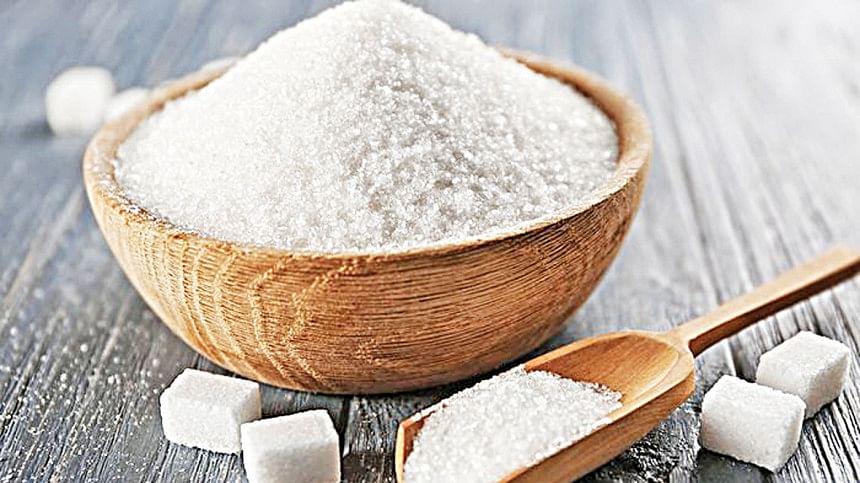 Sugar prices edged up in the wholesale market of Bangladesh within days after refiners declared that they would sell the sweetener at higher prices from the first day of February.    
The rate rose even after the government fixed the retail prices for the sweetener that are far lower than the existing market rates, raising questions whether consumers, who have been hit with a soaring cost of living, would benefit from the latest move. 
On January 26, the Bangladesh Sugar Refiners Association discussed with the Bangladesh Trade and Tariff Commission and the commerce ministry the price situation and announced an increase of Tk 5 per kilogramme on the same day.
The new rate of Tk 112 for packaged sugar and Tk 107 for non-branded ones will come into effect on February 1.
But loose sugar is being sold at Tk 115 to Tk 120 per kg and the packaged ones at Tk 120 to Tk 125 in different parts of the country, including Dhaka and Chattogram.
Abdur Razzak, a wholesale trader in Khatunganj, a commodity hub, said soon after the announcement of the new rates, the wholesale price of sugar per maund (37.32 kgs) increased by Tk 50 to Tk 3,920 to Tk 3,950.
Sugar is being sold at higher prices due to supply shortage, the increase in production costs, and higher import payments, retail traders and importers say.
Refiners, however, say the supply shortage will be resolved soon.
Hazi Mizan, a retailer in Karwan Bazar, one of the biggest kitchen markets in Dhaka, said there has not been an adequate supply of sugar.
The retailer claims that he has had to buy packaged sugar at Tk 110 per kg from the dealer although the packet showed a price of Tk 107.
"Otherwise, the dealer will not sell sugar to me," he said.
"The dealer did not give me any receipts and said they would not sell sugar to me if I ask for any receipts."
After a gap of about a month, he received 40 kg of sugar from the dealer yesterday, he said.
Mohammad Bablu, another retailer in the same market, said he bought branded sugar at Tk 115 per kg and loose sugar at Tk 110 per kg yesterday.
During visits to 15 shops in Karwan Bazar, sugar was found in six of them. Three were selling branded sugar.
The last time sugar prices were hiked at the retail level was on November 17 last year when the rate for loose sugar was hiked from Tk 95 per kg to Tk 107 and the branded ones to Tk 102.
Retailers in Khulna and Sylhet say they are selling sugar at higher prices since they are buying at higher rates.
Abdur Rahim, a retailer in Sylhet city, said he is not getting an adequate supply of sugar.
In Bangladesh, the sugar market has been facing a supply crunch for five to six months.
The retail price of sugar has increased by 50.33 per cent in the last one year and 2.22 per cent in the past one week, data from the Trading Corporation of Bangladesh showed yesterday.
Taslim Shahriar, senior assistant general manager at Meghna Group of Industries, one of the biggest commodity importers and processors in Bangladesh, hopes that sugar will be sold at the new rates.
Sugar imports have fallen owing to the dollar shortage caused by the fast depletion of foreign currency reserves, hurting supply. The production cost has also increased due to the spike in gas and electricity tariffs, said a commodity importer.
The country's annual demand for sugar is 25 lakh tonnes but domestic production can supply only 1 lakh tonnes while the rest comes from abroad. About 95 per cent of imported sugar is unrefined.