Leaving a legacy of success
Pranab to quit as Indian president Monday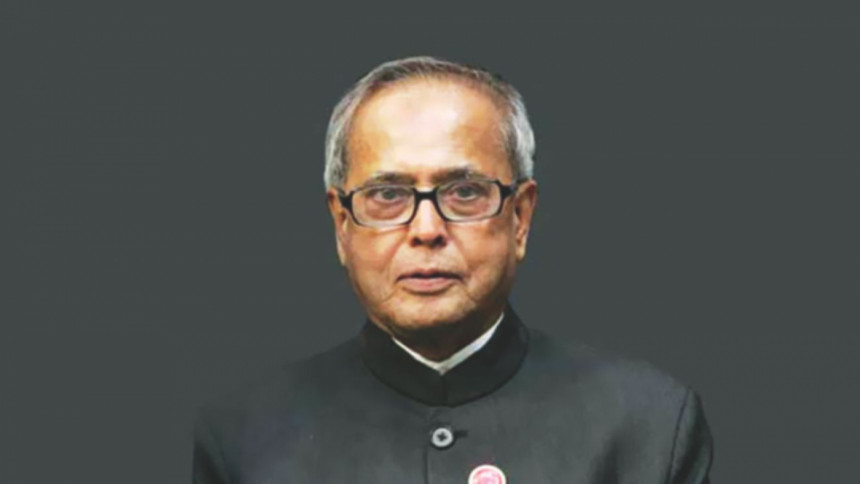 As Pranab Mukherjee, the first Bengali president of India, readies to step down on Monday after his five-year tenure, he leaves behind the legacy of a copybook head of state who strived hard to bring the presidential palace closer to the public.
After he was elected in July 2012, he had told journalists the constitution simply does not provide for an "active" or "passive" or "activist president".
Under the Indian constitution, it is the prime minister and his council of ministers who wield executive power and the president is just a figurehead.
But he was not a "rubberstamp president".
As the president, Mukherjee took special interests in strengthening India's relations with Bangladesh, from where his late wife Subhra Mukherjee hailed, and gave the rare honour of hosting Bangladesh Prime Minister Sheikh Hasina as a guest in Rashtrapati Bhavan when she paid an official visit to India in April this year.
With his vast experience as a politician, parliamentarian and a federal minister and encyclopaedic knowledge of the Indian constitution, rules and conventions, Mukherjee always went by the copybook and knew his limits and authority as the president.
The role of the Indian president comes into play in a major way when the general elections produce a fractured mandate with no party or alliance of parties gaining clear majority and he or she has to decide and invite those in the strongest position to form a stable government.
During his tenure, Mukherjee, however, did not face that situation after BJP led by Narendra Modi had got clear majority in the 2014 parliamentary elections.
Modi himself considered Mukherjee as his mentor in his primary days as the prime minister. He himself said, "In my initial days, Pranabda held my hand to settle down."
Mukherjee's presidency has left no space for the government, ruling party or the political opposition to complain about.
However, he never shied away from speaking out his mind. He privately made known his unhappiness over a series of ordinances brought by the Modi government and consistently spoke out against rising intolerance and lynching, leaving ruling BJP squirming.
At the same time, he backed many of the Modi government's schemes, including the scrapping of the high-denomination currency notes which was sharply attacked by the opposition.
The opposition also found it uncomfortable when Mukherjee endorsed the Modi government's dismissal of the Congress governments in the states of Uttarakhand and Arunachal Pradesh.
For Mukherjee, governance and statecraft had to be delinked from sentimentality.
Unlike his predecessors Pratibha Patil, India's first woman president, who sat over clemency petitions, Mukherjee rejected 30 mercy pleas of death row convicts, including that of Afzal Guru in connection with Indian parliament attack, Ajmal Kasab for the deadly terror attack on India's financial hub that left 166 people dead in November 2008 and Yakub Memon for Mumbai blasts in 1993, and accepted only four.
It was during Mukherjee's presidency that the portals of Rashtrapati Bhavan were thrown open wider to the people and the former house of British Viceroy, a witness to many historic events, went through renovation.
Before venturing into politics, Mukherjee was a college teacher in Kolkata and his abiding interest in India's education system was evident in his efforts to have regular interactions with vice-chancellors of universities.
It was during his tenure as the president that Mukherjee introduced in-house programmes for scholars and artistes which saw Bangladesh's internationally-acclaimed painter Shahabuddin Ahmed spending a week in Rashtrapati Bhavan earlier this year.
Ahmed was the first Bangladeshi artist to get that honour.