News Analysis
Ominous sign
Ongoing UP polls turn out to be the bloodiest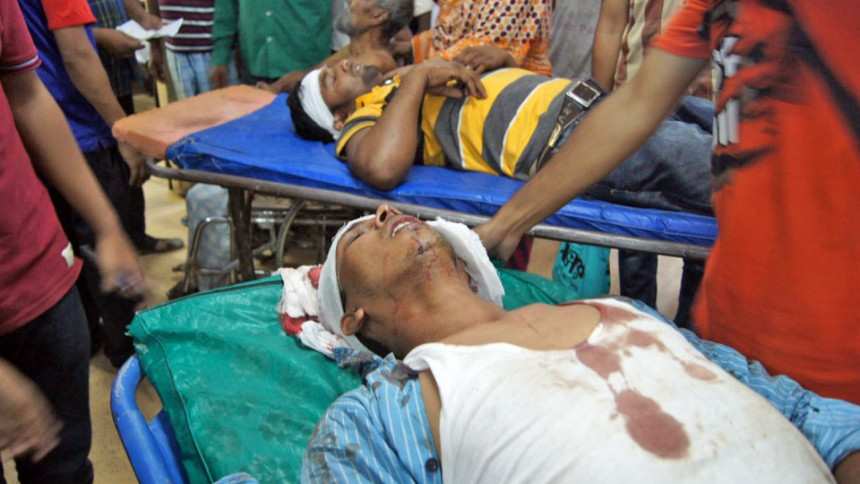 The ongoing Union Parishad polls have become the bloodiest election in Bangladesh history.
This level of intense local violence was never seen in any previous elections -- parliamentary or local -- since the independence of the country. 
Widespread violence has already left 84 dead and more than 6,000 persons injured since the beginning of the polls in last March.
At least 71 persons were killed till May 4, according to Shujan, a citizen platform for good governance.
Thirteen more were killed in violence as of yesterday.
In some areas, houses of rivals were also attacked and set on fire.
The violence shows an alarming rise in enmity among people based solely on political identity and it might appear as a major threat to peace in the country.    
If this streak of violence continues, the death toll might rise further as two more phases of polls to 1,457 UPs are scheduled for May 28 and June 4 respectively. 
In the last UP elections held in 2011, at least 27 persons were killed and 3,136 were injured in election related violence, according to Democracy Watch, a non-profit that works on democratic reforms. Its numbers are based on reports published in different newspapers.
Earlier, in 2003 UP polls, 80 persons were killed and 7,209 were injured, Democracy Watch says.
Reactions of the then EC-led by MA Sayed in 2003 and the current one-led by Kazi Rakibuddin Ahmad are opposite.
CEC Sayed-led EC had struggled for deployment of army to ensure security of the polls. But the then BNP government refused to meet the EC's requirement. The widespread violence and irregularities that followed had frustrated the then EC.
MA Sayed voiced his anger and concern several times. He also called the elections "futile exercise" because of the irregularities and violence. The then government high-ups were not pleased with his remarks.
This time around, the current EC continues to remain nonchalant and claim the polls as almost peaceful, excepting some sporadic incidents of irregularities and violence.
The fact is, electoral irregularities are aplenty this time too.
Capturing of polling stations, stuffing ballot boxes and snatching ballot boxes have dominated all the four phases of the election. Ruling party men have been accused of involvement in all the irregularities denying people their voting right in many UPs.
A rather new phenomenon that emerged this time is that in some cases, even polling officials were found stuffing ballot boxes in favour of ruling party men.
The ruling party got overwhelming victory by grabbing most of the chairmen posts in the 2,682 UPs up for polls in the last four phases.
More than 170 AL candidates were elected uncontested, higher than the number in the 1988 election. According to Shujan, 150 candidates were elected in that election.   
The failure to ensure free and fair elections ultimately rests on the leadership of the Election Commission. The blame for the widespread violence and irregularities rests on the government, for making the election partisan this time, among other reasons.
The UP elections appear as the latest blow to the country's electoral system that has been seriously damaged in the January 5, 2014 parliamentary election and the subsequent polls to upazila parishads, municipalities and three city corporations in Dhaka and Chittagong.
What is the meaning of such elections mired in widespread irregularities and violence?
Universally recognised method of election has little in common with the ongoing UP polls. 
In a modern democratic polity, election is recognised as a peaceful method of picking public office holders and transferring of power. This also empowers voters to exercise their legal right to choose their representatives.
In local government elections, people who are elected as public representatives are supposed to deliver various services to local people. Locals expect them to look after their rights and necessities. Therefore, they are considered as government at the people's doorstep.
But the ongoing saga of grabbing the chairmen posts in UP elections by robbing people of their voting rights through means of violence and stuffing ballot boxes has raised some crucial questions.
Can these grabbers of chairman posts be called "public representatives?"
On their elections as "public representatives," they will be legally empowered to carry out various development activities spending public money for the next five years.
How will transparency be maintained in the expenditure of public money? Will they remain accountable to people for their activities? 
Will the outcome of the ongoing elections strengthen democracy at grassroots levels and contribute to building future leaders?
Around Tk 500 crore is being spent by the EC to hold the elections. It is of course the public's money. The big question is: what will this election deliver to people who are paying the cost of holding the polls?