Bloodshed stalks polls
8 killed, 2 journos among injured; ballot-stuffing, other irregularities mark 2nd phase of UP polls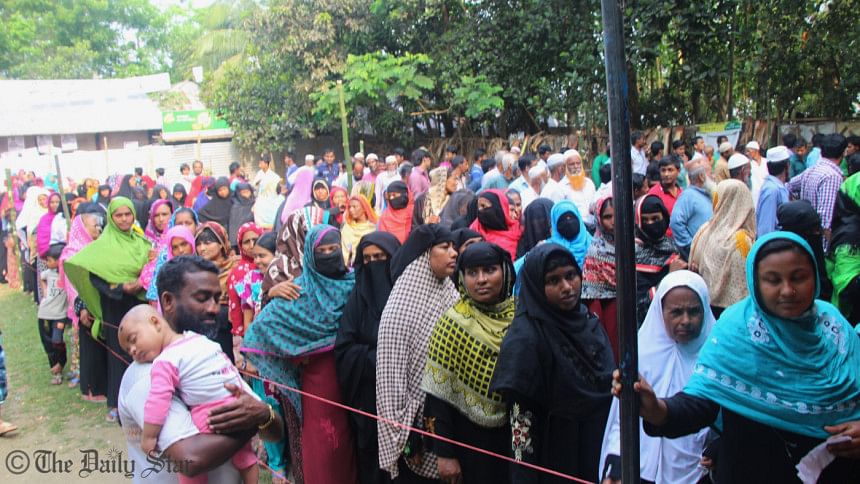 Like in the first phase, violence and irregularities marked the second-phase polls to union parishads yesterday, leaving at least eight people dead and around 130 others wounded in clashes and firing.
One of the dead is a 10-year-old boy, who went with his uncle to see voting, and another a Dhaka University student who went to his village ahead of the polls. 
The injured include two television journalists. One of them was wounded in "accidental" police shooting and another due to beating by law enforcers. 
Incidents of chase and counter-chase, casting of fake votes, ballot-stuffing and taking control of polling stations -- mostly by supporters of ruling Awami League chairmen candidates -- were reported during the voting held along party lines.
Two people were killed in Sandwip of Chittagong and one each in Keraniganj, Jessore, Jamalpur, Madaripur, Manikganj and Natore during and soon after voting hours.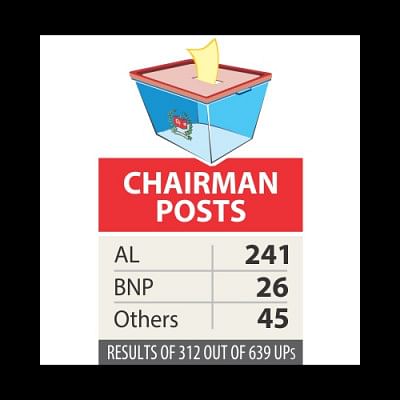 Another two people were killed and three others injured in a blast while making bombs in Jessore, hours before the voting began. The explosion took place just beside a polling centre in Libutola union in Sadar upazila around 7:30pm on Wednesday, police said.
Voting to 639 union parishads in 47 districts began at 8:00am and continued till 4:00pm without any break.
Official figure of voter turnout was not available, but our district correspondents said voters' presence appeared "satisfactory". Women voters in particular turned out in large numbers braving rain in some areas and overcoming fear of violence.
Dampening their enthusiasm, however, violence and irregularities took place in more than 70 unions. Supporters of chairmen and member candidates used firearms, leaving at least 20 people bullet-hit.
At least 19 candidates from BNP, one AL rebel and one independent candidate boycotted polls citing irregularities. In some unions, the ruling AL men intimidated BNP leaders and activists to keep them from working as polling agents. Polling agents of BNP chairmen candidates were found absent from many stations, as witnessed by The Daily Star correspondents.
Voting in 35 polling stations was suspended due to violence and irregularities, according to Election Commission officials.
A presiding officer and two assistant presiding officers were arrested for helping fake voters cast ballots in Jessore.
In the first-phase of the election held on March 22, at least 10 people lost their lives and more than 1,000 were injured.
Besides, 11 more were killed in polls-related violence since the announcement of the polls schedule on February 11.
The AL chairmen candidates swept the first-phase polls, winning in 540 out of the 725 UPs. BNP candidates won in 47 unions, Jatiya Party in four while independent candidates and other parties sealed victory in the remaining unions.
Elections to 621 UPs are slated for April 23 in the third phase, 743 UPs on May 7 in the fourth phase and around 1,400 more UPs in two other phases till June.
In Chittagong, two people were killed and a police constable was injured in a gunfight between supporters of two rival chairmen aspirants and police at Char Bauria Government Primary School centre of Char Baurai union of Sandwip upazila around 4:15pm.
The dead are Md Sanaullah, 45, son of Mozzaffor Ahmed of Sukani, and Md Ibrahim, 30, son of Md Kurishasa of Maijhar Bari, said Additional Superintendent (special branch) Abdul Awal of Chittagong police.
Both the victims died instantly.
Another person named Md Jamal was also bullet-hit, but his condition was not clear, police said.  
Constable Md Alamin from Rangamati Police Station suffered bullet wounds during the incident.
Abdul Awal, the ASP, said brandishing lethal weapons and carrying sticks, supporters of independent candidate Md Zillur Rahman entered the polling centre and tried to snatch ballot boxes by opening fire.
"Police tried to obstruct them. But supporters of rival Awami League candidate Md Jamal Uddin attacked them with lethal weapons and opened fire to establish supremacy at the polling centre," said the ASP.
Police was compelled to open fire in self-defence, said Abdus Salam, officer-in-charge of Sandwip Police Station.
In Keraniganj, Shuvo Kazi Srabon, a fourth-grader at Madhurchar Government Primary School in Hazratpur union, was killed in firing allegedly by a supporter of the AL chairman candidate.
"A group of Awami League activists led by local leader Rana Molla entered the voting centre and opened fire. My son was shot in the chest," said Halim, the boy's father. 
At least seven voters were hit by bullet in the shooting.
In Madaripur, a DU student was killed during violence between supporters of two member candidates around 5:30am at Dakkhin Birongol Nurani Madrasa Centre under Dhurail union, said Sarwar Hossain, superintendent of the district police.
The dead is Sujan Mridha, son of Bachchu Mirdha of Dakkhin Birongol village. He was a third-year student of marketing, confirmed DU proctor Prof MA Ali.
Witnesses and family members said Sujan was killed in police shooting, but the SP said neither the police nor the BGB opened fire there.
According to him, the youth was killed in a clash between two groups.
In Jessore, a hawker was killed in clashes between supporters of two rival member candidates in Chanchra union under Sadar upazila.
The dead is Abdus Sattar, 65, said Ilias Hossain, officer-in-charge (OC) of Jessore Kotwali Police Station.
Sattar was caught in the line of fire between two rival member candidates around 12:30pm at Bhaturia Government Primary School polling centre, where at least 10 bombs were exploded, the OC said.
The two men who were killed while "making bombs" are Ibadul Islam, 38, of Andolpota, and Md Sabuj, 29, of Talikhola area. Both died at Jessore Medical College Hospital while being treated, said the OC of Jessore Kotwali Police Station.
Meanwhile, Hasan, 30, organising secretary of Noapara ward AL, suffered bullet injuries in another clash between AL and BNP supporters at a centre in Arpara under Noapara Union in Jessore around 10:30am.
In Jamalpur, a voter was allegedly beaten to death during a clash between supporters of two member candidates at Uttar Balurchar Government Primary School polling centre in Shyampur union in Melandah upazila.
The dead is Rafiqul Islam, 50, of Uttar Balurchar village in the union.
Locals said supporters of member candidate Muksed Ali were locked in a clash with supporters of member aspirant Marjina Begum over casting fake votes at the centre around 11:00am. Caught in the clash, Rafiqul was beaten to death.
However, Nasimul Islam, OC of Melandah Police Station, claimed the man died of heart attack.
At least 20 people were injured in sporadic clashes at different polling centres of 25 unions under the two upazilas.
In Manikganj, a woman was killed when a member-elect of Baghutia union of Daulatpur upazila attacked the house of the defeated member candidate around 8:30pm.
Nomesa Begum, 55, was a supporter and neighbour of defeated candidate Shipon Ali, said Harun-Ar-Rashid, an ASP of Manikganj.
Four others were injured in the attack.
Besides, an AL man was wounded as law enforcers opened fire when the man, accompanied by his cohorts, was trying to snatch ballot boxes at a polling centre in Boyra union under Harirampur upazila, said Jakir Hasan, additional SP of Manikganj.
In Natore, a youth named Biplob, 30, was killed and nine others were injured in violence at Baknai Dakhil Madrasa Centre in Lalpur upazila, said police.
At least nine others were injured, said Abdul Hai Talukdar, OC of Lalpur Police Station.
In Sherpur, at least 25 people, including a presiding officer, were injured in clashes at several polling stations in several unions.
In Munshiganj, around 20 people were injured in clashes in 18 unions in two upazilas.
In Dinajpur, at least 10 people were hit by bullets as law enforcers opened fire to foil an attempt of snatching ballot boxes in Binail union under Birampur upazila around 9:30pm.
In Mymensingh, at least two people sustained bullet injuries when police resorted to shooting to stop a clash between supporters of AL-nominated and AL's rebel candidates at Maizpara Polling Centre in Kamaria Union in Tarakanda upazila during vote counting around 6:30pm.
In Bhola, district correspondent of ntv Afzal Hossain suffered bullet injuries. Police claimed the bullet was fired "mistakenly" by a cop at a polling centre of Razapur union in Sadar upazila.
In Cox's Bazar, law enforcers beat up Sujauddin Rubel, a correspondent of Shomoy TV.
In Tangail, 18 people, including a rebel AL candidate, were arrested while casting fake votes at different polling centres in Bhuapur upazila.
In Thakurgaon, several unruly men snatched ballot papers and vandalised ballot boxes in two polling centres in Haripur upazila.
In Natore, agents of BNP candidates were not present in many of the polling stations of 11 unions in two upazilas. AL men were seen seeking votes in many centres in presence of law enforcers, flouting electoral code.
In Kushtia, the ruling party men intimidated BNP men in several polling stations of 11 unions so that no one can cast vote for the BNP candidate, said locals and BNP leaders.
Stray violence and irregularities also took place in Comilla, Chandpur, Brahmanbaria, Gazipur, Jhenidah, Sirajganj, Noakhali, Sunamganj, Magura and Lalmonirhat.