Municipal Elections 2015
Violence continues
41 injured; AL, BNP mount pressure on dissidents to be inactive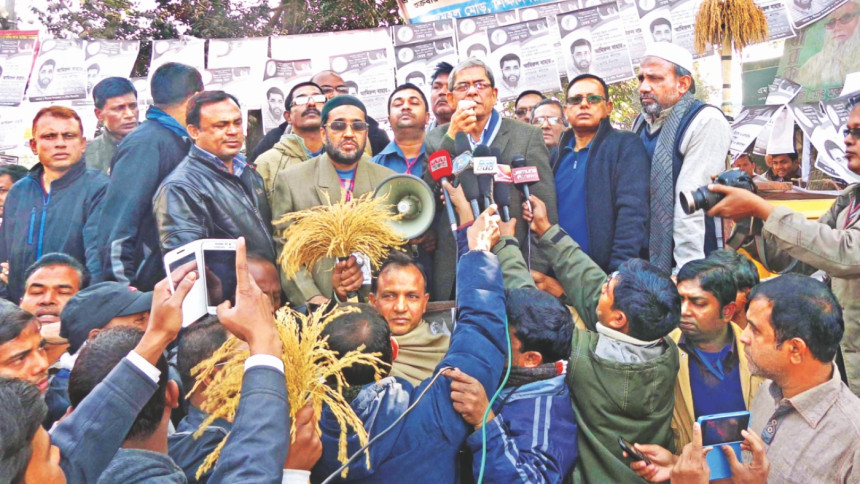 With just three days to voting day, candidates and their supporters continue violating electoral codes and resorting to violence in different areas.
Both the ruling Awami League and the BNP were making every efforts to convince their dissidents to become inactive and work for party nominated candidates, sources said.
The parties continued suspending grassroots leaders from their organisational posts for either contesting as rebels or patronising the dissidents, ignoring party directives.
Meanwhile, at least 41 people were injured in election-related violence in Chittagong, Shariatpur, and Jamalpur yesterday, report correspondents.
In Naria municipality of Shariatpur, at least 25 people were injured in a clash between supporters of AL-nominated mayor candidate and the party rebel at the upazila headquarters. Over 100 homemade bombs were allegedly exploded, reports a correspondent.
In Chittagong, BNP leader Mir Mohammad Nasir Uddin came under attack during campaigning for party candidate at Rangunia yesterday. Nine people were injured in the attack, reports our correspondent there.
In Sharishabari municipality of Jamalpur, at least seven people were injured, six motorcycles were vandalised and a BNP office was ransacked in a clash between supporters of AL and BNP nominated mayor aspirants at Aramnagar Bazar, reports our correspondent there.
Mobile courts in the last two days penalised seven mayor candidates -- three in Jessore, two in Chandpur and two in Pabna -- for violating electoral codes.
Meanwhile, Shahnaj Akter, a BNP mayor hopeful in Laksam municipality of Comilla, filed a complaint with the returning officer, saying the local AL lawmaker was working for AL-nominated candidate.
LEADERS' SUSPENDED
Both the AL and the BNP suspended several leaders in the last two days for violating party discipline.
In Tangail, three leaders of Bhuapur upazila unit of AL, including upazila parishad chairman Abdul Halim, were suspended on Friday.
On the other hand, the BNP in the last two days suspended 11 leaders -- one in Mymensingh, five in Pabna, two in Narail, one in Satkhira and two in Bandarban.
The party also served show-cause notices on two leaders in Bandarban.
RESIST MILITANCY
According to the home ministry, law enforcement and intelligence agencies would be more alert in resisting militant activities during the municipality polls slated for December 30.
Law enforcers would keep sharp vigilance on public meetings and religious institutions ahead of the polls, according to a draft circular of the ministry.
The ministry is likely to issue the circular today with its detail plan of action to maintain law and order ahead of the polls on voting day, and post-election period, said EC officials.
CAMPAIGN ENDS
As per electoral rules, the three-week-long electoral campaign ends at 12:01am Tuesday, 32 hours prior to voting.
Candidates started campaigning on December 9 without electoral symbols, and with electoral symbols from December 14.
ELECTORAL MATERIALS
The Election Commission had already started sending electoral materials to the municipalities, said EC officials.
Over 2.17 crore ballot papers have already been sent to the electoral areas from the Bangladesh Government (BG) Press in the capital, said EC's Deputy Secretary Shamsul Alam.
Besides, ballot boxes and other materials would be sent from district election offices concerned to the municipalities, he said.
ELECTION OBSERVERS
Over 4,000 observers from 30 local organisations would monitor the polls. Besides, at least two international organisations have expressed interest in observing the polls. But that would be finalised in a day or two, said EC officials.
PRESS CONFERENCE OF AL, BNP
At a press conference yesterday, AL Joint General Secretary Mahbubul Alam Hanif claimed that the BNP was conspiring to stay away from the polls sensing its defeat. He urged the BNP to stay in the race.
Meanwhile, BNP Joint Secretary General Ruhul Kabir Rizvi at a press briefing came down hard on the EC claiming that the commission had turned a blind eye to the violations of electoral code of conduct by the ruling party men.