Third phase of Union Parishad elections today
Tension runs high as AL, rebels at loggerheads in many UPs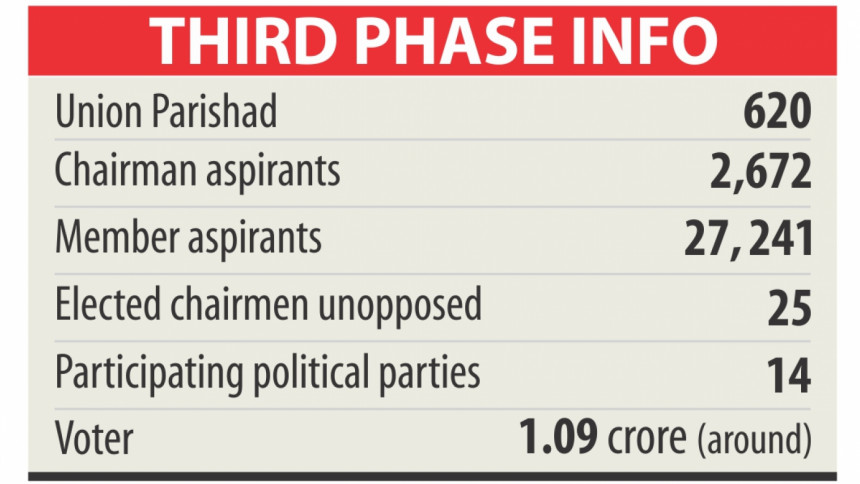 Around 620 union parishads (UPs) in 46 districts go to polls in the third phase today amid tension and fear of violence, as elections in the previous two phases were marred by deadly clashes and massive irregularities.
Voting to the UPs starts at 8:00am and will continue until 4:00pm, said officials of the Election Commission (EC).
Fear of violence runs high in the UPs where the ruling Awami League candidates are challenged by rebel aspirants from their own party, according to election experts.
Like the previous two phases of UP elections, both groups are desperate to establish supremacy over the polls in different districts, including Munshiganj, Mymensingh, Sherpur, Gazipur, Manikganj and Tangail, report our correspondents.
The AL in last couple of days had suspended its dissidents from the party in different districts, including Chandpur and Mymensingh, for contesting as rebel candidates and violating the party's decision.
On the other hand, the BNP had kept alleging that the ruling party men and law enforcers were harassing and intimidating its party men in different UPs to ensure AL men's victory.
Elections to 725 UPs were held on March 22 in first phase and 639 UPs on March 31 in the second phase. Polls to 743 UPs are slated for May 7 in the fourth phase and 733 on May 28 in the fifth phase. Around 700 more UPs will go to polls in the sixth phase in June, according to EC officials.
At least 40 people were killed, including 18 in voting days, and several hundred others were injured in violence over UP polls.
In the first and second phases, poling was largely marred by electoral irregularities and incidents of clashes between supporters of rival candidates, which prompted the EC to suspend voting at around 100 polling stations.
Shushashoner Jannoy Nagorik (Shujan), a civil society organisation working for establishing good governance, at a press conference on April 19 viewed that the EC chief and other commissioners should quit for their failure to hold fair and peaceful polls.
Workers' Party of Bangladesh President and Civil Aviation and Tourism Minister Rashed Khan Menon yesterday at a programme in the capital said such violence and irregularities had taken place due to lax enforcement of laws by the EC.
Bangladesh Hindu-Bouddha-Christian Oikya Parishad General Secretary Rana Das Gupta yesterday at a press conference said attacks on minorities increased significantly after the UP polls had begun.
Against such a backdrop, the EC on April 13 sat in an emergency meeting with top officials of law enforcement agencies and paramilitary forces to discuss law and order for the next phases of polls.
Finally, the EC at a meeting with some central AL leaders on Thursday asked them to issue directives to the party's grassroots to refrain from committing violence and irregularities in the next phases of polls.
Election experts, however, think that issuing directives alone cannot help stop violence and irregularities.
"The EC is yet to take any visible steps to address the problems and overcome its weakness that led to the violence and irregularities in the first and second phases of polls. So, similar things may happen again in the third phase," said Abdul Alim, director of the Election Working Group (EWG), a platform of 28 civil society organisations.
"Fear of violence is high in the areas where AL-nominated and AL rebel candidates are contesting the polls," he told The Daily Star yesterday evening.
The ongoing UP polls, being held on the party lines for first time, have generated much heat in the political landscape as both the AL and its arch-foe BNP have stepped in the battle of ballots.
The parties have picked their grassroots leaders to compete for chairman posts with their party's electoral symbols -- "boat" and "sheaf of paddy".
In today's polls, AL-nominated 25 candidates have been elected unopposed, while the BNP has no candidate in 61 UPs, according to EC statistics.
The BNP could not field candidates in many UPs, as its local leaders showed reluctance to contest the polls fearing attack by AL men. In some cases, BNP men were obstructed by the ruling party men to file nominations. Besides, nominations of some BNP candidates were cancelled by returning officers after scrutiny.
Elections to 1,364 UPs were held in the last two phases. In the polls, the AL candidates secured a landslide victory by winning in 991 UPs. Eighty-five of them were elected uncontested.
On the other hand, the BNP-nominated chairman candidates won in 109 UPs, while independent and other political parties' aspirants became successful in rest of the unions, according to the EC and the media.