717 UPs go to polls today in 5th phase
Fear of violence remains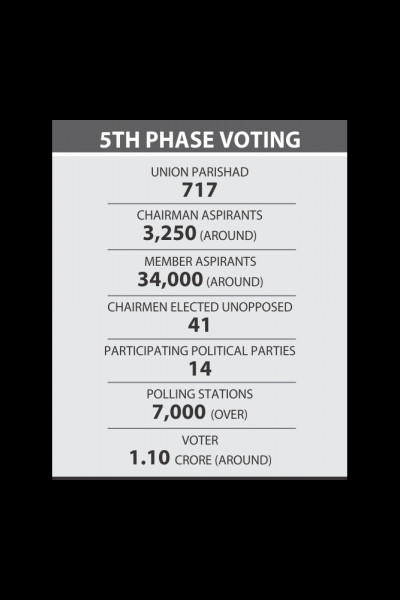 Some 717 unions of 45 districts will go to polls today in the fifth phase against the backdrop of deadly violence during electioneering over the last couple of weeks.
At least 20 people have been killed in poll-related violence since May 9 across the country, sparking panic among voters.
Fear of violence is particularly high at the unions where the ruling Awami League chairman candidates and its rebel aspirants are at loggerheads over the polls.
As the rival candidates belong to the ruling party, they are desperate to secure win, even by using force. This desperation might trigger violence, said election experts.
Polls to around 725 UPs were held in the first phase, 639 UPs in second, 615 UPs in third and 703 UPs in fourth phase on March 22 and 31, April 23 and May 8. A total of 724 unions will go to polls on June 4 in the sixth and final phase.
The death toll and incidents of irregularities in the ongoing UP polls have broken all previous records in Bangladesh, according to Shushashoner Jonno Nagorik (Shujan).
At least 101 people have been killed in electoral violence since the announcement of the polls schedule in February. Previously, around 80 lives were lost in UP polls violence in 1988, the civil society platform said.
Despite the violence and irregularities, no significant measures have been taken either by the Election Commission or the political parties to check them. 
"The EC's recent remarks about the clashes and its actions against some members of law enforcement agencies proved that it has no control over the polls. Anyone may think that declaring polls schedules and results are the EC's only jobs," said former election commissioner M Sakhawat Hussain.
"Who will take the responsibility for the deaths of 100 people?" he questioned.  
Bangladesh Hindu-Bouddha-Christian Oikya Parishad and Ekattorer Ghatak Dalal Nirmul Committee have demanded the EC take effective steps to stop attacks on religious minorities over polls rivalry.
The EC, however, expressed satisfaction over the law and order, saying that the previous polls were "peaceful except for some stray incidents".
"There had been some stray incidents at some unions. Law enforcers acted promptly wherever any clash occurred. We've asked the chiefs of the law enforcement agencies to be more active this time around than the previous polls. They've assured the commission in this regards," Election Commissioner Shah Nawaz told this newspaper yesterday.
He hoped today's elections would be more peaceful.
The first ever partisan UP polls generated much heat in political landscape as the archrivals AL and BNP along with some other parties stepped into the battle of ballots. They picked grassroots leaders to contest for chairman posts.
Out of the 717 unions going to polls today, AL chairman nominees have been elected uncontested in 41 unions. The BNP could not field candidates at around 100 unions, according to EC statistics.
Elections to around 2,600 UPs have already been completed in four phases. Of them, AL chairman nominees have won in around 1,795 unions, BNP candidates in 238, while the aspirants of other political parties and independent candidates in the rest, according EC and media reports.
Asked about the clashes between supporters of AL candidates and party rebels, AL Joint General Secretary Mahbub-ul-Alam Hanif said although the number of clashes was not big, the party gave strong directives to its grassroots leaders to take action against anyone involved in those.
"We've already told the party men that the Awami League would show zero tolerance to the accused," he added.     
BNP Joint Secretary General Mohammad Shahjahan blasted the AL and the EC for spoiling the environment for free and fair polls.
"Previously, elections were festivals of democracy in Bangladesh. But now the electoral process sets off a panic. The opposition men can't take part in the polls freely," the BNP leader told this newspaper.  
40 INJURED IN CLASHES
At least 40 people were injured in two clashes in Narail and Narayanganj yesterday, police said.
In Narail, at least 25 people were wounded, including 10 bullet-hit, when supporters of an AL chairman candidate and party rebel clashed in Kalia upazila.
In Narayanganj, at least 15 people were injured in a clash between AL and Jatiya Party men at Kalagachhia Union in Bandar upazila.