2 more killed in Bangladesh UP polls violence
84 killed so far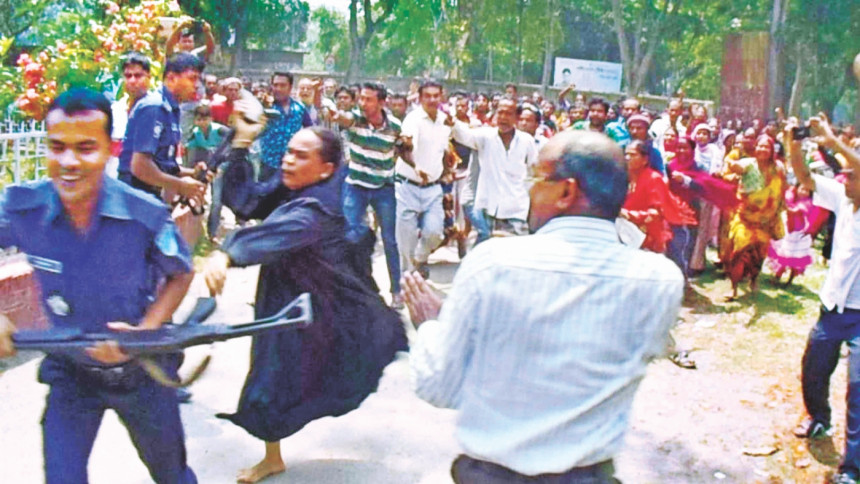 Two more people, who were critically injured in violence over the fourth phase of the union parishad polls held on Saturday, died yesterday.
Around 26 people were also hurt in post-polls violence in Tangail and Jamalpur yesterday. 
At least 71 people were killed and some 6,000 others injured in violence over UP polls until May 4, according to Shushashoner Jannoy Nagorik (Shujan), a citizens' platform for good governance.
Thirteen more were killed in violence as of yesterday, according to The Daily Star findings.
In Rajshahi, Zahid Hasan, 34, of Konda village in Bagmara upazila, died from his injuries at a local clinic early yesterday, said Motiar Rahman, officer-in-charge of Bagmara Police Station.
With Zahid, three people were killed there in violence over the polls. On Saturday, two people were killed and 50 others hurt in a clash between the supporters of Awami League chairman candidate, its rebel candidate and police in Auchpara union. 
In Mymensingh, Enamul Haque, 28, of Birboula village, injured in post-polls violence in Poranganj union of Sadar upazila on Sunday, died at Dhaka Medical College Hospital (DMCH) on Sunday night, said Kamrul Islam, officer-in-charge of Mymensingh Kotwali Police Station.
The police official also added that the supporters of a defeated member candidate attacked houses of the winning member candidate's followers, injuring eight people, including Enamul.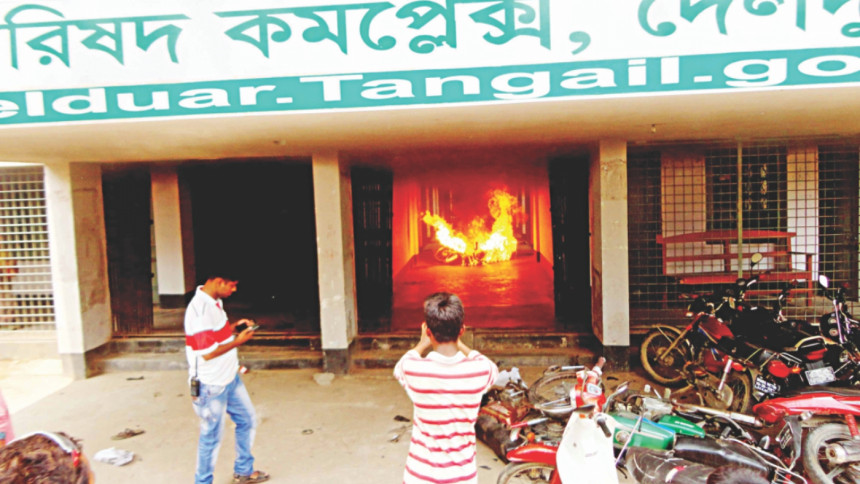 The injured were admitted to Mymensingh Medical College Hospital. Later, Enamul was shifted to DMCH as his condition deteriorated.
In Jamalpur, at least 16 people were hurt in a post-polls clash in Karoichura union under Madarganj upazila yesterday.
Around 11:00am, the supporters of newly elected AL chairman candidate Mozammel Haque Bachchu were locked in a clash in Garpara village over the distribution of money among his activists for their "duty" on the voting day, said Rampada Mandol, officer-in-charge of Madarganj Police Station.
UNO OFFICE ATTACKED
In Tangail, supporters of a defeated independent chairman candidate demanded a recount of votes of Atia union and attacked the office of Delduar upazila nirbahi officer yesterday.
They also threw brick chunks at different buildings of the upazila parishad and set three motorcycles on fire there, sources said.
At least 10 people, including Osman Gani, inspector (investigation) of Delduar Police Station, were hurt in the attack. They were admitted to Delduar Upazila Health Complex.
Independent candidate Sazzad Hossain along with around 1,000 supporters tried to lay siege to the UNO office around 10:00am.
Delduar police then attempted to disperse the attackers but failed. Later, additional police and Rapid Action Battalion members from Tangail rushed to the spot and brought the situation under control, said Mosharaf Hossain, officer-in-charge of Delduar Police Station.
Our Rajshahi, Mymensingh, Jamalpur and Tangail correspondents contributed to this report.