6 killed in Bangladesh as violence, irregularities mark vote
Voting at 51 centres suspended; 11 polling officials detained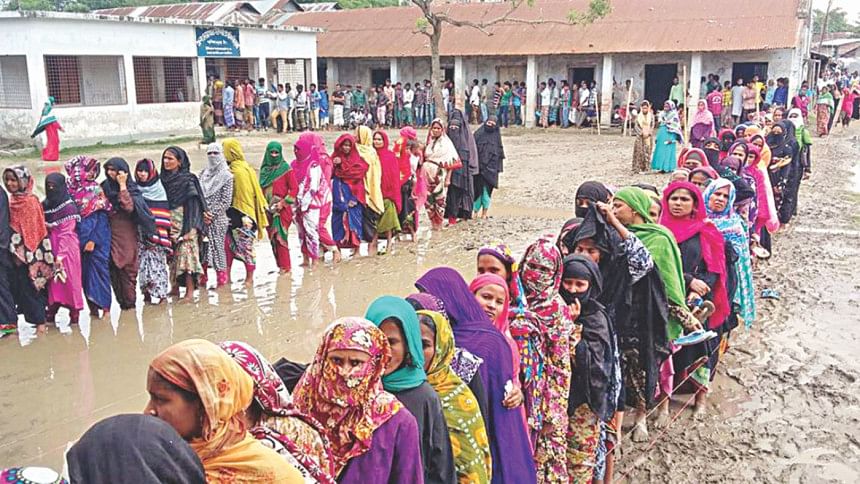 Many incidents of violence and irregularities marred the voting in the fourth phase of the union parishad polls yesterday as four more lives were lost and scores injured in clashes across the country.
Meanwhile, two people were killed and at least 50 others injured in a clash between supporters of an Awami League candidate and police at Auchpara union under Bagmara upazila of Rajshahi where polls were supposed to be held yesterday.
The dead are Siddiqur Rahman and Jahidul Islam. Details of their identities could not be known until filing of this report early today.
Locals said the situation at the union had been tense for the last couple of days. The Election Commission on Thursday night postponed the polls in the union following allegations that local AL lawmaker Enamul Haque (Rajshahi-4) was influencing the elections.
Although violence and irregularities were reported in many unions, a large number of voters turned up at the polling centres yesterday to exercise their franchise in the UP polls, considered the most competitive of all elections.
Like in the previous three phases of the UP polls, supporters of chairman and member candidates yesterday indulged in irregularities, including capturing polling stations, stuffing ballot boxes and casting fake votes in over 75 unions. Supporters, mostly of the ruling AL nominees, used firearms and sharp weapons during the clashes.
Some polling officials were also involved in irregularities. Eleven polling officials were detained on charges of committing irregularities. Voting at 51 polling stations in 37 unions was suspended due to violence and irregularities, according to EC officials.
The first two phases of the UP polls on March 22 and 31 saw deadly violence across the country that left 18 people killed and several thousand injured on the polling days. The third phase saw one killed, but numerous incidents of irregularities were reported.
Shushashoner Jonno Nagorik (Shujan), a civil society platform, has put the number of death at 71 in violence over UP polls till Thursday.
Elections to 733 UPs are slated for May 28 in the fifth phase while around 700 more unions will go to polls in the sixth and final phase on June 4, said EC officials.
Elections to 725 UPs were held on March 22 in the first phase, 639 UPs on March 31 and 615 UPs on April 22 in the second and third phases.
CLASHES CLAIM LIVES
In Comilla, a youth was hacked to death and at least 10 people were injured when supporters of two member candidates clashed outside a polling station at Madhabpur union of Brahmanpara upazila.
The dead, Tapash Chandra Das, 40, was a trader at Uttar Chandola village of the union. He left behind his wife and four children.
Witnesses said supporters of member candidates Sultan Ahmed and Mohammad Rezaul fought outside the Uttar Chandola Govt Primary School polling centre around 10:30am.
During the clash, some people attacked Tapash with sharp weapons, leaving him dead on the spot, said SM Badiuzzaman, officer-in-charge of Brahmanpara Police Station.
Voting was suspended at the polling centre. The presiding officer and seven assistant presiding officers were "detained for neglecting duties", said police.
Presiding Officer Binoy Bhushan Nath said some people stormed into the polling booths at the centre, snatched the ballot boxes and started stuffing those. Some member candidates along with their supporters also entered the booths and started stuffing ballots that led to the clash.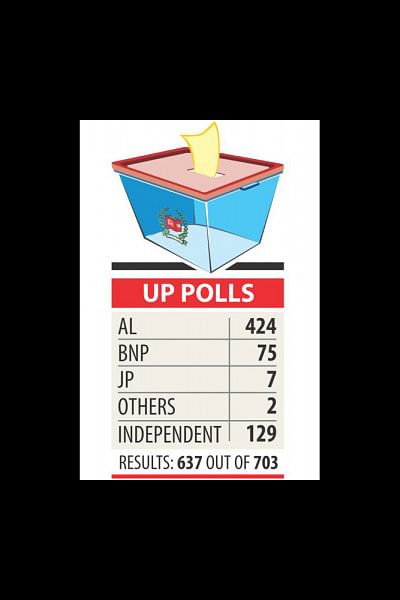 In Thakurgaon, a teenage boy was killed and another man injured when police opened fired to disperse clashing supporters of two member candidates at Taldanga Majhkhuria village in Baliadangi upazila.
The dead is Mahbubur Rahman Poltu, 17, of Majhkhuria village in the upazila.
Aminul Islam, OC of Baliadangi Police Station, said supporters of member candidates Gias Uddin and Shah Alam got involved in a clash around 3:00pm.
At one stage, police fired shots at the unruly supporters of Gias Uddin when they tried to snatch ballot boxes from the polling booths at Taldanga Dakhil Madrasa polling centre. Mahbubur and one Nazim Uddin were hit by bullets.
Locals sent the two to Baliadangi Upazila Health Complex where Mahbubur died of his wounds. Nazim was later shifted to Rangpur Medical College Hospital as his condition deteriorated.
In Narsingdi, a supporter of an independent chairman candidate was killed in an attack allegedly by the activists of the AL candidate at Paratoli union under Raipura upazila.
The victim, Hossain Ali, 60, went to cast his vote at Moddhanagar Govt Primary School centre, said witnesses.
When he reached the centre, supporters of AL candidate Masudur Rahman asked him to cast vote for "boat" symbol. As he refused to comply, the AL men got into an altercation with him.
At one stage, the AL men stabbed Hossain with a sharp weapon.
Hossain was taken to the upazila health complex where he died of his wounds.
In Sadullapur of Gaibandha, a man was killed when police opened fire on supporters of AL rebel candidate Rafiqul Islam last night.
The dead is Lebu Mia, 35, of Damdari village in Pirganj upazila of Rangpur.
Farhad Imrul Kayes, OC of Sadullapur Police Station, said supporters of the AL rebel candidate blocked the Dhaka-Rangpur highway in Dhaperhat Bazar area around 8:00pm, demanding announcement of polls results at the polling centres.
Trying to clear the protesters from the road, police and BGB men fired shots at them, leaving around 10, including Lebu, injured.
Lebu was taken to Rangpur Medical College Hospital where doctors declared him dead.
In Raipura upazila of the district, three people were injured in a clash between supporters of an AL candidate and an independent candidate at Sreenagar union.
In Comilla, law enforcers detained four presiding officers at different polling centres on charges of involvement in irregularities.
A mobile court awarded Mobarok Hossain, presiding officer of Jugirhat Etimkhana polling centre, and four others six month's imprisonment each on charges of vote rigging before the start of the voting yesterday morning.
In Sherpur, a mobile court sentenced a presiding officer to seven days in jail and a member candidate to one month in jail over a "bribe deal" at Hatibandha union of Jhenaigati upazila, reports our correspondent.
Locals and police said Abdul Barik, presiding officer of Loykha Govt Primary School polling centre, went to the house of member candidate Saifuddin early yesterday for making an underhand deal.
Locals caught the two red-handed and handed them over to police.
Violence and irregularities were also reported in Feni, Madaripur, Chuadanga, Sylhet, Kushtia, Laxmipur, Chittagong, Munshiganj, Meherpur, Pabna, Natore and Jamalpur.
VIOLENCE IN RAJSHAHI
The situation in Bagmara upazila turned for the worse yesterday when the supporters of AL nominee Sardar Jaan Mohammad and party rebel candidate Shahiduzzaman chased and counter chased at Hat Gangupara Bazar of Auchpara union, OC Motiar Rahman of Bagmara Police Station told The Daily Star.
In the evening, several hundred supporters of Jaan Mohammad attacked two villages and vandalised houses of at least 30 supporters of Shahiduzzaman, the OC said.
When they were returning to Hat Gangupara Bazar firing shots in the air, police intercepted them. The unruly men attacked law enforcers, leaving seven cops injured, added Motiar.
Police then opened fire on the attackers to disperse them. A little later, cops found Siddiqur and Jahidul lying dead in the area.
At least 50 people were injuries in the incident. Eight of them were sent to Rajshahi Medical College while the injured cops were admitted to Rajshahi Police Lines Hospital.
JOURNOS ASSAULTED
Two journalists were beaten up allegedly by AL men at a polling centre at Barha union under Nawabganaj upazila of Dhaka.
Tapos Kanti Das, senior reporter of the New Age, said he along with photojournalist Indrajit Ghosh of the newspaper went to Agla Choukighata Janamangal High School polling centre yesterday.
When the two entered the centre around 10:40am, some people wearing badges of "boat" symbol intercepted them and asked them why they were seeking votes for "pineapple" symbol.
As the two introduced themselves as newsmen and informed that they knew none of the chairman aspirants, the AL supporters assaulted the journalists and drove them out of the polling centre.
BGB MAN 'COMMITS SUICIDE'
In Jamalpur, a Border Guard Bangladesh member "committed suicide" by shooting himself with his gun in a bathroom of an auditorium in Madarganj upazila town, reports our correspondent.
The deceased, 22-year-old Mahmudul Hasan, was a member of 35 BGB Battalion. He came to Madarganj to discharge polls duties, said Rampada Mandal, officer-in-charge of Madarganj Police Station.
He went to the bathroom around 4:00pm and shot himself with the firearm. He died on the spot. The reason for the suicide could not be known, the OC added.
Police sent the body to Jamalpur General Hospital morgue for an autopsy.